Cycling all year round… it might sound like utopia but it can become reality! At least when you buy the right bike apparel to face the various meteorological conditions. With the right outfit nevertheless, the weather is no longer an obstacle. You can enjoy your favorite pastime from January to December. Euphoriaaaaaa! Moreover, Being able to cycle regularly all year round is also key to effective progress. Whether it's windy, rainy, whether you're out in the summer heat or in freezing winter temperatures, based on our personal experience we are happy to share some personal tips. These tips will help and guide you to choose the right cycling kit depending on the season and the weather conditions. Our winter summer cycling clothing guide with a personal touch!
What cycling clothing to wear during your summer ride?
A short sleeve jersey or a sleeveless jersey
Gone are the days when riders were wearing wool or even worse cotton jerseys (unless you want to go retro or vintage of course). These days cotton and wool fibers have been replaced by high-tech and innovative fabrics like lycra. These fabrics are light, body tight but comfortable, aerodynamic and contain most of the time 3 rear pockets to stuff away some gear and food.
With short sleeves, or even sleeveless, this type of thin jersey is to be used in good weather. Its breathable fabric with quick dry characteristics whereby your sweat will disappear like snow in the sun. The quick dry feature also ensures you won't have that cold feeling, like with a cotton t-shirt that keeps hold of the perspiration.
Be careful with sleeveless jerseys in summertime though. You will undoubtedly be riding for several hours in full sun and the harmful rays will quickly burn the top of your shoulders! Don't hesitate to put sunscreen on your arms and shoulders to protect your skin. Most quality short sleeve jerseys these days contain UV-protection characteristics.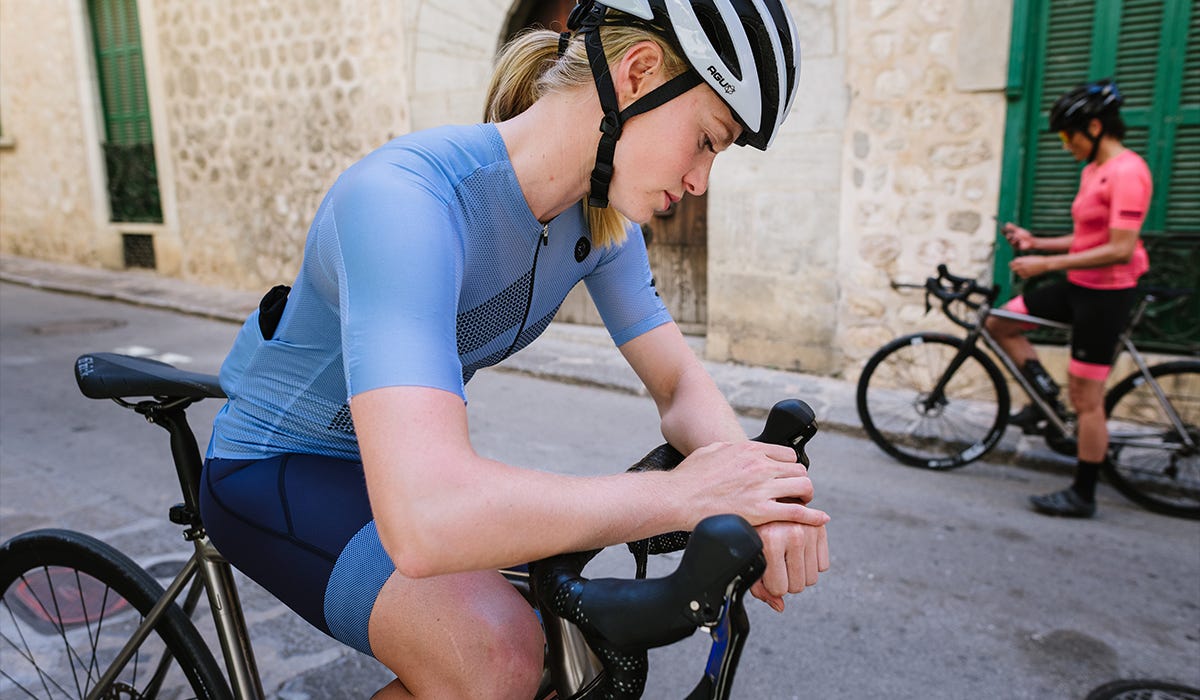 Some short sleeve summer brands
With regard to brands… let me dive into my personal cycling clothing drawer. I have a few favorites which are Q36.5, Biehler, Sportful, Castelli and Rapha. They are undeniably all of high quality. It's nevertheless only a shortlist. Check our brand overview page to get a wider range of bike wear brand to choose from. Choosing a short sleeve jersey is also often a personal choice of style and appearance.
If you don't want to spend to much money on a short sleeve cycling jersey for your summer rides Santini, Monton or Nalini might be good alternatives. You could also go for a running shirt which often also has those quick dry characteristics. It's a cheap alternative but you won't have the handy back pockets of course.
Cycling shorts
For me, this should be a mandatory part of your cycling clothing equipment to ensure a comfortable ride! Cycling shorts will allow you to stay in the saddle for hours by limiting friction between the legs. Besides the chamois or padding will be a pleasure to your bottom. In short, bike shorts are essential if you want to sit painlessly after your next bike ride.
There are 2 types of shorts:
• with suspenders
• strapless
Cycling shorts with or without straps?
The straps allow the fabric to stretch, so you will have good support for the shorts even when changing positions. No more risk of the shorts slipping slightly when you stand up and the protective areas will always remain at the right position. Riders having worn both types of shorts experienced the ones with suspenders to be more comfortable in the stomach area and would allow better compression in the abdomen.
I have always had classic bib shorts with suspenders and so far they suited me well. Therefore I don't have any reason to switch to strapless ones. A few years ago women weren't really bib shorts fanatics. They found them inconvenient for taking toilet breaks. Nowadays brands are taking this into account though. Various brands have designed solutions to make bib shorts women proof ? Clasps, different layer mechanisms and zippers have opened the world of bib shorts to women.
Read our article: https://www.velofanatics.com/womens-cycling-shorts-from-custom-chamois-to-toilet-breaks/
The chamois or padding
The chamois or padding is the protective area which sits at the bottom of your cycling shorts and which is made to protect your bottom. The chamois these days is made of different foam layers and inserted gel. Often, the higher the price of the bib shorts the better the quality of the fabric, its longevity and the quality of the protection.
At this moment, I am a big fan of the Q36.5, Biehler and Rapha padding. Never had pain really and my longest bike trip exceeded 300 km. I have nevertheless also heard good feedback from some friends in my cycling club about Assos, Ryzon, Band of Climbers, PedalEd and Le Col.
Read more about chamois or padding in our article: https://www.velofanatics.com/cycling-shorts/
It's by the way not the thickness that guarantees the comfort. The inserted gel, the layers, the foam used… all these kind of things are more important than the thickness.
Wearing underwear under your cycling shorts or not?
My personal opinion… underwear is a no go in combination with cycling shorts. There is a long list of reasons why not to wear underwear under your padded bike shorts. To avoid friction, for anti-bacterial reasons, for breathability reasons,…
The main goal of cycling shorts is to limit overheating which could then lead to injuries in sensitive areas during your long rides. Underwear won't help in this case. Moreover, if you feel burns and you are wearing underwear under your shorts, it is possible that it is the fabric of the underwear that is causing additional friction. In this case, remember to take off your briefs / boxers / thongs or whatever you are wearing.
We have already dedicated a full article on wearing underwear or not under your cycling shorts. Read the full article here: https://www.velofanatics.com/wearing-underwear-under-your-cycling-shorts-do-or-dont/
No summer without appropriate cycling glasses
On the road, we prefer light models, often with semi-rimless frames, such as the Oakley Flak, or even a full screen for the widest possible field of vision like some of the Rudy Project ones and the Oakley Evzero. I am personally a big fan of the Rudy Project sunglasses although I am also having Oakley and Julbo sunglasses. Most of these well-known brands offer sufficient quality and protection. Choosing one is therefore also often a matter of taste. My sunglasses are the Rudy Project Keyblade, the Oakley Evzero, the Julbo Aerospeed and a Rudy Project Volantis helmet with optical shield (visor). I like cycling glasses which have a very wide field of vision. Besides I am also having cycling sunglasses with interchangeable lenses so I cab adjust them according to the weather and my outfits.
Watch out with cycling glasses from for example Aliexpress or other Chinese wholesale websites. They are often copies of the real ones and are of inferior quality. Therefore, they can cause serious damage to your eyes overtime. They have not been tested or have not been granted official certifications.
When I started cycling several years ago I bought myself a pair of Rockrider goggles from Decathlon for 10 euros. For beginners these are decent glasses but now I do like more stylish ones made of higher quality fabrics.
There are an impressive number of brands and models on the market. The best known are Oakley, Bolle, POC, 100%, Rudy Project, Ekoï, etc…
Things to check when buying your cycling glasses
The color of the glasses:
• yellow: ideal for low light situations, in case of fog because this shade increases contrasts.
• gray: reduces glare and lets natural colors appear. This shade provides good vision all year round.
• polarizing: polarizing lenses provide more comfort by removing reflections from surfaces such as water, car windshields or the road (eg: like after a downpour) and by accentuating contrasts.
• green: to reinforce the perception of blues and greens, this is useful in urban use.
• brown: increases the contrast while reducing the luminosity, which is appreciable in strong sunlight
• photochromic: very versatile, this type of lens changes category (eg from category 0 to 3 and vice versa) depending on the ambient light. Convenient to cross a tunnel or a shaded area without having to remove the glasses!
Sunglasses UV Protection Explanation:
These glasses let in 80-100% of UV rays, the sun protection is really minimal. These glasses are recommended for riding in rainy or dark weather.
These glasses allow between 43-80% of UV rays and are to be worn in case of low exposure to the sun. They are perfect for outings in cloudy or foggy weather.
These lenses let in 18 to 43% of UV rays and are recommended protection for driving in poorly sunny weather. You can wear them most of the year.
These lenses let in 8-18% of UV rays and are perfect for your protection in sunny weather, such as summer.
These glasses only let in 3-8% of UV rays and are the darkest glasses you can find. they should only be used in case of strong exposure to the sun, such as in the mountains or the sea, and are not suitable for driving. So normally you should never be able to buy bicycle glasses in this category.
How to clean your cycling glasses?
Wearing dirty glasses is unfortunately something that all cycling sunglasses wearers are confronted with. There are many, many solutions for cleaning them, but only a few are really worth it. We have reviewed them and listed them in our top 5 for cleaning your cycling glasses.
1 / The microfiber cloth
It is the best solution for cleaning your glasses regularly, which is why most manufacturers offer one with the glasses. It will be perfect for cleaning dust or fingerprints on glasses. However, it will be insufficient for really dirty glasses. Remember to shake it well before using it, in order to loosen the dust and debris trapped in the fibers.
2 / Alcohol soaked wipes
These wipes contain an alcohol-based product that degreases glasses without leaving any traces. Depending on how dirty the glasses are, it may be necessary to wipe them with a microfiber cloth afterwards to remove the last traces.
3 / Cleaning Spray
Cleaning sprays contain the same substance as the soaked wipes. They allow you to clean your glasses thoroughly, even when they are very dirty. The advantage is that it is possible to deeply clean certain areas by letting the product do its job. It thus helps to clean inaccessible areas such as nose pads or hinges. For effective cleaning of the glasses, spray the product then let it work for a few seconds before wiping it off with a microfiber cloth.
4 / Clear water
When the glasses are very dirty, or when you are coming back from the seaside, a pre-wash in clear water is often the best solution to preserve your glasses before cleaning them. Run some water, without hesitating to apply pressure, to loosen the dirt and rinse your glasses. You can then wipe them with a microfiber cloth or a wipe for a perfect result.
5 / The washing-up liquid
Dish soap is a drastic solution to cleaning your glasses when they are very dirty. Start by rinsing the glasses under clear water and then place a drop of the product on each side of the glasses. Then use your thumb and forefinger to rub the entire surface of the lenses and then the frame. Rinse with clean water and dry with a microfiber cloth.
Additional cycling clothing accessories to complement your winter outfit
A cycling cap
Go back in cycling time and you will realize cycling caps are pure nostalgia! It is probably the favorite items of retro cyclists. Moreover, it's not only a cycling accessory of the past, the cycling cap is clearly making a comeback. Besides being an eye-catcher cycling caps also have other benefits. In summer they can help to protect you against sun rays, they absorb sweat and they protect your eyes.
In winter, they will provide you additional head warmth and comfort. There are even woolen (merino wool) caps which will give you the heat you need and you long for during your winter ride. Therefore a cycling cap is a crucial part of your winter cycling outfit.
Cycling Gloves
Cycling gloves protect your hands, absorb vibrations and improve grip, and can make a big difference when talking about comfort on your bike. This chapter explores the types of cycling gloves as well as their respective advantages for various disciplines.
When choosing a cycling glove, you should take into account your preferred discipline, the climate in which you live and the season in which you cycle. In this part of the blog article we are talking about your winter cycling clothing but let's nevertheless cover the whole glove story here.
Full finger cycling gloves and half finger gloves
For most road riders, half-finger cycling gloves add a touch of grip and comfort to their ride. If you find yourself on a mountain bike or in cooler conditions, go for full finger cycling gloves, providing better protection against the elements of nature or in the event of crashing or falling.
Padding
Half-finger and full-finger cycling gloves can be found with or without padding. Palm Padding helps to absorb vibrations and to distribute pressure during long rides or over rough terrain (mtb or gravel rides). Padding is usually made of foam, gel, or a combination of both. It usually increases the comfort and eliminates tingling of the fingers. (Gel padding, compared to foam, provides "real" comfort and is often found in high-end types of cycling gloves.
Materials
Like any accessory, material and quality will affect price, fit, comfort, and longevity. Cycling gloves suffer. But it's better to make your cycling gloves suffer than your hands. If needed, just replace them after a season or two to ensure they keep their comfort benefits. Many cycling gloves use a combination of materials, such as leather, fleece, mesh, and other synthetics. Just remember that it's very important to find the right fit for you – not too big, not too small.
Cold weather gloves
For those who enjoy riding in winter, specialized insulated cycling gloves are the way to go. These gloves will help you get the most out of your glove. There are also so-called "lobster gloves" with three or four fingers, so called because the shape of the fingers is reminiscent of a lobster claw. This is a great option to consider if you are looking for something unique. Like mittens, lobster gloves are designed to keep the fingers close together, but with some fingers spread apart so you can still operate your brakes and gears.
Personally, I only wear gloves in winter times to keep my fingers warm and when making gravel rides to absorb the shocks and to protect them against possible falls.
Socks
Socks can be long or short, it depends mostly on your personal preferences. Although, the UCI has decided to legislate this matter so in case you would be UCI dependent ? pay attention to the length of your socks! The classic height of cycling socks is about 7,5 cm. I like to have them at least 7,5 cm to keep my legs warm at all times (especially as part of my autumn and winter cycling outfit) and to give you that extra pinch of aerodynamics. You could go to about 6 cm for normal cycling circumstances. When it's really hot I sometimes wear very low socks…fresh and good for your tan line ? When you choose very long socks be aware of a horrible tan line during the summer season.
Well, let's not lie to each other, the size of the socks, at my level, it is above all a matter of style! I love the cycling socks of çois cycling, sockeloen, sporcks and Rapha.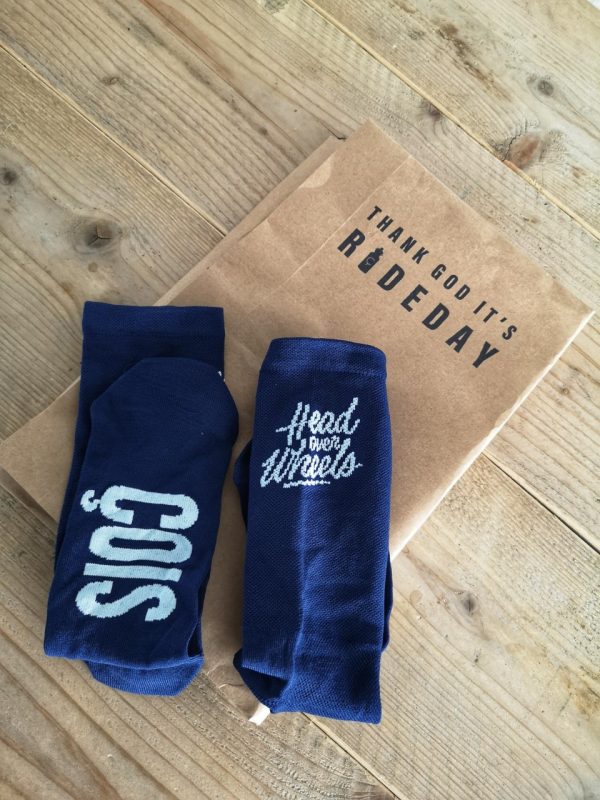 What cycling clothing to wear during your winter ride?
The 3-layer rule
In winter, the best way to dress to effectively fight the cold is to follow the 3-layer rule. These 3 layers provide a "buffer" between your body and the outside air to better insulate you.
• a second skin garment (a base layer or something similar)
• an insulation layer
• a protective jacket

The second skin (base layer) piece of cycling clothing
It is most of the time a body tight technical garment or also called base layer that will keep the heat as close as possible to your body.
An insulation layer
The winter insulation layer, often lined with fleece or merino, will help you insulate yourself from the cold. This is the second layer.
You can wear this jersey with technical underwear up to around 10 ° C or use this layer as a first layer under a thermal jacket when the temperatures drop.
The thermal winter cycling jacket
Thicker than the jersey, with its water-repellent fabric and its fleece interior, the thermal cycling winter jacket represents the last layer of protection that will protect you from wind, rain and cold.
Tight cuffs will prevent the cold from seeping in and up your arms. Combined with technical underwear and a second insulation layer the thermal jacket allows you to ride even when temperatures are approaching 0 degrees Celsius.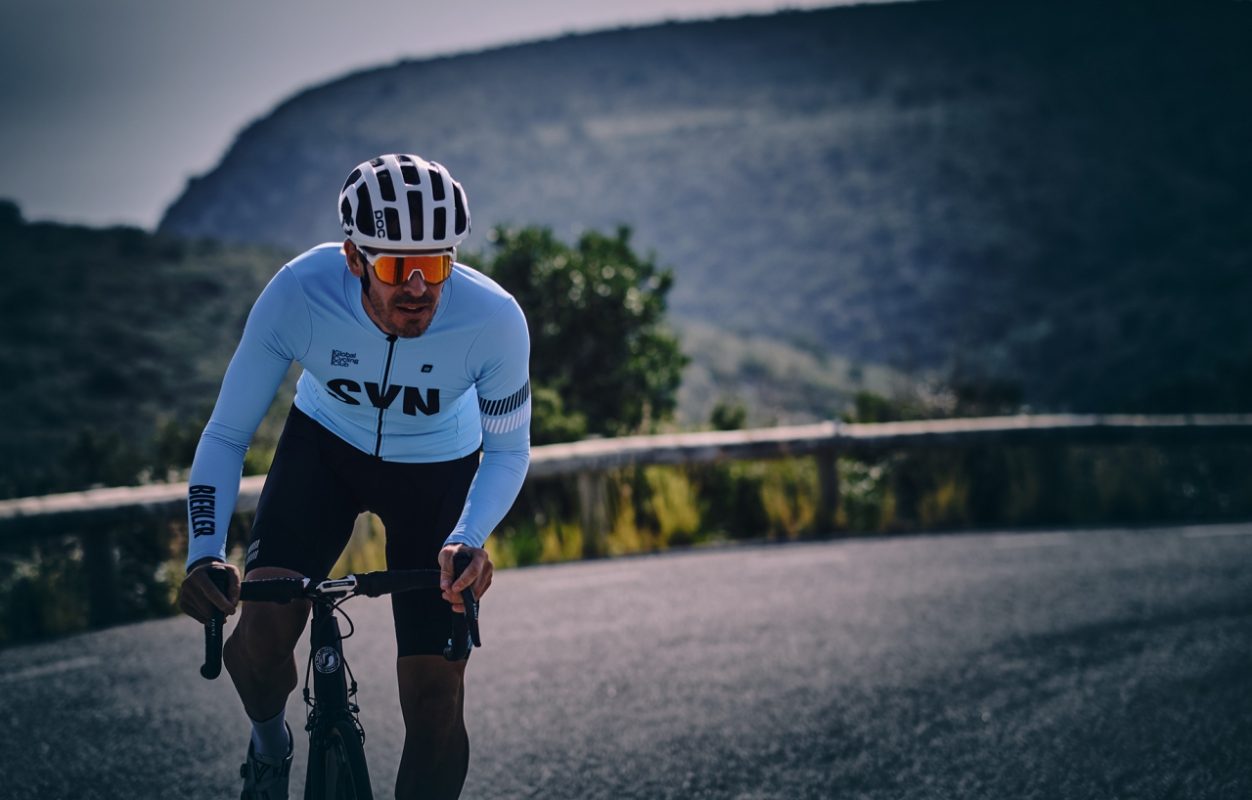 Long cycling shorts
Not all models offer the same protection. To be sure that long winter cycling shorts you are interested in are suitable, check that they are fleece lined to better retain heat and insulate you from the cold. Reflective inserts are also a plus for safe riding on dark winter days.
Cycling clothing accessories for winter riding
You can add to your outfit these very practical winter cycling accessories that will guarantee you optimal comfort during your ride:
• Glasses, to protect your eyes from the cold. A yellow or neutral screen is perfect for the winter season. (Read also the extended cycling glasses chapter in the summer ride part of this article)
• A balaclava or a helmet (or a balaclava under a helmet to keep your head warm and protect your ears. You could also wear a woolen cap under your helmet to give you some extra heat and comfort.
• A buff to keep your neck warm. The buff can also be rolled up to warm the nose and chin.
• Thick, water-repellent gloves to warm your fingers and stay dry (Read also the extended gloves chapter in the summer ride part of this article)
• A rain jacket in case of rain (some winter cycling jackets are also rain jackets – 2-in-1)
• Shoe covers (if required insulated ones) to protect your toes and your whole foot.
Winter summer cycling clothing: Frequently asked questions
What to wear during your winter bike ride?
Winter cycling clothing is based on the 3-layer principle which is a common principle for winter clothing in general. It all starts with a base layer, followed by an insulation layer and a winter jacket or protective rain jacket as your 3rd layer. Add to it some long bib shorts, gloves and proper cycling shoes with or without shoe covers and you are ready to go.
When to wear a cycling cap?
A cycling cap is not only useful for creating that retro look but can also be useful as part of your winter, autumn or spring cycling kit. Standard cycling caps are made of cotton but you also got merino wool and fleece covered ones. Worn under your helmet they might provide you warmth and comfort at the same time absorbing your sweat.
What kind of cycling gloves to wear?
Which cycling gloves you should wear depends on the season and the weather you are going out for a ride. In winter I always choose thermal long finger gloves, sometimes even water repellent. In summer and spring I prefer no gloves or half finger gloves with comfy gel padding.
What cycling clothing to wear during your summer ride?
Summer cycling means wearing short bib shorts and a light short sleeve cycling jersey with quick dry characteristics and ideally UV sun ray protection. Don't forget to put on some cycling glasses. Personally, I like to wear a short sleeve base layer sometimes. It often absorbs the sweat much better and has optimal quick dry features.