Women cycling shorts have recently gained immense popularity in the cycling apparel world. A trend which goes hand in glove with the overall cycling popularity increase amongst women. Gone are the days women had to choose men's bike pants. And fair enough… we deserve our own bike wear! The exclusive female shorts not just enhance the performance level of your cycling activities but also increase the level of comfort. You probably wonder why you need cycling shorts, especially when you are not a trained or professional biker. And if we go even a step further…why you would need to go for women's bike pants in particular?
Well, to know the actual reasons, you need to understand the effectiveness of women's biking shorts. Unlike other regular sports shorts, biking shorts do not have seams, which is the biggest reason for pain and chafing during your seated ride. Along with that women's padded cycling clothes have several other benefits and characteristics which make them different from bike pants for men. We are happy to take you on a female ride telling you all you ever wanted and should know about women bike shorts.
What's the Difference Between Men and Women's Cycling shorts?
Biking shorts are designed as per geometric angles of the human body and are engineered to the person's anatomy, hence they have different dimensions for men and women. Women's bike shorts are for example shorter in the size of the stack. Also, the length of their torso is smaller as compared to men. So, the reason you need to have specialized women's biking shorts is due to variation in both the types of shorts.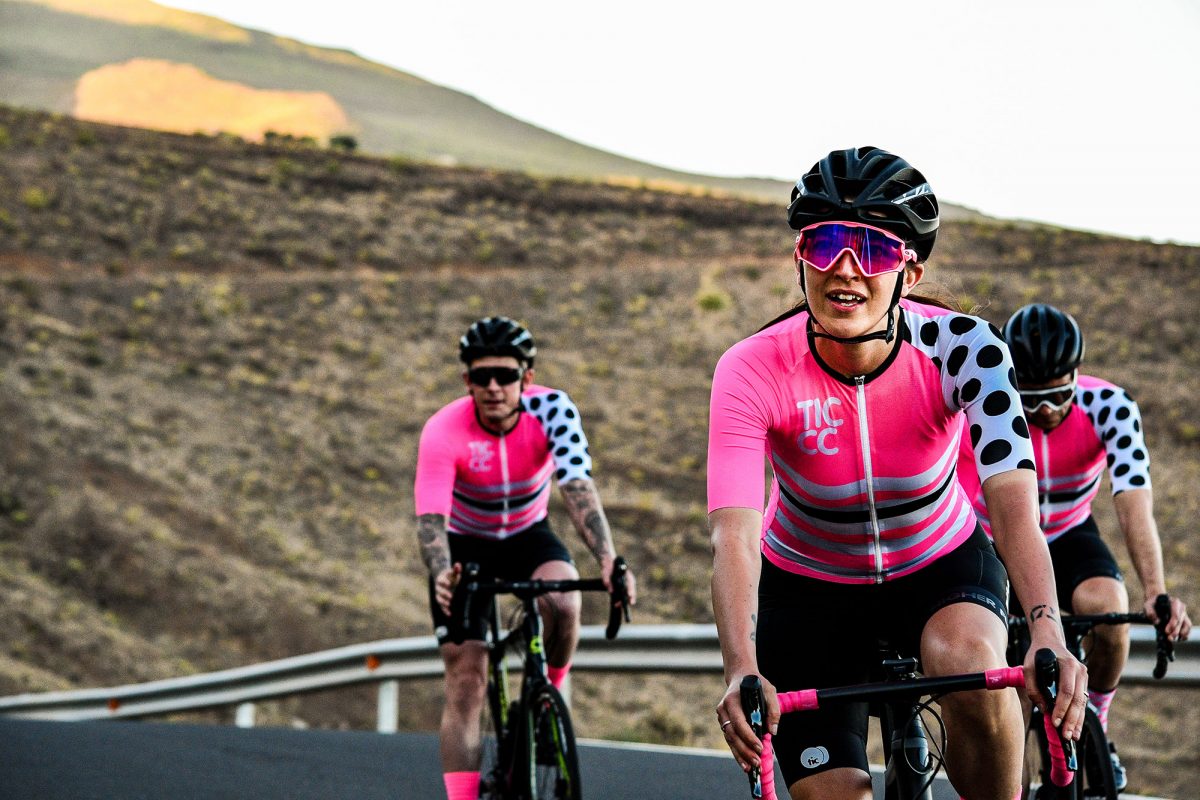 Some of the varying aspects are,:
Chamois: Chamois also known as the padding in the shorts is applied in the crotch area. Depending upon the gender, the padding styles and shapes have a major difference. Concerning the bib shorts worn by women bikers, there is a unique contour in the chamois which offers excellent brace for women.
Cut of The shorts: The cut applied in the areas of the hip and the waist has a huge influence on the overall appeal of the shorts. In women's cycling shorts, the small back narrows the waist giving it a tapered look. In women's biking shorts, the waistbands are small, and hence the fit above the hips is more narrowed giving you a slim look. Other than that, women have a longer waist as compared to men, hence the women's bike shorts company provides longer cut on the inseam in the front.
Toilet Break – Pee Break Bib Shorts: Bibs are certainly one of the revolutionary designs in cycling apparel. Bibs offer enhanced performance for riders. There is one issue though with regard to this type of bike pants and that's mainly an issue women are confronted with… the heavy labour and undress task when you need that urgent toilet or pee break. Luckily enough many cycling brands have customized their cycling shorts for women taking into account this crucial but often (previously) annoying activity. It is not annoying anymore because a wide range of solutions are available: from detachable straps over zippers to other patented solutions. In the next chapter we will discuss these solutions in more details. So in case you want to speed up your ride or want to get an immediate break, women's cycling shorts are at your go.
Leg Length: Another significant difference between men and women's biking shorts is the difference in leg length. The leg length in women's shorts is comparatively shorter than in men's shorts. The leg length in men's shorts is capable of enclosing their strong quadriceps muscles.
Reduce Chafing: The female bib shorts are also implementing a unique approach to extend support to the shoulders. With a halterneck option in the alignment of the shorts, chafing in a specific position will be reduced.
Toilet (pee) break solutions for women's cycling shorts
We are all familiar with those toilet break moments… and when you have to go you have to go. We are unfortunately also all familiar with the heavy burden of undressing when wearing bib shorts. These heavy burden days are finally over. Cycling clothing brands have invested in customized women bib shorts offering different solution for your toilet break. Let's discuss some of the most important, innovative and remarkable ones:
Gobik Strapless Bib Shorts
Easy peasy lemon squeazy… that's what Gobik thought when developing their strapless bike pants for women. Simple but efficient… Who is in for a pee?
The Bibzip technology from Bioracer
Belgian brand Bioracer comes with the innovative Bibzip zipper solutions for those female pee breaks. Their Epic, Vesper and other bib shorts models all have this useful feature.
The Assos T.lalaaaaa with the Schnalle clasp
The Schnalle clasp is a magnetic clasp running down the centre of your chest. A 1-2-3 solution from Assos. Here you pee and of we go!
Endura cycling shorts DropSeat Technology
The DropSeat technology of Endura is a zipped feature and functionality that allows easy access for your bathroom breaks.
Craft hale glow bib shorts: clasp on the back
Craft has developed a bib shorts for women that hooks on the rear. It doesn't have to be complicated to be functional!
Bontrager (Trek) Nature Breakaway design
Bontrager presents its Nature Breakaway Design; a design based on adjustable straps. Unique simplicity!
Liv hook system
Popular female cycling apparel brand Liv Cycling offers a fast and furious hook system on the front.
Santini bib shorts for women
The Santini Legend series for women is a bike pants which can be unleashed in the front. Your toilet break was never so easy.
Ketl unique panel detach system
Ketl is known for its mountain biking and gravel bike apparel. They offer a unique and innovative panel system with a detachable chamois panel. You have got to see it to believe it. Unique, fast and comfortable. When is the next pee break?
Velocio patented flyfree pee-break functionality
Their female bib shorts are designed and developed with the patented FlyFree feature: a pee-break functionality whereby you can keep your clothes on. No zipper, no clasp, no compromises… that's velocio!
Pearl Izumi center bib clip
Pearl Izumi keeps it simple but sound: a center bib clip makes you put down your bike shorts for women in the blink of an eye. A quick bathroom break has never been so quick!
Garneau unique closure system
The lazer cycling bibs for women from Garneau have a unique closure system which make your pit-stops a breeze.
Alé Cycling Halterneck bib shorts
Alé Cycling reinvented the classic bib shorts straps and came up with a women-friendly alternative: the halterneck pants. Perfect to make that quick stop without having to undress from top to toe.
Specialized HookUp Technology
Hook out, hook in… and off you go! A super-fast toilet break for women that's what the Specialized HookUp Technology is aiming for. Mother's Nature calling?
The Importance of Padding (aka Chamois) in Ladies Cycling Shorts
Comfort during cycling is one of the most significant requirements. At the beginning of cycling, some of the professional cyclers used to apply steaks to gain relief from the chafing that creates pain and sores in the intimate areas. Well, the time of T-bone steaks and filet pur is luckily over; the chamois or the padding in modern women's cycling shorts offers in-built protection. The initial model of chamois, which was a type of leather, was required to be maintained to prevent it from cracking and drying.
The chamois defined
If we would have to provide a definition we would describe a chamois as a smooth layer of cushioning, which is placed in your bib shorts as padding to offer essential comfort. Innovation, scientific evolution and technological progress has also influenced the textile industry the past decades. Consequently, the padding used inside the shorts these days are quite convenient and certainly functional. It often consists of several and different layers of foam to offer excellent padding comfort.
A layer of protection
Chamois or padding for women's cycling shorts is available in distinct styles depending on the design and the use of fabric. You need to understand that padding or chamois adds a layer of protection so that your body doesn't suffer discomfort due to chaffing. Other than that, Chamois is also beneficial for maintaining the dryness, as it passes the moisture. In women's biking shorts, the layer of padding is comparatively thin, however, this doesn't affect the comfort. Most of the companies place them accurately in accordance with a woman's anatomic characteristics to enhance the cycling performance and further support extensive care.
Different cut
Choosing women's cycling shorts is important as the padding varies with gender and hence, the cut is also a difference in both men and women bike shorts. The layer of padding these days is generally made of fleece or foam, which can differ in thickness. The real leather chamois is comparatively thicker compared to the other two fabrics. The uppermost layer of the padding is made of a technical fabric that is based on aero-technique. Chamois padding is suitable for passing the moisture and enhancing breathability, which further prevents the growth of bacteria.
Mens vs womens chamois
Women's and men's chamois are different. That's for sure. This difference is due to varying densities of thickness of the foam used in the chamois. This variation is applied because both men and women have different pressure points. Therefore they also need different areas of comfort and protection. Since ladies cycling shorts have recently gained importance in the cycling apparel market, companies have invested money and time to make their chamois as suitable as possible for women.This has for example also led to a men's chamois having an inlet towards the lower middle while women's chamois are wide towards the sit-bone area.

The Looks of Women's Cycling Shorts
Next to comfort, there are of course the looks! See and be seen, that's what it's about. You want to be trendy and stylish on that bike. Being part of fashion apparel, style and design are of utmost importance, especially for women. You don't want to look boring on your early morning cycling rides. It's even scientifically proven that when a woman (but also a man) looks good, she feels good and rides better. You can get one of the most charming women's cycling shorts and blend it with a classic jersey and other cycling accessories like helmet, socks, and shoes for an eye-catching cycling look.
Black never fails… with a pinch of color
The style, the color, the pattern, even the brand and the brand logo… it all matters when buying cycling shorts. In general, most women's bike shorts are black to prevent the fabric from looking dirty. Besides, black never fails; it always looks good and creates that slimming illusion. You could go for different colors or coloured accents to color your bike ride a bit more. As long as it goes hand in glove with your cycling jersey. Choose your favorite color, though make sure it isn't too light colored. Extremely light-colored shorts become transparent when getting wet, so try not to choose colors like white, yellow, etc. If you are a beginner, then choose the black shorts, as they easily combine with any jersey and who doesn't like that slimming effect!
Some Tips While Using Women's Cycling Shorts
Women's cycling shorts are tech-based clothing. It is thefore important to use them and handle them with the utmost care. Here are some of the tips you must follow while using these shorts.
1) No lower under garments
Do not wear lower under-garments beneath your bike shorts. It is because the padding in the shorts is designed to offer sanitary needs by keeping you dry, offer breathability, and restrict bacteria growth. Along with that women's padded cycling clothes like shorts have seams, which prevents chafing on the pressure points.
2) A shower is a must
A shower is a must after cycling. No matter how good and high quality cycling shorts you wear, there is always a threat of getting a bacterial infection after such a vigorous cycling session. So, if you want to get rid of infectious problems, then take a shower after every cycling session.
3) Cream to reduce friction irritation
Though women cycling pants are apt for enhancing the comfort and reduce the friction, yet it is advisable to put some cream on the inner layer of the chamois for long cycling sessions.
4) No extra layer
Do not add any extra layer of clothing between your body and shorts, as it might restrict the shorts from offering comfort against chafing. You might experience sores along with chafing if you wear another cloth between your shorts and body.
5) Buy 2 pairs of shorts
Buy two pairs of shorts as it is necessary to maintain hygiene during your regular cycling sessions.
Different Kind of Bike Shorts for Women
Women bike shorts are of various types and styles. Some of them are mentioned below:
Classic Bike Shorts (Non-bib): You can get non-bib classic women's cycling shorts. These shorts do not have suspenders integrated. For people who are casual cyclists, classic shorts are a good option.
Bib Shorts: The bib shorts are also shorts but they have integrated suspenders aka as straps. In these shorts, there are no waistbands, instead, there are shoulder straps, which offer comfort while holding the shorts. This type of bike wear aims to enhance the performance and comfort of the rider.
Cargo Bib Shorts: These are the shorts that aim to enhance the style of cycling apparel. They look good (a bit more adventurous) and feel good. Besides, these bike pants are often used for gravel biking and endurance rides. These shorts usually have mesh pockets, which helps you carry everything you need. The extra pockets are located on the legs or at the rear (on your back). cargo bib shorts are a great alternative to traditional bib shorts.
Aero Bib Shorts (Skin Suits/Aero Suits/speed suits): These are the types of shorts used by professionals during triathlons and time trials. Speed suits are anatomically designed one-piece women's cycling shorts. So your jersey and pants are combined into one aerodynamic wonder wear which will save you time and watts. Other than that, the design is ergonomic by having elastics on the waist and accurate fabric for enhancing muscle support. It looks and feels like a second skin.
Overall, the women's biking shorts are one of the must-have apparel for cycling enthusiasts. If you are willing to gain a comfortable riding session, then a standardized bib shorts created especially for your specific body type is essential. Women's padded cycling clothing is made specifically for women's bodies and hence offers extreme comfort. The shorts have perfectly designed and placed chamois, which makes cycling sessions more comfortable.
Frequently Asked Questions
What are the main differences between men and womens biking shorts?
Ans. Considering the variation in body type, there is a difference between biking shorts as well. The cut, padding style, and type of chamois are significant differences between men and women shorts.
What to watch when buying womens padded cycling clothes?
Ans. You need to consider various aspects before buying cycling apparel. Think about for example padding, fit, and design. Also, check if the shorts have detachable clasp for small breaks.
Can you machine wash cycling shorts?
Ans. Yes, women's cycling shorts are certainly washable, although it's advisable to resist the use of harsh chemicals like bleach and detergents. It may affect the fabric and harm the moisture-wicking capability of the shorts. After buying the product, do check the instructions.
Can you tumble dry bike shorts?
Ans. Yes but but we still prefer the bib shorts to dry naturally. Read the label of the bib shorts carefully. Tumble drying might affect the chamois in the long term.
How important are tight well-fitting womens padded cycling clothes?
Ans. To make the performance better, shorts must be as tight as possible. It is because loose fit may promote chafing by enhanced friction. Tight fit shorts support the flow of blood and recovery.
What do you wear under womens cycling and bib shorts?
You don't have to wear anything beneath the cycling shorts to gain the right benefit of the shorts. The padding works as the second skin and if you are willing, you can apply a cream on the chamois.
Can women also wear men cycling shorts?
Theoretically, yes. There was a time when there were no bib shorts for women and all bike pants were unisex (to be 100% correct male). Nowadays though bib shorts for women have unique and customized characteristics and features matching the female ergonomics and needs. A customized chamois, toilet break features, longer leg,…
How do I take a toilet break with bib shorts?
Especially for women, taking a toilet break or pee break is often an item of concern. Many cycling clothing brands nevertheless have invented unique solutions to answer this call of Nature. Detachable bib shorts, zipper systems, patented panel technology,… Taking a pee stop was never so easy and fast.