Are you a new entrant in the world of cycling? If you are in the process of discovering the many joys of this sport, you are probably also encountering some of the challenges. As fun as it is, it could be gruelling at times, especially if you are not wearing the right cycling apparel. Just like any other professional sport, cycling also requires you to wear and to choose the right kind of cycling jersey and cycling shorts. After all, there is a reason why professional cyclists never ride without the proper cycling gear.
Particularly for longer rides, professional padded bike shorts are a must-have. If you want to ride comfortably, you should choose your bicycle shorts carefully. The market is packed with numerous exciting options. However, instead of focusing on the look of the cycling shorts only (although the looks do play a role), you must also consider your requirements.
Things to keep in mind before purchasing cycling shorts
The following information will help you better understand the various aspects of good quality bike shorts, and appreciate what makes them unique
These are aspects that you should keep in mind before buying cycling shorts.
1. In-built Padding in the bike shorts
Padding in the seating area is quite essential, and therefore the most important component of bike shorts. Padding is what keeps you comfortable during a long ride. In the absence of padding, it could be quite gruelling since the saddle of a race bike is hard. Usually built from either chamois or synthetic fabric, good quality padding is the first thing you should look for in any particular bike shorts. It consists of multiple layers of foam which will absorb the shocks on particular areas of your bottom and more specifically on the sit bones. Not wearing bicycle shorts with proper padding will lead to cycling discomfort on your pressure points (the place where you bones push on the saddle).
Ventilation, comfort & breathability
Nowadays chamois pads are designed using an air mesh fabric. This material ensures shock absorption but at the same time enhances breathability and comfort. With regard to breathability you will also notice perforated areas in your padding to enhance ventilation.
Take the test
There are different types of chamois pads on the market these days. The best way to find the ideal padding is to test it. Especially people with sensitive butts will often stick to one or two brands after having found their ideal bib shorts padding.
The chamois these days is also designed and developed with ani-bacterial material to keep you fresh and cool at all times.
So various reasons to go for padded cycling shorts.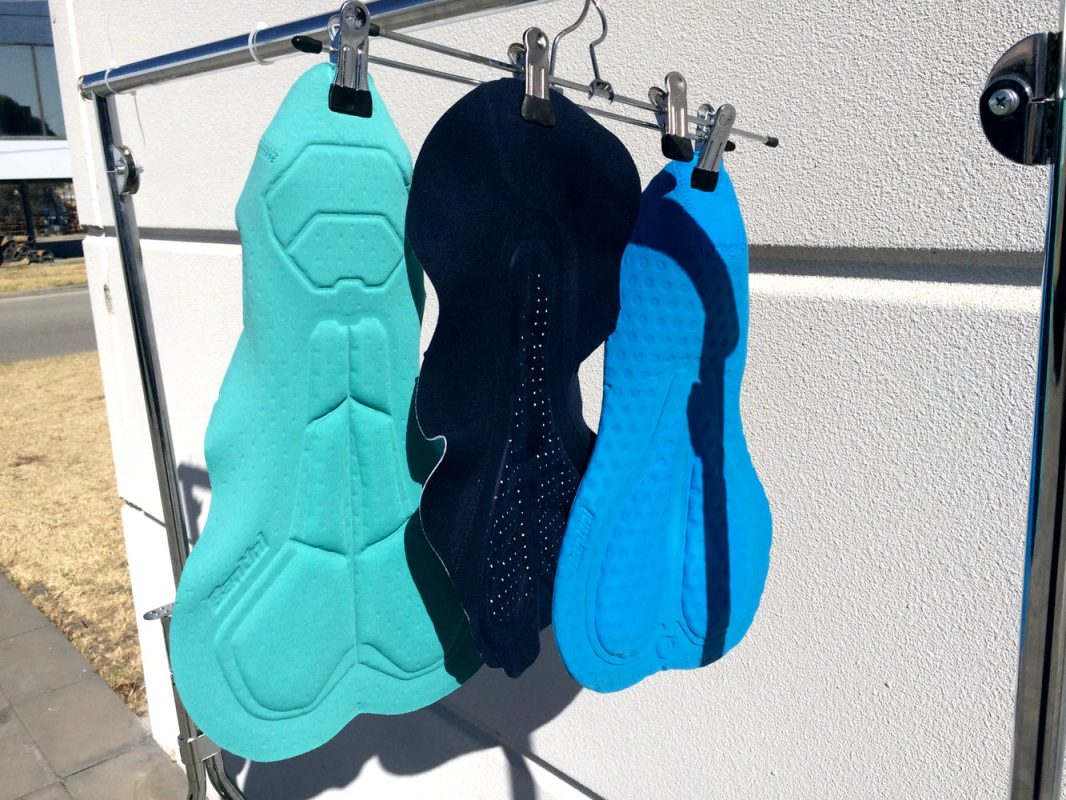 2. The fabric of cycling shorts
You must keep in mind that bike shorts are made to be worn without the undergarments. Which is why the fabric must be able to absorb all the perspiration from your body, keeping you dry. Usually, the fabric is also anti-bacterial. You must prefer sticky material, which will help you avoid it getting rolled or sliding up while you are cycling. Another important thing to note is that the fabric must be breathable.
Synthetic Fabrics
These days padded shorts can and will be made using different fabrics. Some will feel more comfortable to your legs while others will mainly aim for aerodynamics. It's all about your own preferences and requirements. Most cycling bib shorts are developed using synthetic fabrics like polyester, lycra, spandex, nylon, elastane and so on. These synthetic fabrics are made to act like a second skin; the tight fit look! They stick to your skin and they feel comfortable during warmer, dry cycling conditions.
Non-synthetic fabrics
Another material which is often used is merino or aka merino wool. It is a natural non-synthetic fabric which gives you a very comfortable and soft feeling. Overall it is still close to your skin but not as tight as non-synthetic fabrics. Although it has a high breathability and quick dry time, we love wearing merino cycling clothes in spring and autumn. It just gives you that little extra comfy feeling. Some cycling clothes brands combine synthetic with non-synthetic fabrics by the way. Offering the best of both; for sure another option to consider.
Water and windproof fabrics
Last but not least, there are wind- and waterproof fabrics like Gore-Tex, Dryvent and Drytex. These fabrics are mainly used for winter cycling apparel and off-road purposes (think about gravel biking and mountain biking). Sometimes it are only panels or particular areas for which these fabrics are ysed but sometimes it also the whole cycling clothing piece which is made of these waterproof and/or windproof materials.
One hint: avoid cotton cycling clothes. Cotton is known to be non-breathable and sweat absorbing instead of quick drying. A very low percentage of cotton in your bike apparel is still ok, but a majority of cotton is not done.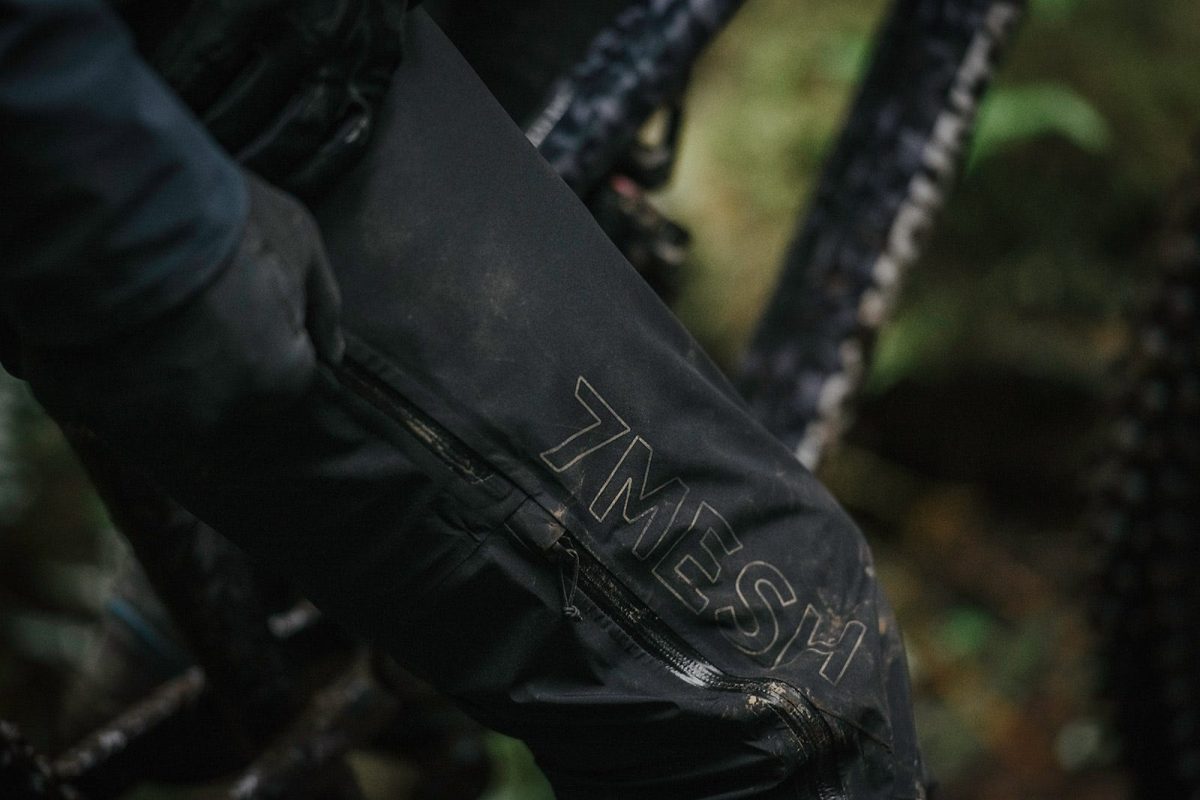 3. The tightness of the bike shorts
The aerodynamic nature of bicycle shorts depends entirely on how form-fitting and tight they are. Thus, skintight cycling shorts are most effective in reducing aerodynamic drag. Skintight shorts are usually preferred by professional cyclists and racers. However, if you are riding on gravel or soil, instead of flat asphalt roads, then skintight shorts might not be a suitable option. You will need something a little loose or transition shorts.
4. Fitting of the bike shorts
Your shorts should be form-fitting and pretty compact. However, make sure they are not so tight that you feel uncomfortable riding in them. They should be tight enough to remain body-hugged throughout your ride, but they must also provide room for easy movement.
Bike shorts are designed to fit you in the sitting position. Hence, don't rush to judgement, just because they feel odd in an upright or standing position.
5. Length of the cycling shorts
In terms of the length of the inseam, there is no one right choice. It is pretty much your preference. As long as your skin doesn't touch the seat, you are good to go. Pick one that looks nice. In general, cycling shorts for women are a bit shorter in length than cycling shorts for men.
6. Elasticity and flexibility of the cycling shorts and the leg grippers
All standardised padded cycling shorts come with elastic. You must make sure that the elastic band is wide enough that doesn't dig into your skin or bother you. You can check how good the elastic is by bending over and trying the shorts on. This will help you evaluate how well the bike-short would work if you are wearing it for extended periods.
With regard to elastics we would also like to briefly mention the importance of good leg grippers. Properly fitting leg grippers are the icing on the bib shorts cake. Leg openings should not be too tight but should also not be too loose. Constriction or irritation should be avoided at all times. Good leg grippers promote blood flow while keeping your muscles warm and relax.
7. Your budget
There is quite an extensive range available in the market for cycling pants. It is better to set a budget beforehand, based on your requirements or the kind of shorts you prefer. Usually, the more expensive the bicycle shorts, the more refined fabric and the better padding it has. Cycling shorts prices range from 30 euros (35 Dollars) for simple strapless bike shorts to 250 euros (290 Dollars) for high-quality bib shorts with high comfort chamois pads made for long endurance rides.
Different types of cycling shorts
Based on requirements, there are some major categories of bicycle shorts that you can choose from:-
1. Mountain biking shorts
Distinct from regular biking, mountain biking requires you to wear specialised mountain bike shorts. These are designed to support the cyclist through the sharp ascent of a mountain. Aero biking shorts are crafted to reduce the aerodynamic drag or to put it simply, the resistance that cyclists feel during a steep climb.
Also known as the transition shorts, mountain bike shorts are a bit baggy and abrasion-resistant on the outside. Whereas, they are form-fitting on the inside. Mountain biking shorts comprise of padding in the seating area that provides comfort and freedom of movement during the ride. The location of the padding is different from the padding location in road race bike shorts.
2. Road biking padded cycling shorts
Even though road cycling pants are also built to lessen the effect of aerodynamic drag, they are a bit different from mountain bike shorts. Road cycling shorts are more stretchy and form-fitting then its other counterparts. Because there is no looseness whatsoever in the fabric, road padded bike shorts are quite aerodynamic. Hence, if you prefer speed and like to ride on concrete, then these are the best-suited bicycle shorts for you. These shorts also enable flexible movement and come with padding.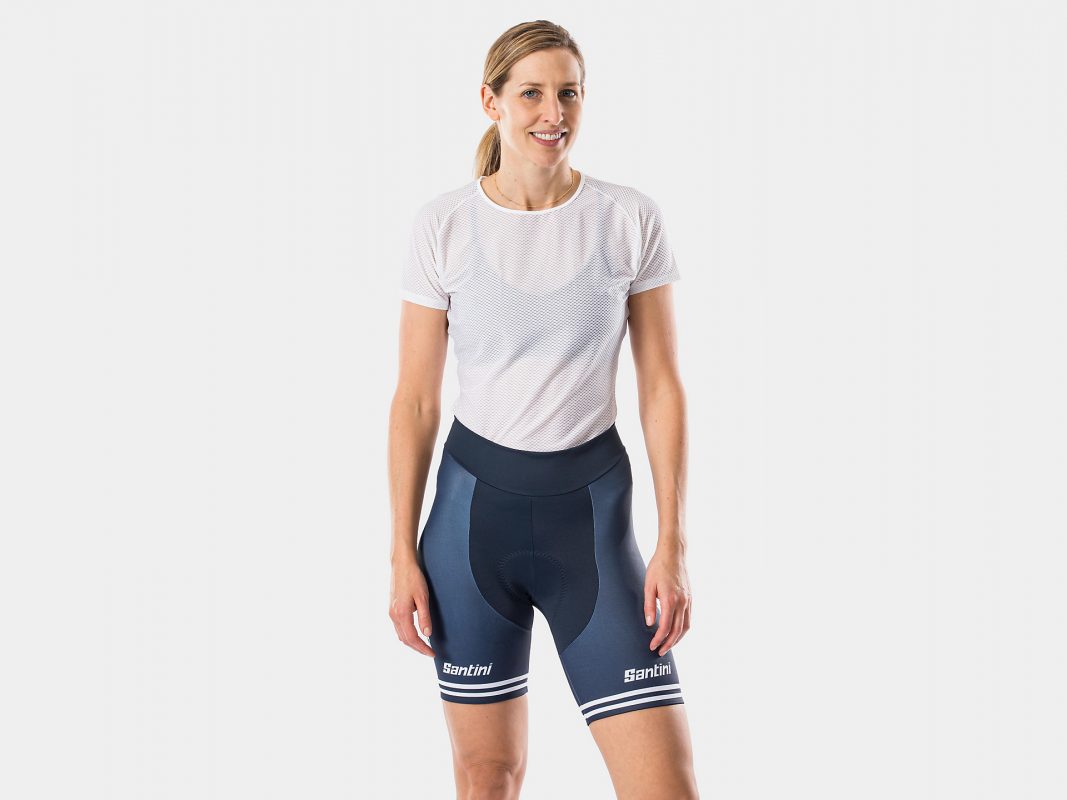 3. Bib bike padded cycling shorts
Bib style shorts, bib shorts or Bibs, as they are called, are distinct from regular bike shorts. They are a bit higher over the stomach and back and comes with shoulder straps. These form-fitting shorts are stretchable and come with a chamois pad in the seating area.
The best thing about cycling Bib shorts is that they do not put pressure on your waist as you bend forward and lower. The comfort offered by bib shorts could be quite enticing. However, you should know that they are usually cost more when compared with regular bike shorts. Also, if you are tall, then before purchasing you must make sure that the fit is right. They are also used to create an aero / aerodynamic aspect.
A popular subcategory of classic cycling bib shorts are cargo bib shorts. Cargo Bib shorts are ideal for gravel rides but are also used by road cyclists. They have side pockets on the legs and are often manufactured with mud, water and dustproof fabrics.
4. Cycling shorts for beginners
If you are a newbie, then it is probably better for you to go all-in on padding. It will take some time for your body to get accustomed to sitting on a hard seat for hours at length. Thus, if you are a beginner, you should go for thicker padding so that you can get maximum comfort.
Conclusion
We hope you find the above information helpful in figuring out the kind of cycling shorts you must buy. By keeping the above-mentioned points in mind, you will be able to make a well-informed decision, and will also be able to thoroughly check all the different aspects associated with premium quality bike shorts. Such a well-calibrated choice of bicycle shorts will enhance your overall experience of cycling. Choose the right padded cycling shorts and enjoy cycling day after day!
Frequently asked questions:
Why should I choose padded cycling shorts?
The chamois pad also known as padding in your bike shorts offers a shock absorption protection. In general, a race bike or gravel bike saddle is hard and it can cause irritation on your pressure points. A chamois will protect your sit bones from hurting while making those long endurance rides.
What fabrics are bike shorts made of?
Most bicycle shorts are made of synthetic fabrics like Lycra, Nylon and Spandex. They have a tight fit look, feel comfortable, are aerodynamic and have a high breathability. Besides some bib shorts are also made of non-synthetic materials like merino wool or are a combination of non-synthetic and synthetic fabrics. Merino wool feels very comfortable and feels a bit softer (but is also a bit looser) than for example lycra.
What different types of cycling shorts are there?
First of all, you could go for the classic padded cycling shorts having a padding but no suspenders or bib straps. Next, you have the bib shorts or cycling bib shorts which are most common in the bike race and gravel bike word. These cycling pants have suspenders or bib straps and a chamois. A subcategory are the cargo bib shorts made of fabrics to better withstand nature's extremes and with pockets on the legs.
What are leg grippers in cycling shorts?
Leg grippers are the elastic bands at the end of your bicycle shorts. They ensure there are no leg openings and the bike shorts acts as a kind of second skin. It's important to go for high-quality bike pants with high-quality leg grippers to avoid irritation and interruption of the blood flow. At the same time, leg grippers shouldn't be too loose.
What cycling shorts do you wear? What chamois do you prefer? Anything you would like us to cover with regard to bike shorts? Sharing is caring!