In the fashion world, everything keeps changing within seconds, which is why many products find it hard to keep up with the fast pace. This statement fits best for the world of cycling clothing and sportswear. The bike apparels are designed to fit the changing trends and the requirements of the biker. Since these activities require more frequent off-road transits nowadays (gravel riding is more popular than ever before), the outfit should have the ability to outlive all external and internal pressure. This is the reason why the makers have come up with a 'functionality meets style' product for cyclists all over the world. And one such product is Bib shorts. These shorts have wide and sturdy bands for the shoulders to keep the bike pants part up; without a waistband and they have a comfortable padding or chamois. But the cycling manufacturers and designers have gone the extra mile for these off-road adventures and have now created an even more advanced and gravel-minded bib shorts: The Cargo Bib Shorts (sometimes also referred to as gravel bib shorts)!  
The benefits of Cargo Bib Shorts
Bib shorts not only render utmost comfort but they also boost improved performance during your ride. An upgrade to these crucial cycling pants has now emerged; it is being called- Cargo Bib Shorts or gravel bib shorts (although this doesn't cover the whole load)! Yes, you heard it right. Just like the cargo pants, which have made a comeback in the fashion world, these bibs also have robust and capacious pockets on the legs and sometimes on the back. It makes them perfect for gravel cycling. Besides gravel cycling they can also be used during your normal cycling trip of course.
Having pockets on bib shorts is highly beneficial as it makes carrying an extra load during your trips… can be on road or off road (like when gravel cycling). While these options can be slightly over budget, their performance, lastingness, and comfort will pay back. This newly designed bike clothing is perfect for going out on cycling trips for long or short durations.
One can store their essentials in the large pockets and get on with riding. Wearing cargo bib shorts will help you stay focused on your riding rather than how your important stuff is kept and poking you on the back. Bib shorts are the perfect pair of aero cycling jerseys, and adding the 'cargo feature' makes it even more special.
To know more about these cargo bib bike pants and the top brands you should check in with, read the below sections! Cargo bib shorts by Rapha and 7Mesh- which have received impressive reviews- are included.
Popular Cargo Bib Shorts
Rapha Core Cargo bib shorts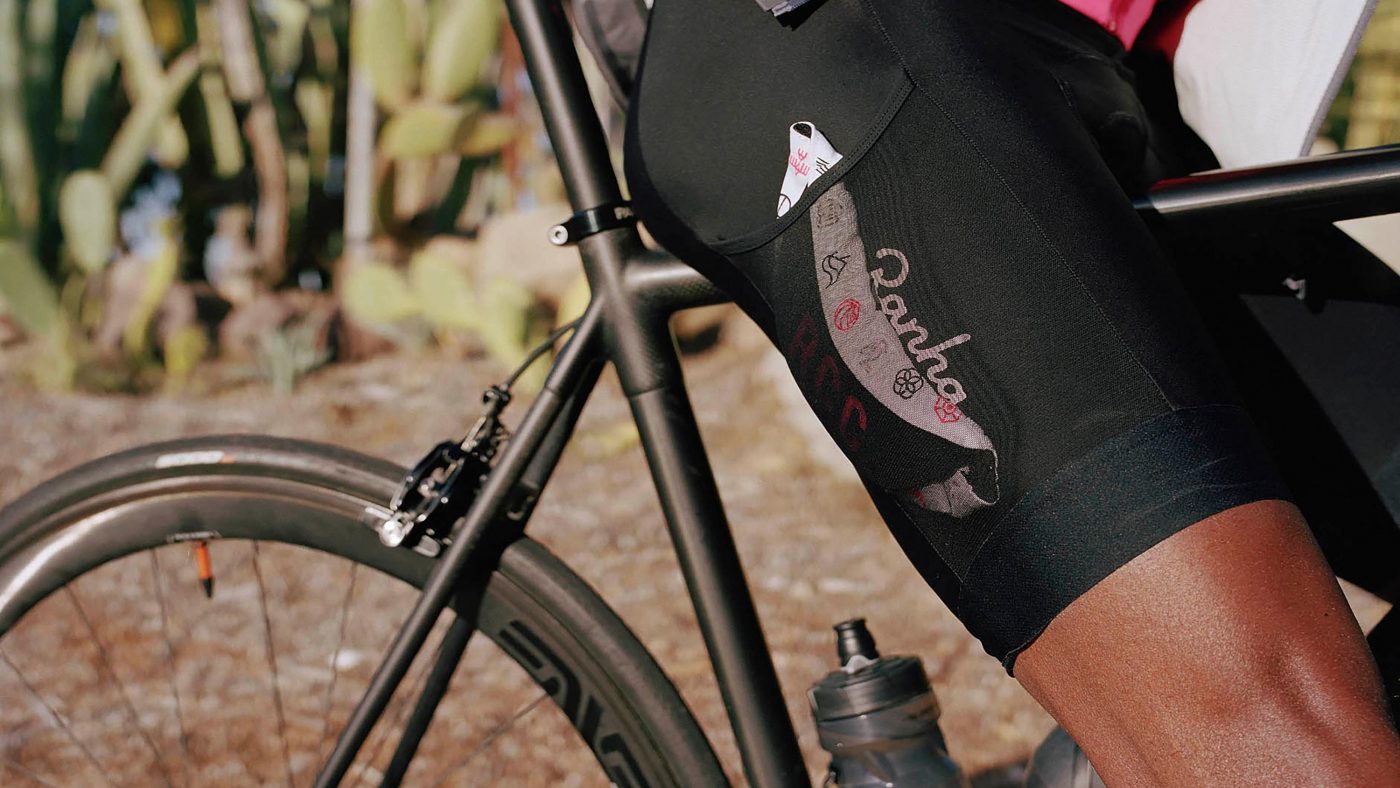 Built to last, Core Cargo Bib Shorts from Rapha are fun and utility cycling clothing items that one must have in their bike riding gear. These will bring versatility and enhanced comfort to the wearer throughout the ride. One can use these for mountain biking as well has short commute through the city. 
These cycling pants are made from, what Rapha's maker like to call, a 'Shadow Material'; intriguing indeed. The manufacturers have claimed that their new product is made from a fabric that offers quick-drying features along with improved precipitation and comfort even in high temperatures.
Made to impress, the optimal style and convenience of these bibs help in giving your body an aerodynamic look. This bike apparel comes with in-built chamois that proffer the utmost comfort to the rider. The product has fewer seams around the waist area providing better movement and support during cycling.
The pockets can be accessed easily and take the weight from your topwear pockets; no need to have a jersey with pockets. These are made from lasting and soft mesh fabric on the side of the thighs and have a curved top. Another set of pockets can be found on the backside of these cycling wear.
However, the chamois padding is slightly thicker than the usual ones- so if you don't like the conventional chamois then this is "the on" for you. You can carry gels, packs, mobile, snacks, energy bars, power banks, and other required items in these pockets easily. These cargo shorts are taking the cycling apparel to a whole new level and are worth a shot.
Go Straight to the Rapha Cargo Bib Shorts collection
7Mesh MK3 Cargo Bib Short
If you are not keen on the wide straps of the Rapha Cargo shorts, then these MK3 Cargo Bib Shorts would do for you. These cycling pants are the best options to choose if you feel more comfortable and fluent in the racerback strapped bibs. With catchy fading pink and blue colored panels on either side of the legs, these bibs are great partners to be taken on long cycling tours.
Having the MK3 bibs for your cycling clothing for the day would provide you with the best mobility and flexibility. Having adequate movement, cycling for longer duration will become effortless for you. And let's get to the pockets, the large cargo pockets on the back and legs provide enough storage.
Unlike the Rapha cargo bib, these have 5 pockets in total. They can store your mid-ride refreshments and supplies very easily. And these bibs are not like other traditional bike pants either. These have more open space for the rider to focus on peddling rather than the shoulder or abdomen chaffing that any other bib would give. These also have fitted chamois for the cyclist to stay comfortable and safe.
It is a great addition to this as this extra padding protects the sensitive lower body areas. Made from high-density foam material, these chamois will have your back (literally) on gravel, street, or mountainous terrain. These bike wear add-ons will cushion all vibration and sudden bumps effectively.
The fabric of these cargo bike pants prevents any kind of irritation or chaffing on the body. If you are looking forward to a multiday getaway on your bike, then this product could come in handy. The extra pockets and finely stitched seams make this a classy and statement piece. Its high rise waistline makes wearing shorter cycling jerseys possible for the rider.
Go straight to the 7Mesh Cargo Bib Shorts Collection
Other Popular Cargo Bib Short Brands
Find below some more cycling brands which offer cargo bib shorts (aka gravel bib shorts). These brands have proven to offer high-quality fabric.
Final Verdict
Having the correct pair of cycling bibs on you is very important as these essential cycling clothing items make the biking convenient. The only thing that will make these bibs better would be pockets (or even front zipper/fly would do) and the fact they are waterproof or water resistant. The Cargo Bib shorts are a valuable addition to any bike wear collection.
Not only are these incredibly functional but also help in moving the legs smoothly while paddling without restricting the blood flow. Cargo shorts have high-quality padding as well that will protect you from path bumps and soreness after long riding trips. Filled with functionality and practicality, these shorts are the "next level" for any basic bib bike pants. Especially for multi-day backpacking trips and gravel rides. Get one of these and enjoy your cycling trip in your stylish Cargo Bib Shorts!
Frequently asked questions
Are cargo bib shorts different from normal bib shorts?
Yes, cargo bib shorts are a bit different from normal bib shorts. Although they are also as aero as possible it is not their main priority. Bib shorts are made for those long trips, often off road and on gravel roads, and which allow you to carry an extra load. That's why they are sometimes also called gravel bib shorts. These cycle pants namely have two additional pockets on the legs and sometimes even extra pockets on the back. They can be used to for example to store some energy bars, other food, your mobile phone and so on. Besides, they are tested and designed to withstand the hardest and most extreme situations and are often also waterproof.
What are cargo bib shorts?
You might have heard about cargo shorts. Cargo shorts have extra large pockets on the legs and on the back which make them perfect for adventurous hikes. Cargo bib shorts are in fact the same but then made for cycling. Tested and designed to excel at the most extreme situations and often also waterproof, they are made for your long adventurous road or off road trips (gravel rides). That's why they are also called gravel bib shorts. They are technical shorts with a chamois made for endurance rides and with quick dry characteristics. You will often pay a bit more for these bike pants but you get a lot in return.
Which brands sell cargo bib shorts?
Not all brands sell cargo bib shorts. We have surfed over the Internet and even tested a few of them. Cargo bib shorts which put a smile on our face and which could be considered when looking for a high-quality endurance bib shorts are the ones from Rapha, MK3, La Passione, Ale Cycling or Sigr. Feel free to add you own experiences with cargo bib shorts below.
What to watch when buying cargo bib shorts?
Go for a high-quality fabric with good rates and online reviews. Especially for these shorts high-quality and technical characteristics are extremely important because they need to withstand extreme situations. Make sure the pockets are large enough and preferably go for waterproof ones. If you only going to ride on sunny days waterproof cargo bib short are not a priority of course.
When to use cargo bib shorts?
These cycle plants can be used for any ride and on any day. No matter if it's a 50 mile or 75 km trip on the road or a gravel ride on off road tracks on sunny Sunday afternoon. Yes, they are designed to excel at extreme situations and are fit for multi-day adventures but they also offer the comfort for a normal bike ride. Of course they are not as aero as classic bib shorts. But they can still serve for all ride circumstances.