If you are planning on taking a cycling trip across the city, on the road or even on the steep off road paths of a mountain, you won't just need a bike. To have an exhilarating and enjoyable trip, you will need to keep yourself ready and comfy with a befitting cycling jersey. It is one of the most crucial pieces of any cycling kit; it can make or break your overall biking experience.
Not only will it give a professional look but also keep you safe from injuries, help to improve sweat control and help you to confront harsh weather conditions. However, you will have to make your choice suitably. Having proper bike wear will also keep you away from sunburn and other inflammatory reactions.
Will wearing a normal T-Shirt do?
While everyone loves their comfy t-shirts, they are not made for challenging sports like cycling. If you are visiting your neighborhood grocery store, then a normal t-shirt would do however for longer journeys you need right cycling apparel. Going on a mountain or forest terrain on a bike with a t-shirt on would be a bad decision.
You need to wear a biking jersey to visit such locations; it is great for having a comfortable and convenient journey. If you invest slightly more, the jersey can also get your body protection against the UV rays. Keep reading to know more about why you need a cycling jersey.
Why should you choose a Bike Jersey?
Cycling for longer duration can be tiring; especially if you cover the longer distance on your bike. While an aero cycling jersey won't paddle harder for you, it sure will ensure that you stay restful and snug. To put it another way, people wear a bike jersey to improve your performance during cycling. However, this is not the only benefit of cycling, more advantages include:
Body Fit
The cycling wear is designed to fit the rider properly to ensure that they have complete control of the bike. The shirts for biking clothing are made with a longer back; this ensures that your back stays covered while you lean towards the handlebar. And the bike pants are generally high-waisted to cover your body adequately.
If you wish, you can also include armbands, warmers, and additional sleeves to protect your arms- if you have short-sleeved cycling jersey. You may also add legwear for knee protection and even jackets. Right sporty wear will support the movement of the body while peddling.
Motion Support
If you gear up with correct bike wear, then your bike riding will become more convenient as these clothing items move with your body while you are riding. This is an advantage for your legs as they move the most while biking. It is one of the determining factors of why cycling pants are made shorter and stretchier.
The cycling clothing is designed especially for aligning with your body movements. The fabric used in the making is very stretchable so that it doesn't rise and bunch up. Since the clothing item is stretchable, it moves and takes the shape of your body; even when it's moving continuously while paddling.
Sweat Control
When going for any sports activity, not just cycling, sweat is an unavoidable factor. Sweat is another reason why sportswear and cycling wear is not made from cotton. This fabric absorbs the moisture making it uncomfortable for the wearer, while the fabric of bike jerseys permits perspiration.
The sweat and moisture get soaked from the skin and is evaporated quickly; it is also referred to as 'wicking' sometimes. The jerseys for cycling and biking activities have fast absorption and feature. It is also very breathable to keep your body safe from rain and other climate elements out; allowing air to pass and skin to breathe. Keeping the water out effectively, bike apparel is an ideal companion of a long duration cycling tour.
You may also get yourself cycling gloves if you feel they give you a better grip on the handlebar. Most gloves have a towel-like fabric piece on the backside, making wiping of face and neck easier when you have sweat running down. This could be a useful addition to your cycling gear kit.
Pockets
Last but not least, the pockets. Indeed, a benefit which can't be neglected. Imagine you would have to carry a backpack each and every ride, just to grab an energy bar or a banana. Thank God, for the one that invented the pockets on the back of your cycling jersey.
Comfortable Padding
It is by the way not only the cycling jersey that is important but also the rest of your cycling wear like your cycling pants. Especially the padding in those bib shorts we would like to briefly highlight. While normal sports clothing can be worn during cycling they won't have the padding required to keep the body's functionality up. The bike shorts are padded on the buttocks to offer optimal comfort for a longer time. Yes, these pads will look a bit odd when you first see them, although, you must give them a shot.
The thickness and foam layering of these pads are required for different reasons. One of the top important ones being shock absorption. Wearing padded shorts will make leaning on the handlebars easy and comfortable for the rider. It will also take in all the shock and sudden movement that your bottom undergoes throughout the journey.
For all those who are new to cycling, for professional biking, the bikers do not wear undergarments with cycling pants. This is another "self-explanatory" reason why you need padding in your biking shorts. One can easily avoid chaffing and soreness of the buttocks when you use precisely padded shorts. Not only when cycling off road but also when cycling on road. Race bike saddles are onfortunatelt lovers of the harder side of life.
Moreover, padding is not just limited to your legs, few cycling gloves also have a padding layer on the palm side. This thin layer of padding saves the hands from the shocks and vibrations of the handlebar. Since the gloves are already made from tough leather or synthetic fabric, it will keep your palm safe even if you fall.  
Conclusion "Why you need a Cycling Jersey"
Owning a pair of biking jerseys is a must when you cycle frequently or professionally. Having these will not only keep you safe from probable injuries and harm but also help you push yourself in performing better. Having proper fitting biking apparel will keep you away from sunburn, chaffing, sweating, rash, soreness, and any other type of inflammation.
If your bike clothing has pockets and extra padding- it will make your gear more functional and useful. These add ons help in enhancing the biker's performance while biking and provide them an additional layer of comfort. Knowing why having a cycling jersey is important is easy now- it makes biking easier, safer, and more enjoyable. Have fun on your next cycling trip!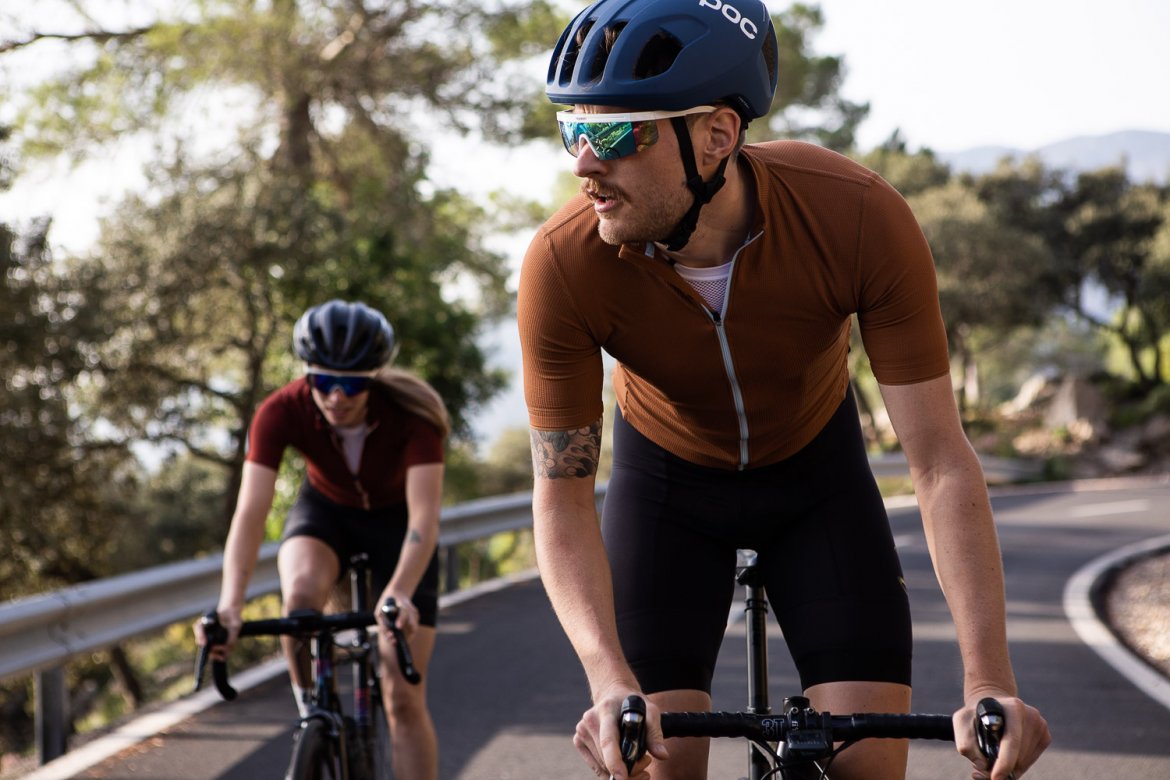 Frequently asked questions
Why do you need a cycling jersey?
A cycling jersey is like a second skin. Comfortable, aero, breathable, sweat controlling,… there are various reasons to go for a cycling jersey. No matter if you go for speed or for extreme comfort while cycling, this jersey should be on your cycling must-have list. Proper jerseys even protect you against sunburn, soreness and inflammation. And last but not least, wearing a cycling jersey you are blessed with pockets on your bag. Bye bye backpack…
Why are cycling jerseys longer at the back?
Indeed, people owning their own cycling jersey will have noticed the back is longer than the front. The explanation is pretty simple. When bent over your handlebars, your back would otherwise not be covered.
What cycling jersey to choose?
It all depends on what you are looking for during your ride. Are you aiming for a strava segment KOM and all you think about is 'speed'? In that case go for an aero cycling shirt which fits your body perfectly and which really feels like a second skin. It might even feel too sticky but then again… the less lose parts the less watt loss. Are you rather the sociable rider taking a coffee nip once in a while you might want to go for comfort rather than to go for pure speed. Choose a cycling jersey which not only feels good on the bike but also off the bike.
What fabrics is a cycling jersey made of?
When looking for a cycling jersey you will discover various fabrics are used. Theoretically we can distinguish 3 main fabrics: synthetic ones like lycra or polyester, wool and cotton. Synthetic fabrics are made for sweat control, breathability, and protection. Most of them protect you against sunburn and are a perfect blend of fabrics to absorb your sweat, dry quickly, provide you comfort and add a touch of aero. In autumn and winter you could also go for wool and more specifically and ideally merino wool. Merino wool is made from merino sheep which survive cold winters and hot summers. So although they are perfect for both summer and winter, I prefer the soft touch of these shirts during colder months. Lastly, there is also cotton. We are not really big cotton fans. This fabric absorbs your sweat but has little to no breathability. Besides they don't make you look like a real cycling badass.
SPF protection is the latest technology in cycling jerseys to protect you against harmful sunrays.