Gravel biking has become a perfect bridge between mountain and road biking; which is why having gravel cycling wear is important. While there are different kits and clothing requirements, street and mountain cycling, gravel biking wear inherits the best of both worlds because the gravel bike clothing cycling kits combine comfort with endurance.
It has the reliability, robustness, and regulative feel of both mountain and road biking. These gravel bike jerseys and bib shorts for gravel riding are designed to make riding on smooth and coarse terrains easier and convenient. The dynamic and versatile aspect of these gravel biking wear makes the riding fluent and easier.
If you are a "gravel biking enthusiast" then you must keep at least one of these outfits in your collection. No matter the type of track you opt for, gravel cycling outfits can adapt to the feel easily.
The difference between gravel cycling clothing and race cycling clothing
With the increasing popularity of gravel biking, comes an increasing number of gravel bike clothing collections. Brands like Isadore, La Passione, Castelli, Sigr and so on have manufactured their own gravel collections. But what makes gravel wear, gravel wear? Generally speaking one could say gravel clothing can better withstand the extremes of Mother Nature. Think about dust, mud, rain, water,… Looking at the specifications of gravel wear you will notice waterproof pockets, pockets which can be closed with a zipper, cargo bib shorts with extra pockets on the side, the use of merino wool for extra warmth and comfort and so on. So, although you can also use your tradition cycling jersey and bib shorts to go for a gravel ride, gravel cycling clothing does have some additional benefits.
What are the top picks in the best gravel bike clothing?
With the increasing popularity of cycling, in all its forms, has gained the attention of various sports clothing and equipment brands. And Gravel Biking Apparel has become a new niche or section in their collection. Thorough testing in the most extreme situations by various brands has led to very high-quality gravel bike clothing cycling kits.
Keeping the rider in mind, these cycling jerseys are designed to provide effortlessness to the biker throughout the ride. To help you pick the best bike clothing for you, check out the below-listed products and feel comfortable on your weekend or multi-day gravel riding trips. 
Canyon Signature Collection
Well-known brand Canyon was one of the first big brands to jump on the gravel train. They jumped on this train by producing a large series of different gravel bikes (their famous grail collection). But that didn't stop their train and gravel ride. Canyon has gone the extra mile by developing their own Signature gravel collection containing gravel jerseys, gravel bib shorts, gravel socks, gravel gloves and so on. True gravel bike and gravel ride lovers will for sure find something at Canyon which meets their expectations. We are by the way huge fans or better velofanatics of their Gravel Jacket!
Endura Singletrack Bib Liner II
Are you more of a bib liner person and like to wear bibs that are reinforced with breathable and light-weight fabric? To offer utmost comfort get the Endura's Singletrack bib liner II. These liners are perfect to be worn with a pair of baggy bike pants and keep away all moisture or sweat from the skin. You must get this is your cycle in a fairly hot/ warm climate.
Fabric is lightweight
Chamois is very comfortable
Has a flap; convenient for nature's call
Lightweight and wicking material
Find the Endura gravel ride bib shorts here!
Rapha Cargo Core Bib Shorts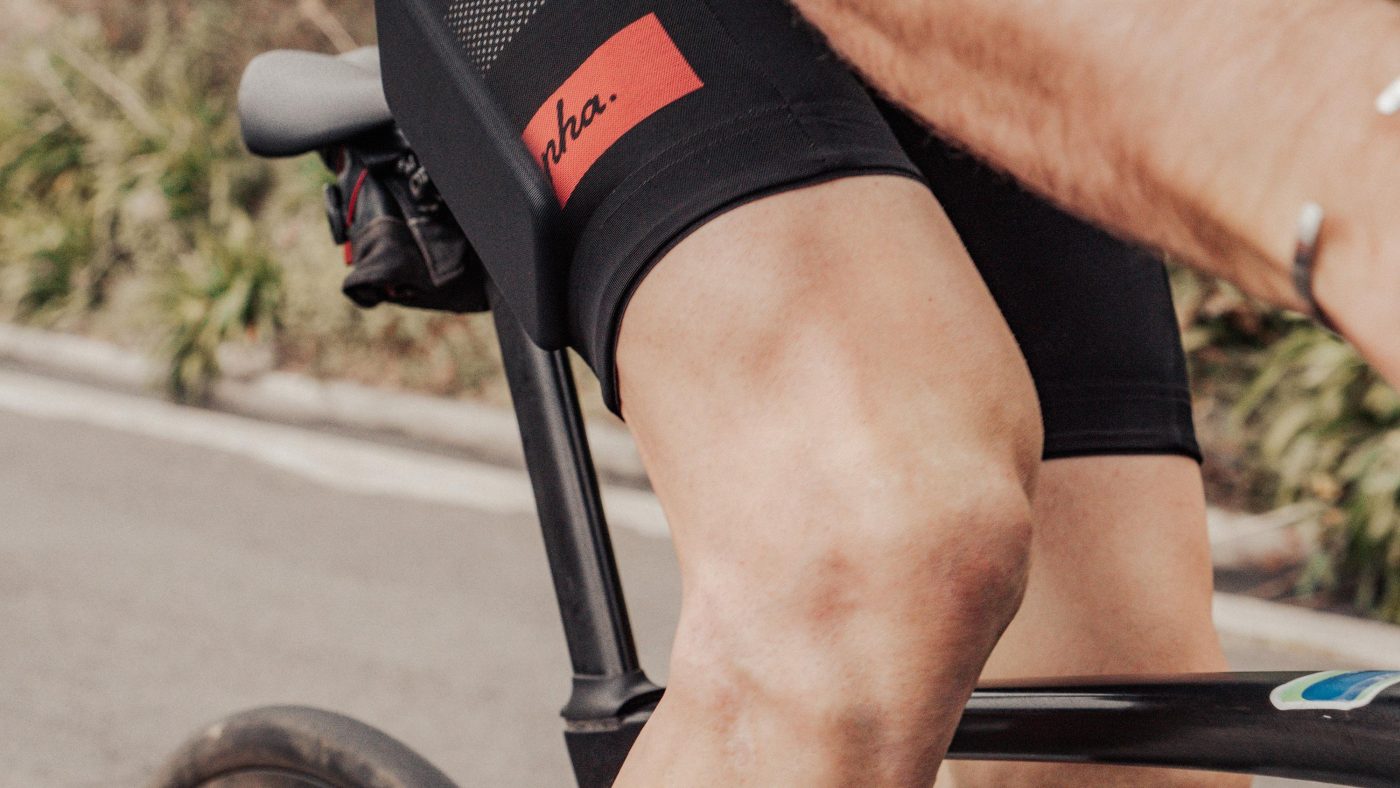 What makes bib shorts more fun is having a bib short with pockets! And Rapha Cargo Bib Shorts have got exactly what you need. If you get these bib shorts, you will have complete liberty of choosing the top you like; you may go for the tight-fitting shirt or a loose fit cycling jerseys. The pockets not only make these bib shorts stand out but also offer these with extra functionality. Rapha has some very nice and high-quality gravel bike clothing cycling kits.
Got capacious pockets
Comfortable wearing
Makes carrying a bag on shoulders optional
Check the Rapha Gravel riding collection here.
Morvelo Adapt Overland waterproof shorts
If you are not a bib liner-lover, then Morvelo Adapt Overland waterproof shorts should be your cycling pants. While these provide efficient riding experience they also have a more relaxed and loose-fitting design that many bikers prefer. This makes them a great product for all professional and casual riders and is befitting for different types of terrain. Since these are quite loose on the thighs, bikers who are just taking a short ride will find this very assistive. You can combine the shorts with various Morvelo jerseys at your own preference to create the perfect gravel bike clothing cycling kit.
Weather and Wind-proof fabric
Got zippered pockets; can store your essentials safely
Great for casual and adept applications
We also like the below Overland Gravel Riding Bib Shorts by the way:
Discover the Overland Off Road gravel collection of Morvelo!
Sportful Supergiara jersey & Supergiara Gravel Bike Clothing Collection
Now to start with the cycling jerseys, you must check out Sportful Supergiara jersey which is a perfect gravel bike clothing topwear. Its body fit design gives this top a catchy and 'must-have' appeal; this is perfect for high tempo riding. So you will for sure already look like a pro cyclist once you wear this to the biking trip. The front has a full-sized zipper that makes ventilation and relaxing easier. This bike jersey is perfect for going gravel cycling on hot days; the zip-up and half-sleeve feature make it possible.
Ventilated back panel
Got 4 pockets
Professional biker looks
Sportful SuperGiara Gravel Cycling Collection
Gore Wear C7 Windstopper Pro Zip-Off Jersey
Did you like the full zip-up style of Sportful cycling apparel? Then you will like the Gore C7 Pro Zip-off jersey as well. A full-sleeved and wind-resistant bike clothing wear like this would make your cycling more enjoyable. However, there is more to this jersey- the long sleeves can be zipped off to present a shorter sleeve; wear it with a style you like. This is perfect as you can get rid of long sleeves once you feel the heat after cycling for long and unwind your body. It has pockets, which can be used to store the sleeves, cards, cash, or other essentials.
Bike Jersey has 4 pockets
Made from windproof material
Zip-off makes it a unique product
Gore Wear C7 Pro Zip-Off Jersey
Frequently asked questions (FAQ)
Which fabric to choose- Casual or Lycra?
When it comes down to gravel cycling wear, then the decision will be based on- rider's preference and the environmental conditions. If you are a competitive racer, then a lycra bike clothing would be perfect. However, for normal backpacking rides, casual-fit cycling apparel (not cotton) should be worn. Think about merino wool for example. Since the aero aspect is often less important when gravel riding special aero cycling apparel.
What are the types of materials used in gravel bike clothing?
Majorly, the categories are divided into 2 sections. These are non-synthetic and synthetic. If you haven't heard of non-synthetic options, then it would be a fun fact that these are made from bamboo or merino fibers. These are effective in controlling sweat and odor; even after long journeys and multiple days of cycling.
What to consider before buying a gravel bike clothing cycling kit?
Top 5 aspects that you will have to look over while buying gravel cycling clothing are:-
Intended Purpose: Are you a casual rider or professional biker? And the type of gravel biking trip you are heading for.
Bike Pants: Choosing the best set of shorts/ bibs is important. With the wrong pair, you might end up chaffing your thighs, buttocks, and other 'important' areas. Our preference goes out to the typical gravel bib shorts called cargo bib shorts which have additional side pockets on the legs.
Cycling Jerseys: After deciding which type of bottom wear you are going for, you may choose the top accordingly. Best is to go for gravel cycling jerseys which have waterproof and dirtproof / dustproof pockets. Sometimes pockets which can be closed with a zipper are also handy. Are you planning to go for gravel riding in the autumn, spring or winter months? Consider merino wool which gives you additional comfort and warmth.
Jackets: Depending on the location of your gravel biking trip, you might need a cycling jacket as well.  
Extras: Few additional essentials like socks, gloves, glasses, elbow covers, etc. should be chosen based on the rider's preference.
What's the diferrence between classic cycling apparel and gravel apparel?
One could say gravel cycling clothing can better withstand extreme situations and is not afraid to confront dust, mud, water,… Therefore, gravel wear typically comes with waterproof material or pockets, dirtproof areas, merino wool sides, etc. Typical gravel bib shorts are the cargo bib shorts which have additional pockets on your legs.
Final Verdict
When you have to choose gravel biking cycling wear, there is no right or wrong. It solely depends on your preference and choice. You can make an addition to the conventional bib/ short and bike jerseys by adding other cycling gears like gloves and glasses. A gravel bike clothing cycling kit is made to add comfort to you off road rides.