What have I been looking forward to this one! The new Syndicate collection of the well-known and wonderful cycling clothing brand Biehler has been released. In fact, the collection is already for sale in the Biehler webshop. I am as happy as a little boy can be! Like I am wandering through a candy shop. And it is again stylish cycling clothing, something in the meantime we expect from a brand like German Biehler. Fresh and stunning colors with of course the famous SYN logo that is once again clearly in the spotlights. For me, this will already be one of the cycling jerseys that I will be wearing every week for the coming spring and summer. Too good not to buy or to just leave it hanging in the wardrobe.
The Biehler Syndicate Club
Biehler developed the Biehler Syndicate Club to bring together passionate cyclists and lovers of the brand. To become a member of the Biehler Syndicate Club you must purchase a membership. This membership is valid for 1 year. Upon the purchase of your membership you will receive a nice welcome package, including a personalized cycling jersey. From that moment onwards, you can also enjoy a discount on the entire Biehler collection.
I have been a member of the Biehler Syndicate Club for about 2 years now and I have to say, this has been a very good choice. Especially if you are a cycling fanatic just like me and if your appreciate high uality cycling clothing. The cycling jerseys and cycling bib shorts from Biehler are aero, stylish, durable and of professional quality.
The new Biehler Syndicate cycling clothing collection
To give you an idea of ​​the new Biehler Syndicate Collection cycling jerseys, I would like to share some photos here. I already own the classic white cycling jersey, but it won't be long before I add 1 or 2 Syndicate cycling jerseys to it. Perfect cycling wear for the spring and summer cycling months to come.
The Biehler Signature cycling clothing collection
In addition, it is also worth to check Biehler's Signature cycling clothing collection. It is a new collection with some surprising colors that you will not find in any other cycling clothing brand; namely avocado green and cardinal red. Again very stylish and eye-catching!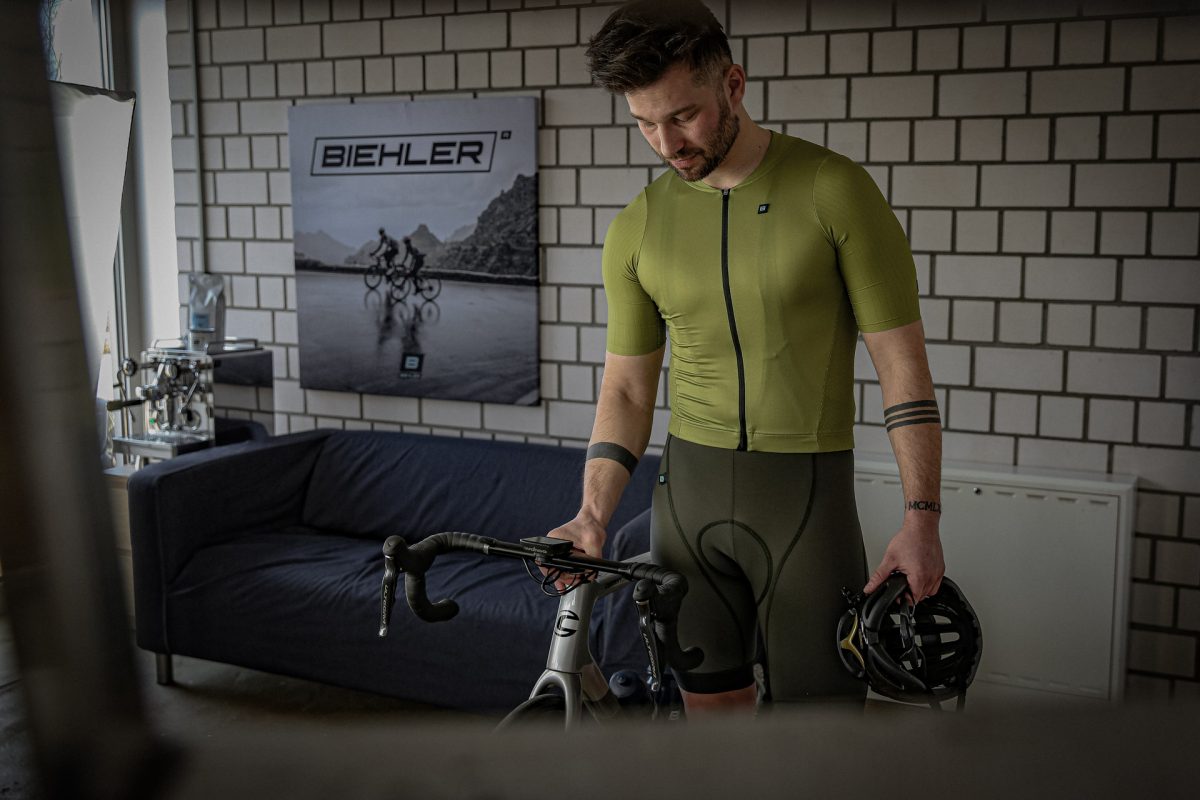 My experience with Biehler cycling clothing
As you may already know, I am an avid ultra cyclist. By this I mean that I prefer bike rides of 200+ and 300+ kilometers, which I combine if possible with my love for murals (streert art, graffiti or whatever yoy want to call it). We are only the beginning of the year, but I have already made 5 200+ km bike rides and 1 300+ km bike ride. Which has also resulted in many beautiful photos with murals which I discovered during my rides. For these rides I always choose Biehler cycling clothing. In my opinion the best endurance cycling clothing on the market.
Last winter I chose, among other things, two Thermal Rain long sleeve jerseys and the winter jacket from Biehler. Of course combined with some long bib shorts. I can only say that I am extremely satisfied with my Biehler cycling apparel. I have to admit though that I have not worn many other winter cycling clothing yet. But why would I chance what I like.
Velofanatics via Intstagram
If you like my pictures and if you share the same passion for cycling and cycling clothing, I would be very grateful for a follow on Instagram. Let's share that love for cycling; Have a wonderful cycling day and if you have any questions don't hesitate to contact me.
Check my Instagram account here.
Read more about the Biehler brand here.