Summer is coming… We already dream of warm temperatures, the energy we get from the sun (not to mention the vitamin D boost) and the endless bike rides from morning to night. Because when the sun is enlightening our sky, our legs spontaneously start to pedal. Sun and cycling… it sounds like the perfect combination. But it is also a tricky combination that can lead to many problems. We have just spent a whole winter inside and immediately expose ourselves to the sun for several hours. This can lead to sunburn and in the worst cases even to cancer or other skin diseases. It is therefore important to consider the necessary sun protection while cycling. Think not only of sun creams but also of sun protection cycling clothing such as a UV protective skull cap or a UV protection cycling jersey.
Sun protection cycling clothing
The difference between and importance of UPF and SPF
SPF Sun Protection Definition
SPF might sound familiar when thinking of summer days and trips to the beach. It is the abbreviation of Sun Protection Factor. It tells you how well sunscreen or suncream will protect your skin against harmful UVB rays from the sun. UVB rays are the rays which are responsible for sunburn and in the worst cases also for skin damage and skin cancer. The SPF factor will tell you how long you can stay in the sun without burning.
Let's imagine that your skin normally burns after 10 minutes in the sun. A sunscreen with SPF factor 30 will extend that period of time by multiplying it with 30. So a sunscreen factor 30 will allow you to stay in the sun without burning for about 300 minutes. This is an average nevertheless and depends on many factors. You wouldn't for example be the first one only applying a very thin layer which will significantly reduce the protective effect. Ideally, you reapply sunscreen every 2 hours, even when cycling.
UPF Sun Protection Definition
Similar to SPF we also have UPF. UPF is as important for us cyclists as SPF because it determines the sun blocking factor of apparel and therefore also cycling apparel. The UV protection of your cycling clothing is a very important blocking layer and one of the most effective means of protecting your skin against the sun. If you buy cycling clothing with the right UV-protection namely, you will not have to reapply sunscreen on these parts of your body. UPF stands for Ultraviolet Protection Factor. According to the Skin Cancer Foundation your cycling clothing, as well your bib shorts ad your cycling jersey, need UPF sun protection of at least 30. UPF factors between 30 and 49 offer a good protection. For the ultimate sun protection while cycling, go for a UPF 50 factor. A UPF 50 factor will block 98 percent of the harmful sun's rays.
Factors which determine and affect the UPF rating of cycling clothing
The UPF rating is based on a few crucial factors which are interesting to discuss. If you know how UPF is determined, you will also know what cycling clothing (but also other garment) to look for.
The color: The darker and the brighter the color the better the UV protection. Dark colors like brown, black and blue absorb UV rays better and therefore are more protective to your skin. But also bright colors like red have a similar UV protecting effect Their lighter counterparts like white, pale pink, pale blue and so on offer the least sun protection when cycling.
The fit: Some people might think "the tighter my cycling jersey, the better my sun protection". On the contrary, looser threads offer better UV protection than very body-tight cycling clothing. Which makes sense if you think one step further. The tighter the fit, the more you will stretch the fabric fibers and the easier the sun rays will pass through.
The Fabric: The more dense and tightly manufactured threads of your cycling clothing the better the sun protection. Synthetic and semisynthetic fibers like polyester, lycra, coolmax and supplex are perfect examples of densely manufactured fibers. Together with tightly woven fabrics like wool they offer the best protection against harmful sun rays. Cotton scores the worst on UPF tests and you should avoid wearing this fabric when cycling in the sun.
Different types of Cycling clothing which offer sun protection
UV Protection Cycling Jersey
One of the areas which is fully exposed to sun radiation during your ride is the upper body. It is important to cover up this part of the body because it needs the most protection. Research has proven that the back is the top spot for skin cancer in males. A UV protection cycling jersey with a high UPF rating is important in this matter. The higher the rating the better the protection. But don't focus on the UPF rating alone. To optimally protect your upper body from sunburn, 'when' you ride is as important as the UPF rating of your cycling jersey. Early morning or late afternoon rides are effective against sunburn too and skin damage by harmful UV rays too.
Arm sleeves and leg sleeves
Probably not what you were thinking about when dreaming of your summer rides. Arm sleeves and leg sleeves… we automatically link them to colder autumn and spring days or early morning rides. Nevertheless, they can also form an effective sun blocking barrier while cycling. If you would consider buying UV protection arm sleeves or leg sleeves look for 50+ UPF rated ones. Some brands offer sleeves which are especially made for those hot summer rides. They are lightweight and made of innovative fabrics which have a cooling effect while cycling.
Upon contacting Monton Sports to get more info about their UV ray protection cycling wear we are happy to provide our blog readers 15% reduction on every purchase done via www.montonsports.com Just use our coupon code FXVelofanatics15 and you will receive an instant 15% reduction.
UV Protection skull cap
When you are cycling on a sunny day, one of the last areas we are worried about is our skull. Most people do not think about protecting this part of the body. Why would we… we are wearing a helmet after all. People who have had a burnt scalp due to the sun rays shining through the holes and vents of their helmet, will think twice on their next ride. Nothing as unpleasant, annoying, and harmful to your health as a burnt scalp.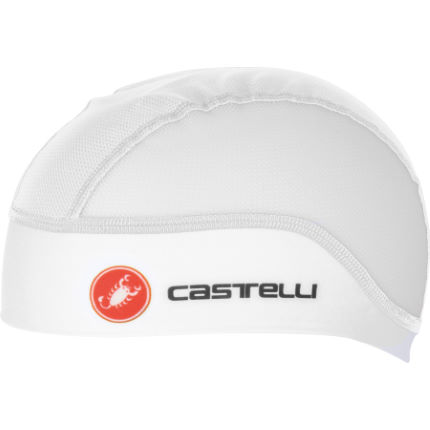 A UV protection skull cap or skull beanie is an absolute must if you are a thin haired person wearing a helmet with holes. But even for people blessed with a thick head of hair skull caps might be useful. Sweat namely will significantly decrease the sun protection and blocking effect of thick hair. Skull caps will protect your skull skin from sun exposure and damage by UV rays.
Hydrophobic and moisture wicking fabrics
They are made off lightweight fabrics and often even contain a sweatband to avoid sweat dripping in your eyes. Look for hydrophobic, breathable and/or moisture wicking fabrics which repel sweat and water instead of absorbing them. This way you will keep dry during your hot and long rides.
The best UV Protection Cycling Jersey
No one can beat Spanish cycling clothing brand Gobik when it comes down to the best UV Protection Cycling Jersey. At least not to my humble opinion. The past years I have been wearing tens of cycling apparel brands like Q36.5, Biehler, Monton Sports, Sportful and Gobik. I have looked up and compared their sun protection properties and I have taken them to the test on my own rides in the French Alps, the Vosges and the Belgian Ardennes. Based on these personal experiences my favorite sun protection cycling jersey is a Gobik one.
From Stark to Carrera: UV 50+ protection
Gobik offers a few standard clothing series for both men and women, namely Stark, CX Pro, Attitude, Invincible and Carrera. They are all made to attack the fiercest cols on sunny and warm days. Lighweight fabrics form the basis of the jerseys, so you can smoothly push your pedals in the hottest conditions. Best of the Gobik class are the Stark and CX Pro series. These sun protection cycling jerseys have a UV 50+ protection.
Check the Gobik UV sun protection cycling clothing here.
The Gobik Attitude, Invincible and Carrera series have a UV 50+ rear protection combined with a UV 20+ sleeve and/or front protection. Since your back is the most sunburn vulnerable area of the body, Gobik wants to keep this body part as protected as possible.
Find below some pictures of my last cycling trip to Mallorca. My partner in sun and cycling crime these days was the Gobik 4.0 Factory Team CX Pro cycling jersey. Gobik recently launched the new 5.0 series.
Machines for freedom Sun Protection cycling apparel
Machines for freedom is serious about sun protection and therefore they produce UPF 50+ cycling jerseys which offer the best possible protection against harmful UV-rays. It is a brand exclusively made for women. Their jerseys are colorful, stylish and made to fit, no matter which size your have.
Some additional UV sun ray protection tips for cyclists:
Don't forget to protect your skull. People tend to forget their skull because they are wearing a helmet. Nevertheless, most helmets have large vents through which the sun can easily cause sunburn. Wear a cycling cap, a bandana or one of the previously mentioned skull caps, especially when barely having hair or having thin hair.
Another body part people tend to forget when talking about sun protection while cycling are the eyes. Buy a decent pair of sunglasses which a high UV-protection factor. Your eyes can also suffer from sun damage.
Try to avoid the hottest moments of the day. Suncream will never provide you a full protection. So the best way to avoid UV damage is to avoid the sun during the riskiest hours.
A tan line is often considered to be a reward amongst cyclists. In reality though, a tan line is skin damage caused by sunburn.
If your skin is burnt there is not much you can do apart from waiting. Soothing moisturizers might help to ease the pain and anti-inflammatories can also help to decrease that feeling of pain.
Want to know more about what to wear during summer or winter cycling, check our summer vs winter cycling clothing article:
What to wear: winter vs summer cyling clothing guide
Sun Protection Cycling Wear: FAQ
Does UV protection clothing really work?
Yes, it works and it is in fact the most effective way to protect your body against harmful UV rays. It is a form of protection which lasts forever and which you will not have to reapply every two hours like with sunscreen.
Do pro cyclists wear sunscreen?
Yes they do. Pro riders have many routines and applying sunscreen is for sure one of them. They are often on the road for hours and one thing they want to avoid is returning like a lobster. Sunburn will not only affect their health but also their performance. Always apply more sunscreen than you think you need. Better safe than sorry and most people only apply a thin layer which barely offers sun protection.
What color to wear when cycling to block UV sun rays?
There is no color that will block all harmful UV rays but there are differences between colors. Darker colors like black and brown will absorb more UV than lighter colors like white, yellow, pastel and pink. Lighter colors will reflect sunlight more efficiently. And the less UV rays are absorbed, the less UV will also reach your skin. Don't be fooled though… there is no color that completely block UV sun rays. The fabrics of your UV protection cycling clothing are as important as the color.
Do I need to protect myself against UV sun rays when cycling on cloudy days?
Yes, don't underestimate the UV-power of overcast or cloudy days. People often ignore UV protection when going for a ride on cloudy days. But UV-rays can be as strong on cloudy days as on sunny days. So even on cloudy summer day we recommend wearing UV protection cycling clothing and applying sunscreen. Especially when riding between 10 AM and 3 PM UV protection is essential!
Will sunscreen still protect me when heavily sweating on my bike?
Good question. Cycling in hot weather goes hand in glove with a lot of blood, sweat and sometimes tears. Sweat and sunscreen… we know better combinations. The more you sweat, the more you will have to re-apply standard suncream. We recommend going for sweat resistant sun protection. Sweat resistant suncream will not require regular reapplication, even when being very sweaty. You only need to respect the reapplication times as indicated on the sunscreen itself.
What areas are most vulnerable for skin cancer when cycling?
Research has proven that the back in males is the area where most skin cancers occur. A decent UV protection cycling jersey is therefore crucial. In females it are the legs which are the highest-risk area. In this case, UV protection leg sleeves or a high SPF rating sunscreen will provide the required protection.
Conclusion
As the sun rises higher in the sky every day, protecting your skin becomes more important. Cyclists are often exposed to harmful sun rays many hours in a row. In that case they are not realizing how much damage these sun rays can cause. We feel the wind running through our helmet and feel the fresh air on our face and forget about the sun and the warmth. UV protection cycling clothing nevertheless is a crucial aspect when going for a ride on a sunny day. Go for dark or bright color cycling apparel with a high UPF rating. And don't forget to protect your skull from sunburn. Additionally, try to apply sunscreen on the uncovered body parts every two hours.