My ultimate goal in 2021 was to finish Le Tour du Mont Blanc: a French bike race around the famous Mont Blanc of 338 kilometres and + 8500 altitude meters / elevation gain. As with so many things Covid ruined the party and the Tour du Mont Blanc was cancelled. Having trained so hard (so far 22.000 km in 2021) and made so many sacrifices (bye bye chocolate, see you later alcoholgator and sorry sweets), you just want to transfer that optimal physical form into a crazy once in a lifetime performance!  You want to win, you want to perform well and you want to experience that adrenaline boost, dopamine sensations and endorphin energy when crossing the line. So in August of 2021 I decided to add a new goal to my 2021 cycle bucket list: completing a 10 K everesting cycling challenge.
The 10 K everesting cycling challenge means ascending or climbing 10.000 altitude meters within 24 hours or as it is official defined: One single unbroken ride of more than 10,000 m vertical. No time restriction, no distance requirement, no sleep allowed. The climbing victim of my crazy last-minute idea: the Ballon d'Alsace in the French Vosges mountain range.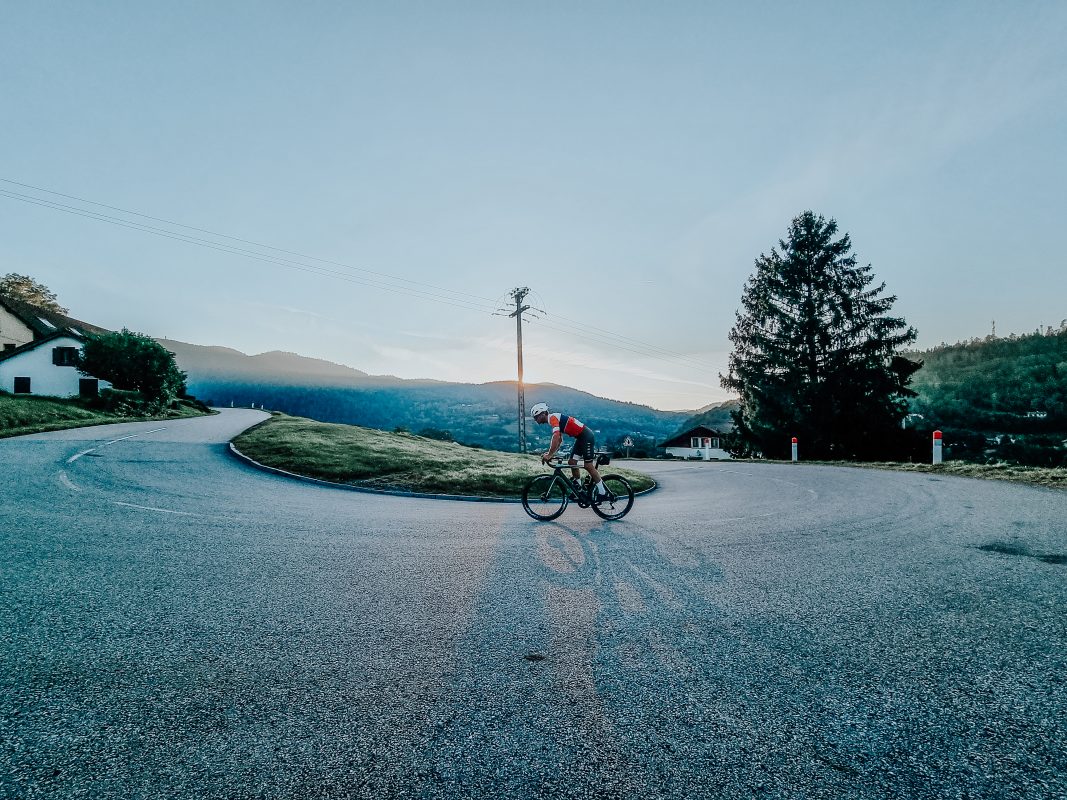 Everesting 10.000 metres: Ballon d'Alsace from Saint Maurice sur Moselle
It didn't take me long to choose the most suitable climb to do my 10 k everesting cycling challenge. I had two climbs in mind; two climbs which I did before and which answered my requirements:
Not too steep and not too flat: an average gradient between 7% and 9%.
A steady gradient
Not too short and not too long +/- 10 kilometres
Good tarmac – road conditions
My two possible partners in climbing crime: the Ballon d'Alsace in the Vosges or the col from Vallouise to Puy Saint Vincent in the French Alpes. Ultimately I chose the Ballon d'Alsace in the French Vosges. It is 9km long and bridges 621 vertical meters with an average gradient of 6.8%. From foot until top it has a steady gradient of 7%, and no real gradient peaks. So, I would have to climb the Ballon d'Alsace +/- 16,5 to complete my 10 k everesting cycling challenge. September was the ideal month to do the 10 k everesting challenge: no too cold and not too hot… to stay in the same 'not too' rhythm 😊 With all conditions and requirements 'met' I was ready to rumble.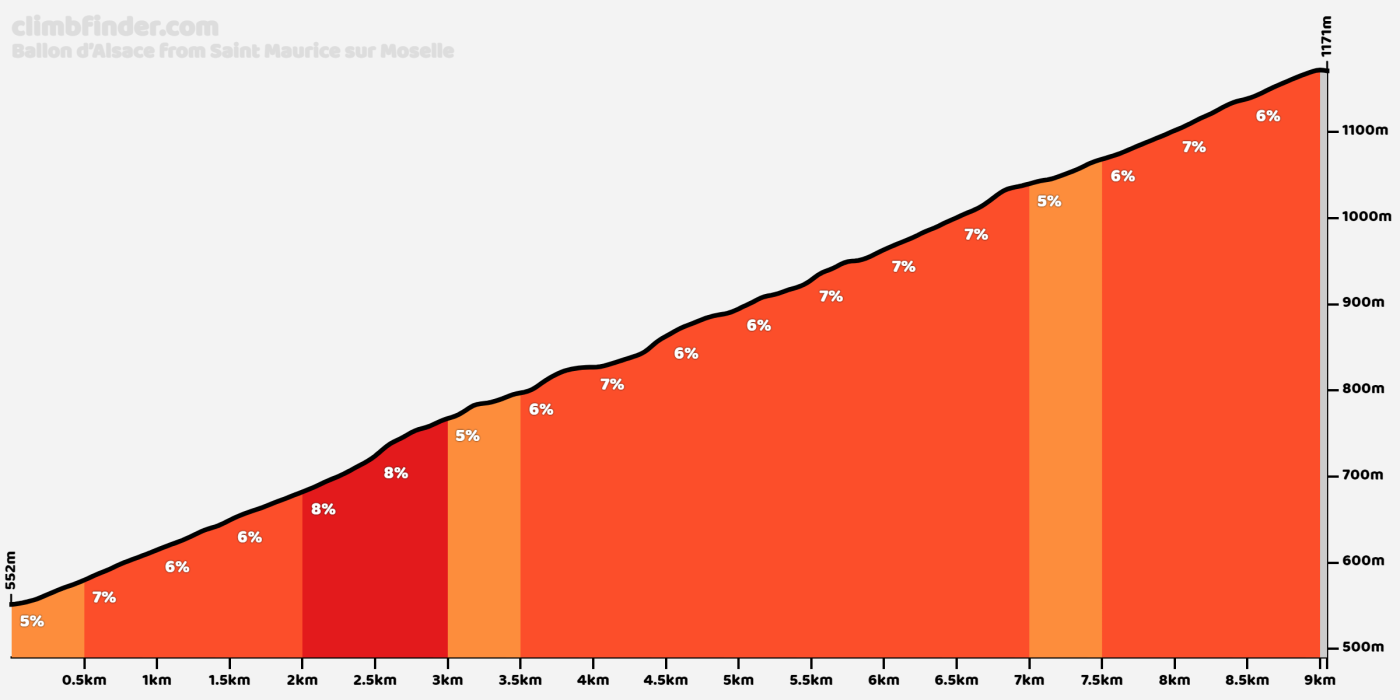 Completing my 10 K everesting cycling challenge
On the 24th of September 2021 my day had come. Sunny conditions, although I started in the dark. I woke up at 4 in the morning and started my first ascent at 4:30. It was freezing cold but I knew the sun was coming and I had my winter Gobik cycling apparel ready to survive the first two hours. (I wore my Gobik Gravity K12 Bib Shorts whole ride long – the ultimate ultra ride cycling pants) The first climbs went pretty well… nothing can beat the first sunrays beaming through the trees and warming up your face… as an x-ray of heat streaming through your body. Every 3 to 4 climbs I refilled my bottles and took some new nutrition (in the below picture you can see my five star meal – yes, I ate everything that day 😊 )
Upon my 8th climb I took a short pastry break at the bakery at the foot of the mountain. One of the locals, also on his race bike, was interested in my challenge and in the end started following my Instagram and even took a few selfies with me. Cycling really connects people!
The difficult part
The 12th and 13th climb were the most difficult of the day. Thanks to my previous ultra ride experiences I knew this moment would come. I also knew it is a "make or break" moment. If you survive this moment, you will enter in a kind of extatic phase; nothing can hurt or break you anymore and the path to glory is open. And that's exactly what happened. The 14th ascent I was climbing as if I was sitting on the back of an angel gliding thorough the clouds… seeing the gate to heaven coming closer and closer. Not that I am religious…but you get the picture 😊
From dusk till dawn I ended the day and my challenge at around 22:30 in the evening…having climbed 10.103 metres in one ride… 16 hours and 30 minutes in the saddle. Yes, we can. What a day and what an experience. Up to the next one!
The motive behind my challenges
For the ones who know me… it is not the first time I do crazy cycling stuff. I have done a few solo ultra rides at high average speeds: 200 km, 300 km and even 400 km in one ride. I have climbed the Mont Ventoux 6 times in one day reaching the height of the Mount Everest and so on. This is not only because I am bike addicted but also to prove to the world arthritis shouldn't stop you from chasing your dreams.
The pain and suffering: psoriatic arthritis
Yes, I have psoriatic arthritis. Psoriatic arthritis, or PsA, is a chronic, inflammatory disease of the joints and the places where tendons and ligaments connect to the bones. Psoriatic arthritis and psoriasis are autoimmune conditions. Our immune system protects us against illness and infection. In autoimmune conditions, the immune system becomes confused and attacks healthy parts of the body. It can cause pain, swelling and stiffness in and around your joints. Unfortunately there is no remedy yet to heal this diseases but luckily there are medecines like Enbrel from Pfizer which can make a world of difference.
Until about 2012 my life was a hell, taking at least two painkillers a day to reduce the pain caused by arthrititis. After walking 5 kilometres, cycling 10 kilometres or picking up my daughter for 15 minutes I had to recover two days. The pain to my joints was not bearable. Together with my rheumatologist I went on a quest to find a medicine which could supress the inflammatory disease. This was a continuous cycle of test and try (a few months in a row per medicine) with a small pinch of hope but also a lot of desillusions an depressions.
Read more about psoriatic athritis
Enbrel from Pfizer as a game changer and life saver
 Luckily in 2012 Enbrel came on my path. I am now able to live my live in a more or less normal way. I do have to inject Enbrel once a week but for me it is a true game changer and a true life saver. Grateful I am, that I can do again what I want to do, without pain or almost without pain… I am still ill but at least the pain and the depressions are gone.
I want my story to inspire other people who suffer from the same or a similar disease! Don't give up, keep on searching… you CAN live a normal life with arthritis or rheumatism and you CAN still aspire to complete inhuman challenges like a 10  k everesting cycling challenge. I am the living proof. Feel free to contact me if you have any questions about my challenges, about living with arthritis or if you just want to have a chat.