It all started in October 2021. Having finished the 10 k Everesting challenge (climbing 10000+ altitude meters in one ride and one day), I was looking for a new challenge. A challenge that would surpass all previous ones. I took my dear friend Google and did a search on "toughest road race in the world". One of the first links referred to "Le Tour du Mont Blanc Cyclo". https://letourdumontblanc.fr/ The toughest race in the world… That's at least how the cycling media calls this ultra granfondo. Some also refer to it as thé mother granfondo of all granfondos or an ultra cycling granfondo. Bigger, longer, harder and tougher than its famous siblings such as the Marmotte, the Mallorca 312 and the 3 Ballons.
The coming weeks and months I will keep you posted on my training and preparations. How do I deal with food? What is my target weight? Do I take extra vitamins or other things? What kind of training do I focus on for a granfondo or ultra cycling race? And so on. Everything you could possibly want to know to successfully complete your own granfondo. If you still have questions, do not hesitate to contact me.
What is Le Tour du Mont Blanc Cyclo?
Le Tour du Mont Blanc is an ultra solo road race of 338 kilometres during which you will climb more than 8500 metres. The name says it all…The race is a quest through the mountains that hide in the glory of the majestic Mont Blanc. The race starts in the picturesque Alpine village of Les Saisies, about half an hour's drive from Albertville. In 2022, the race will take place for the 11th time. During the ultra ride you will cross 3 countries, namely France, Italy and Switzerland.
Training for the Tour du Mont Blanc Granfondo D-Day
Training for the TMB is like training for a Granfondo, but longer and more in advance. Participating in one or more granfondos is also ideal as a preparation for the Tour du Mont Blanc. My training has actually started 3 years ago when I started training for my first challenge: the Bicinglé de Ventoux. After that, I went from one challenge to another; whereby each challenge was followed by a one to two week rest period. This way, you systematically build up more volume and your body gets acclimatised to being on the bike for a long time.
Read More about my Bicinglé de Ventoux adventure
Training for the TMB is like training for a Granfondo, but longer and more in advance. Participating in one or more granfondos is also ideal as a preparation for the Tour du Mont Blanc Cyclo. My training actually started 3 years earlier when I started training for my first challenge: the Bicinglé de Ventoux. After that, I went from one challenge to another with a short break of a week or two in between. This way, you systematically build up more volume and your body gets acclimatised to being on the bike for a long time.
Ultra Granfondo winter training
My training is always divided into two major phases: winter (autumn and winter) and summer (spring and summer). During the winter period, I go for the maintenance of my current physical condition. I cycle 5 to 6 times a week. 2 climb training sessions of around 3 hours on my Wahoo Kickr Bike, 2 training sessions in my power zone 2 of 2 to 3 hours and one High Intensity Training session of 1 hour and 20 minutes (sets of 30 second intervals close to the maximum). 2 to 3 times a week I add a 15-minutes core stability session.
I must admit…you are reading the story of a winter cycling pussy 😊 All my winter trainings except for early autumn ones, when there are still Indian Summers, are indoors. Why? Well, I am always a bit scared of the cold and the slipperiness on the road. Feel free to call me a pussy 🙂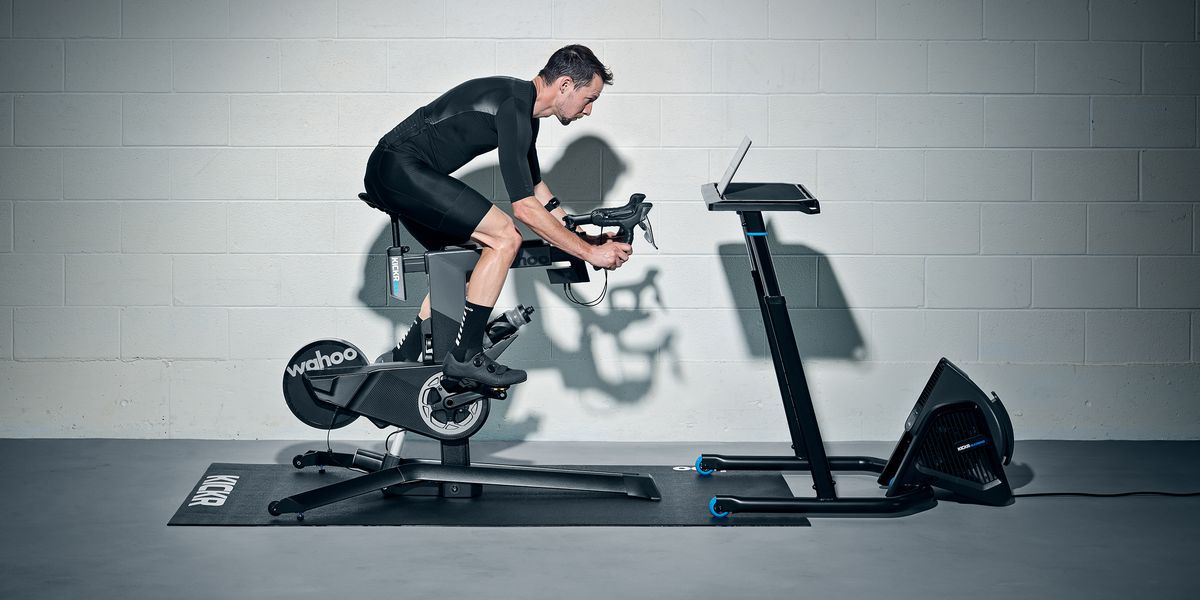 Ultra Granfondo Summer training
When the temperature outside exceeds 15 degrees Celsius, I take out my steel horse. In summer, I go for a long bike ride at least once a week. "Long" in this case means at least 5 hours on the bike, with regular outliers of 7 hours and more. I also regularly head for the German Eifel, only 1 hour and 45 minutes away for me, to climb there. I prefer the Eifel to the Ardennes because the roads are better maintained and because there are several kilometres long cols that have an incline comparable to that of the French Alp cols. These training sessions are done in my endurance zone.
Just like in winter, I also do 1 High Intensity Interval training session per week, 1 or 2 training sessions of 3 to 4 hours at race pace and 1 or 2 training sessions in zone 2. As in summer, two weekly core stability training sessions are also part of the summer training package.
In the meantime, I am already doing a small challenge here and there. In preparation of the Tour du Mont Blanc for example, I did a virtual everesting and I did the Granfondo Vosges on my own. I love to have those intermediate goals to keep the motivation high. It also gives you a little welcoming boost when you reach these goals. Yes, I am on the right track…

Vitamins and supplements
I am not really into additional vitamins or supplements. After listening to several podcasts like "The Real Science of Sports" I decided to take Beta Alanine; an affordable cycling supplement which has proven its efficiency and which is not harmful at all. According to various podcasts the only two supplements which are affordable for amateurs and do have a positive effect on your performance are Beta Alanine and Caffeine.
Beta Alananine can for example be bought via www.Bulk.com
The different cols and climbs during the Tour du Mont Blanc Cyclo
Vaudagne from Servoz
Your legs are tested for the first time on the Vaudagne climb starting in Servoz. It is a nice and quite easy start with an average incline of 6.6%. 4.1 kilometres long and 270 metres rise. The perfect warming up for the rest of the day.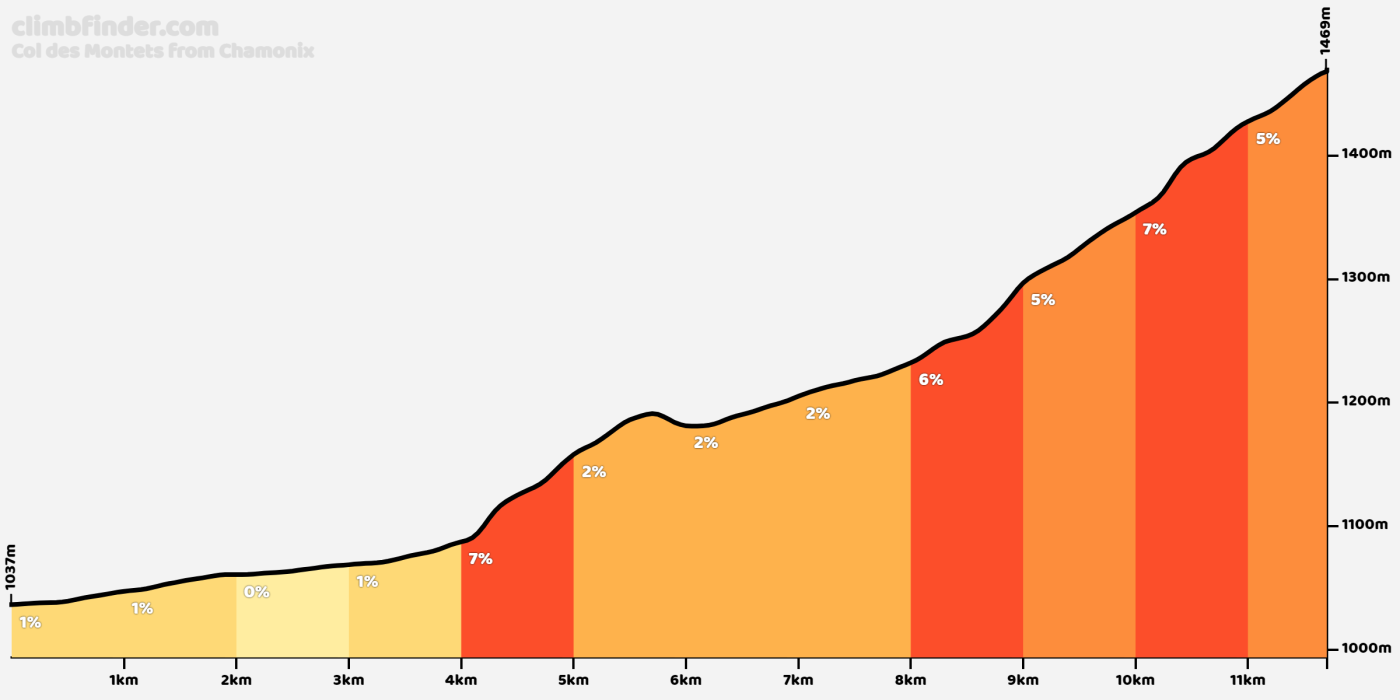 Col de Montets from Chamonix
Col de Montets from Chamonix is not the most beautiful climb but there is unfortunately no way around if you want to complete the TMB Cyclo. In total the climb is almost 12 km long with an average incline of 3,8%. Only at the end of the climb you get that col feeling when taking the last two turns. The climb takes you from around 1000 metres high up to the summit 1469 metres high.
Col de la Forclaz from Le Châtelard
The next one on the Tour du Mont Blanc Cyclo climb list is the 7 km long Col de la Forclaz from Le Chätelard. Another climb with an average incline of around 6% (6.1%). It takes you 437 metres higher right into the Vallis region.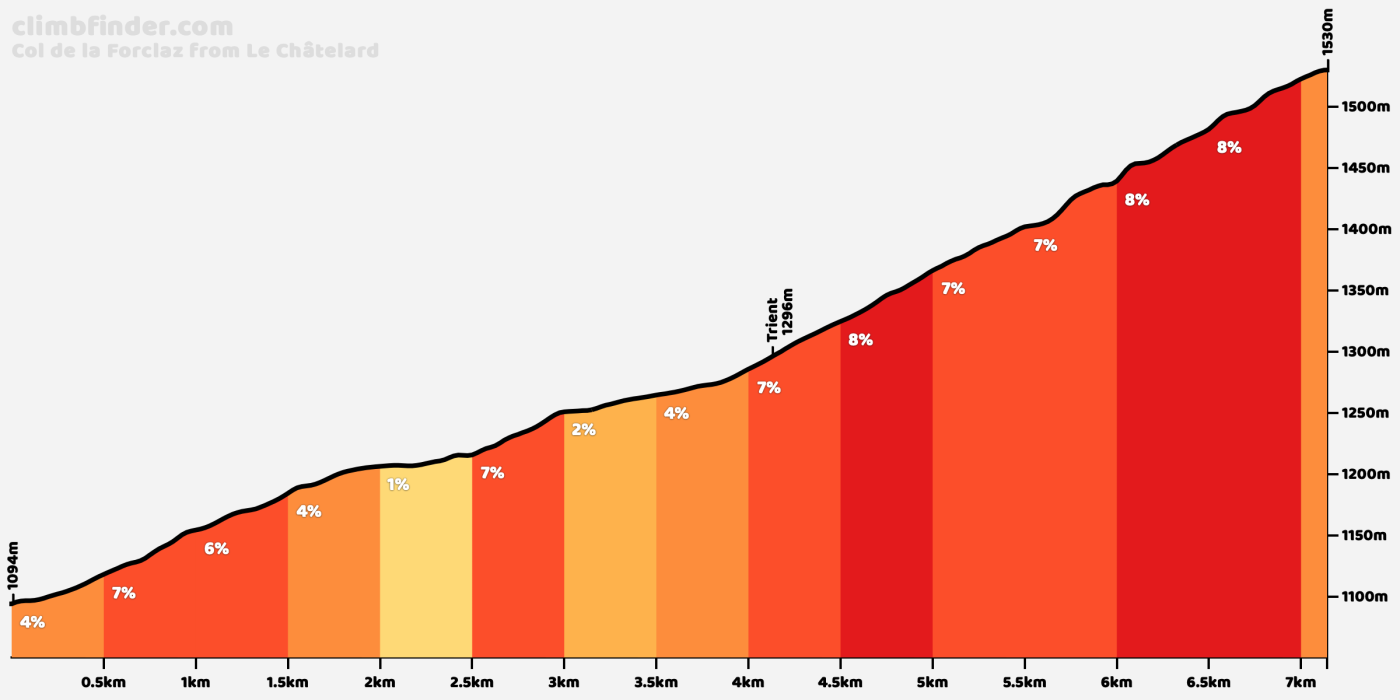 Col de Champex from Les Valettes
Time to push those pedals somewhat harder. Col de Champex from Les Valletes is another climb in the Vallis area. Done witt the 6% and lower average incline climbs. With an average of 8.2% and 10.5 kilometres long this col is the real stuff. 860 metres higher you will for sure be happy to be able to take a short break.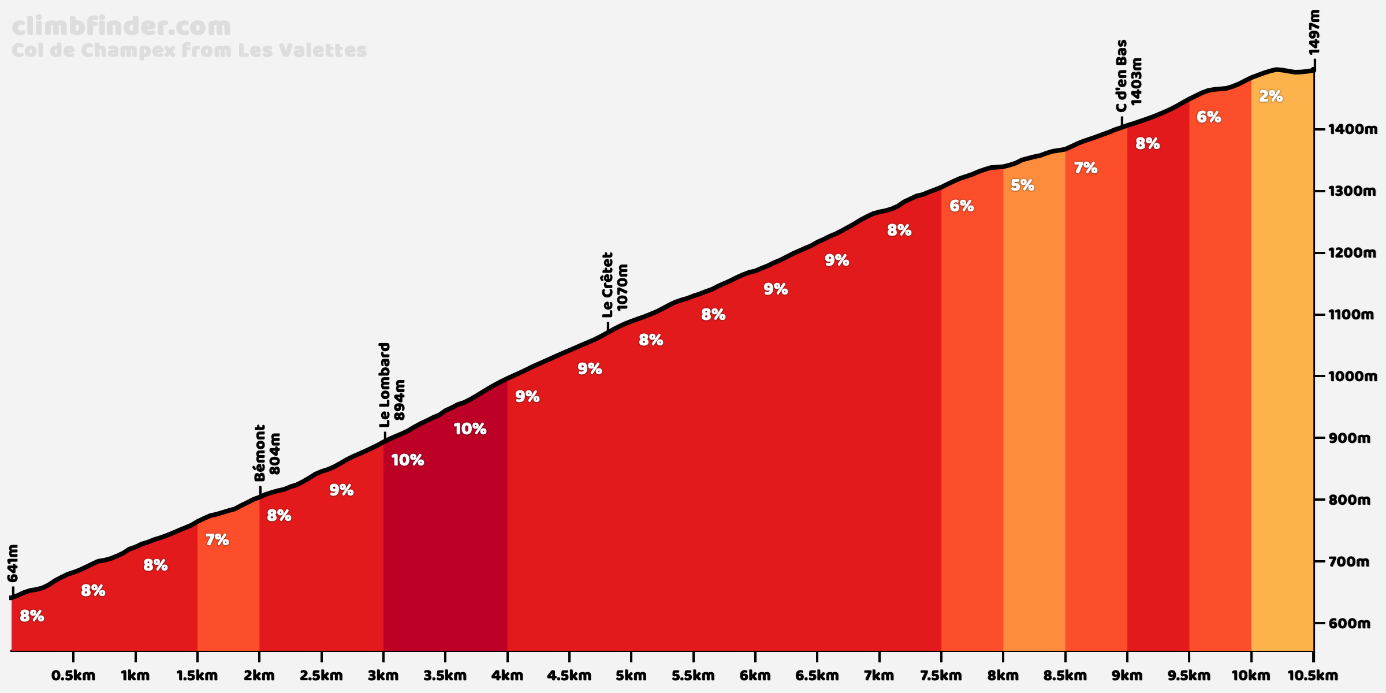 Col du Grand Saint Bernard from Orsières
Time to meet the biggest Bastardo of them all…the Col du Grand Saint Bernard or in Italian Colle Gran San Bernardo. It is indeed the one where the famous Saint Bernard dogs got their name from. The Col du Grand Saint Bernard is more than 40 kilometres long. Extremely long…no wonder it takes you almost 2000 metres (1983 to be precise) higher. The col has an average incline of 4.8%. Good luck to conquer this one!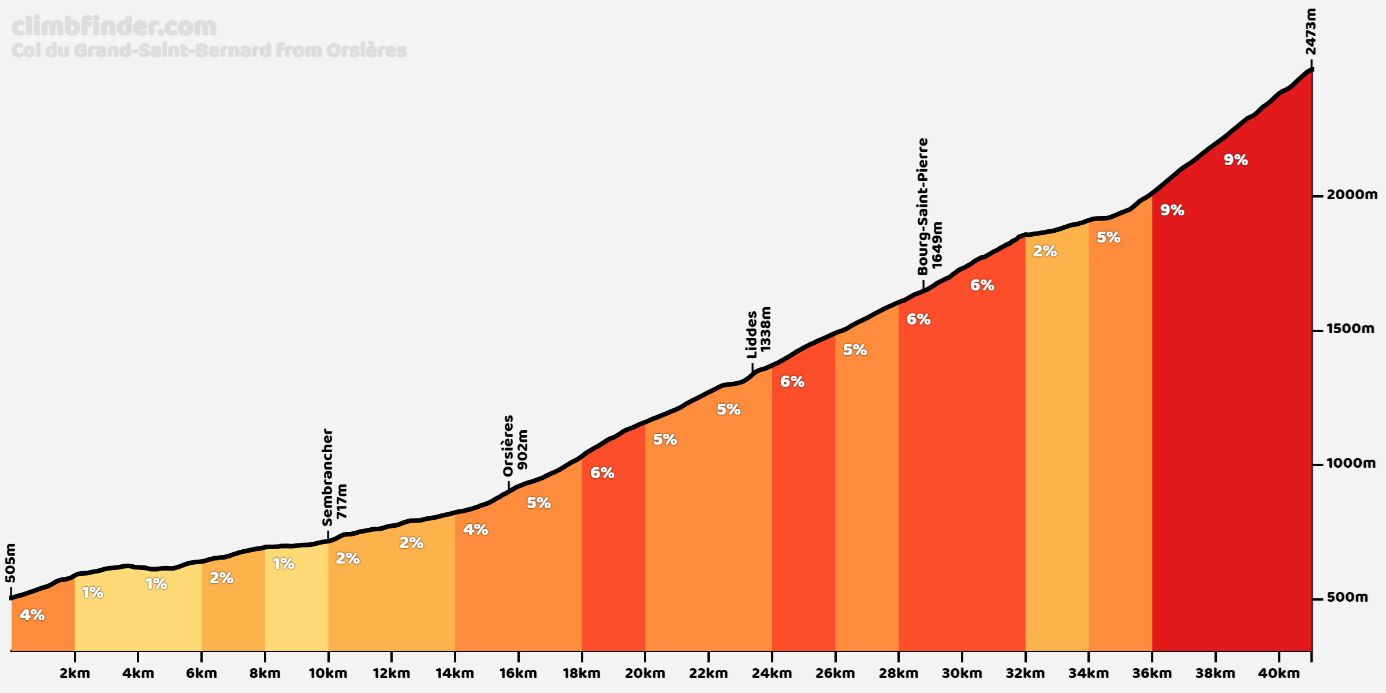 Col du Petit-Saint-Bernard from La Thuile
Then it's the turn of the Col du Petit Saint Bernard. In the Tour du Mont Blanc Cyclo they take the climb from La Thuile. There is a total of 737 meters rise and that 13.3 kilometers long. With an average gradient of 5.6%, this is really something for the punchers; a climb that you can still ride on the big blade.
The Col de Roselend or Cormet de Roselend from Bourg Saint Maurice
The Col de Roselend also known as the Cormet de Roselend start in the famous mountain village of Bourg Saint Maurice. It's a beautiful col which appeared for the first time in the Tour de France in 1979. And in 2022 they will climb it for the 13th time. It is one of the many high peaks in the French Alps. The Cormet de Roselend is named after the former village Roselend, which no longer exists because there is a reservoir. Among other things, the reservoir and the dam where you can cycle over, make the climb a popular attraction among cycling and hiking tourists.
19.3 kilometres long with an average of 6.1% and a max of 13.8%… a tricky bastard when having pushed the pedals whole day long.
Col des Saisies from Beaufort
The Tour du Mont Blanc Grandfondo ends where it all started, namely les Saisies. To reach les Saisies you have to climb the Col des Saisies from the village of Beaufort. A 15.6 long climb with an average incline of 5.9% and a maximum incline of 13%. The climb takes you 918 metres higher. All in all, on a normal day, the numbers are fine but imagine having to climb this "French beast" at the end of a 300 km ride. It will feel like climbing the Mount Everest…trust me.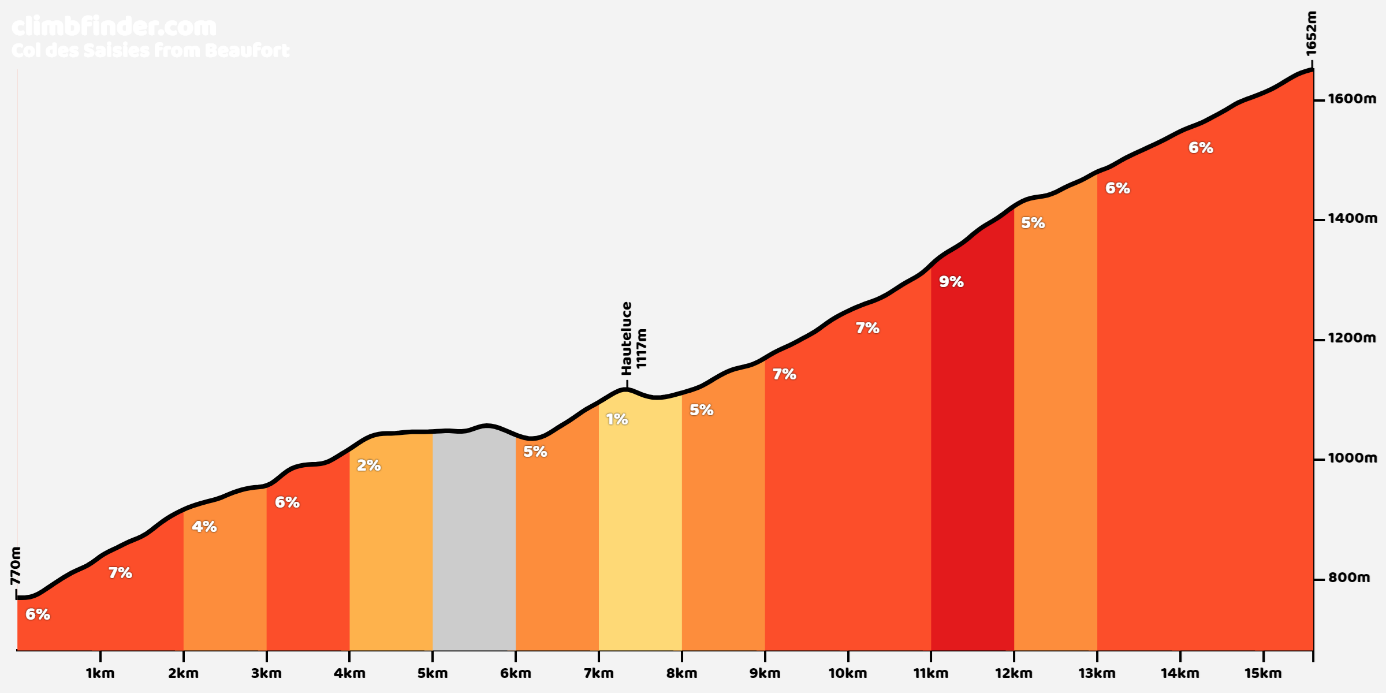 D-Day : the 16th of July 2022
Elevation Gain: 8300+ metres
16th of July 2022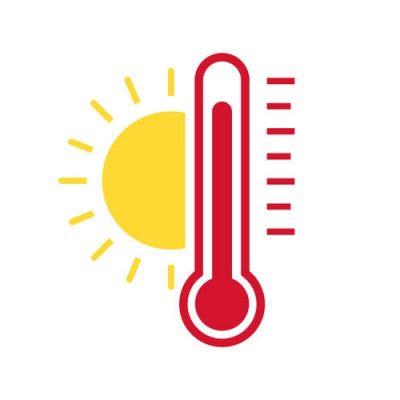 About 45 degrees Celsius Max (113 degrees Fahrenheit) - Avg 30 degrees Celsius (86 degrees Fahrenheit)
330 kms (205 miles)
Beep beep beep…. It's 03:30 in the morning…Saturday the 16th of July 2022…aka D-day. The race only starts at 5:00 AM but waking up early is a must-do to give your body the last shot of required carbohydrates, salt and isotonic fluids. Your cycling batteries should be 100% recharged before starting this race because otherwise you are made to fail.
1,5 hours before the race, I drink my bottle of 800 ML isotonic Born Pro+ water to which I add some extra salt and eat 4 pancakes with figs jam and some tortilla wraps (just because I like the taste of it and they are also a low fat and carbohydrate rich source). I add some additional salt to my breakfast but also to my drink bottles because it is going to be a desert hot day with temperatures up to 40 degrees Celsius in the valleys.
Time to rumble…
The first 250 kilometres
5 AM… it's still quite chilly (15 degrees Celsius) so I put on my light Gobik jacket for the first descend from Les Saisies. 470 red lights…like a stream of funny fireflies depart for what is literally going to be a hell of a day. The first descent the cyclists are guided by a safety car to ensure an accident-free start.
At the first checkpoint I arrive somewhere in the middle. The legs are feeling good and I am absorbing my 90 grams of carbohydrates per hour well so I decide to increase my pace, power and speed. The next climb I pass tens of riders. A few climbs further, at the top of the Col de Grand Saint Bernard someone of the organization informs me around 30 cyclists have passed so far. What?! I never expected to be that fast so I decide to limit my breaks. I know… it's all about finishing the race not about the competitive element. But somehow it gives me a boost when hearing my current position and I want to maintain it.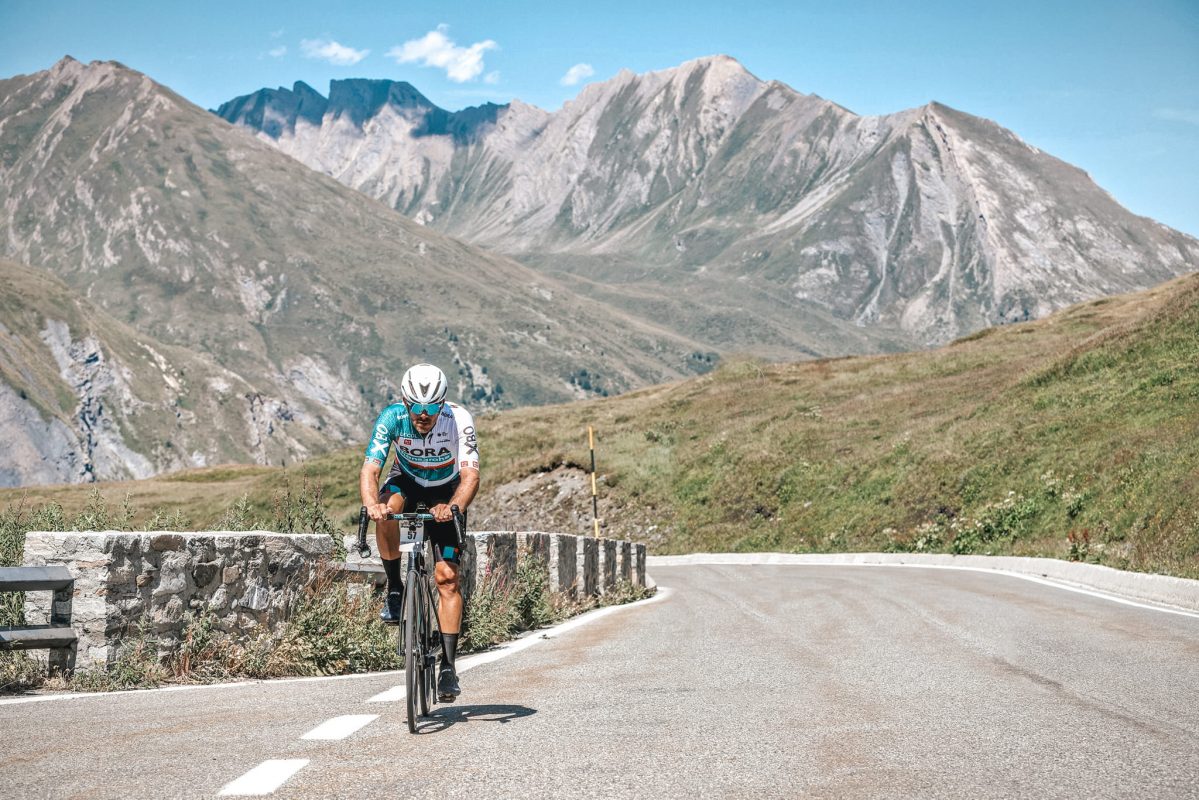 The last 75 kilometres
The next climb, the col du Petit Saint Bernard, I still manage to produce a decent power outage. Not so obvious when you know that first you have to drive 20 to 30 kilometres from Aosta through the valley. My Garmin showed temperatures of around 45 degrees Celsius. It was like riding in a desert with some fans blowing in extra heat. Moreover, I am in a group of only three people, of which only two, me and someone else, want to ride in front.
On the summit of the Petit Saint Bernard, I find it difficult to eat any more. Something that will cost me about 20 places on the next two climbs. My body can no longer find the necessary fuel and I have to drag myself up. Eventually I finish on a decent 46th place of the 470 participants. I spent 14.5 hours on the bike and I took a break of 25 minutes in total … At 20:00 my wife and daughter are waiting for me. Finally… this is without doubt the most challenging thing I have ever done. I have done an everesting before, 6 times the Mont Ventoux in one day and even a 10K everesting on the Ballon D'Alsace, but the competition element adds an extra stress element. Not to be underestimated! Even when the organization beforehand clearly stresses the fact "it is not a competition" 😊.
Ultra Cycling Granfondo & Tour du Mont Blanc Cyclo Tips & Hints
Make use of the opportunity to leave two bags at the supply stations (In total there are 7 stations to choose from). Put some of your own food in it, a small bag of salt, some sun cream, a spare tyre and possibly a new pair of bib pants and a cycling shirt. Chances are you won't need it but better safe than sorry.
Go to the briefing the night before the event (In French & English). You get some useful information there.
Keep on eating and drinking during the whole race, even when not hungry or thirsty. Despite the fact that I always tell everybody, and know very well myself, that you have to keep eating and drinking during ultra cycling, I didn't manage to do it during the last 50 kilometres. As a result I lacked some energy on the last two climbs.
Eat a mix of sweet and salt food. It makes it easier to consume your food on the long term. I didn't do this for the Tour du Mont Blanc but some local guy told me after the race. I am now applying this approach during my rides and it works. Several brands like Decathlon, Clif and Etixx have a salty range of energy bars.
You are passing through Switzerland. Data roaming can be quite expensive when not having the right mobile plan. Take this into account and maybe switch to flight mode temporarily.
My Tour du Mont Blanc Cyclo on Strava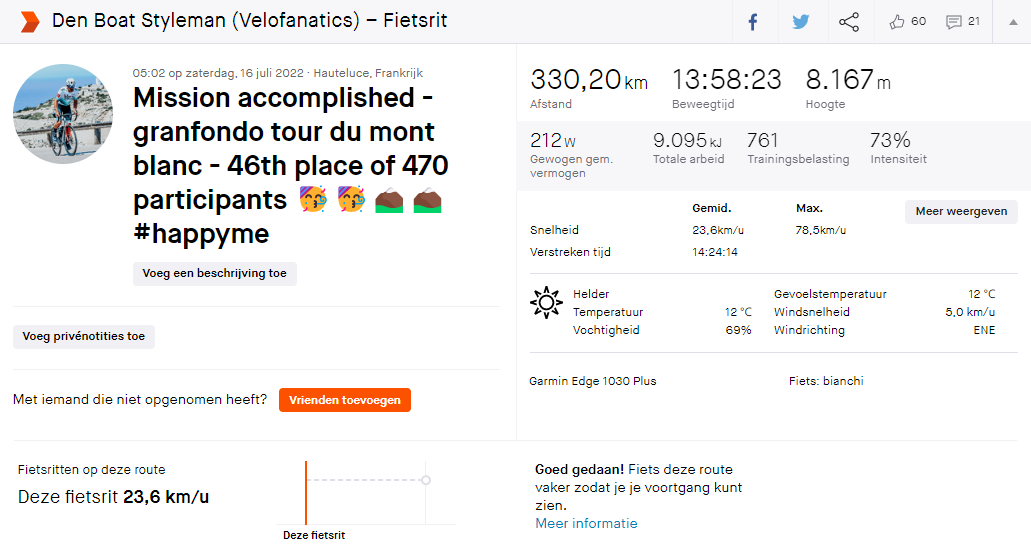 Feel free to follow me on Strava and Instagram:
Where to stay in Les Saisies?
We found an interesting apartment via Airbnb owned by a local French guy called René. René was very responsive and friendly. The apartment is located in a very quiet area of Les Saisies and there is a little supermarket about 50 metres from the front door. Because the apartment is located on the ground floor you have your own terrace and front yard with a fantastic panorama. The start and finish of the Tour du Mont Blanc are a 2 minute bike ride down to the centre of Les Saisies.
Find below the URL to the apartment. I do not benefit from commercial fees or commissions by sharing this link or when anyone makes a booking via this link. Just suggesting and sharing my own positive experience with this premise.
Next Granfondo or Ultra Cycling Challenges on my Bucket List
Tour des Stations : https://tourdesstations.ch/
Les 7 Majeurs : https://www.les7majeurs.com/les-cols/
Read More about my 10K Everesting Challenge Here.
FAQ
Where can I register for the Tour du Mont Blanc Cyclo?
All information can be found on https://letourdumontblanc.fr/
What do I need to register for the Tour du Mont Blanc Granfondo?
Not much. You just need to fill in some personal data and make the payment. Overall, this race is quite cheap when you consider how well organized it is. Oh yeah, one thing people might not think of and which is mandatory is a medical certificate from your GP. This certificate shows that you are physically able to take part in this race. That's it.
Is there a time limit during this race?
Yes, there are 3 time limit points. If you do not pass these points before a certain time you are not allowed to continue. The organization has introduced time limits for your own safety.
Is there any mandatory equipment?
Yes. You are obliged to wear a helmet and to equip your bike with a front and a rear light during the whole race. Besides, the organization requests to carry a valid ID and some cash with you during the whole race. Finally, you need to collect your number the day before the race and it needs to be attached in a proper way to your bike frame.
Any other questions about preparing for a Granfondo or about the Tour du Mont Blanc Cyclo?
Just contact me via welcome@velofanatics.com and I will be happy to answer your questions.
Is the Tour du Mont Blanc a real race?
No, it is not. During the briefing, the organization reminds everyone the TMB is not a race but the common goal should be to finish the ride. It is what the French like to call 'a Rando' or 'Randonnée'. In the end you can consult your final position on the TMB website and you do get position updates at each check point but these are purely informative.