Love it or hate it… that's the first thing that came to my mind when seeing the EF Pro Cycling Jersey for the Giro d'Italia 2020. The least you could say, is that's unique and eye-catching. Up to you to decide whether this is positive or negative. EF Pro Cycling unveiled this 'special' team cycling kit at the team presentation of the Giro start. The team kit is designed by EF Pro's standard cycling kit designer Rapha in collaboration with streetwear and skate brand Palace. The jerseys display white dots on a purple background and some crazy Palace duck being the centerpiece of the jersey. One thing is sure: you hurt your eyes watching the jersey but you keep on looking at it. So mission succeeded I suppose! And like many marketeers would say: All PR is good PR.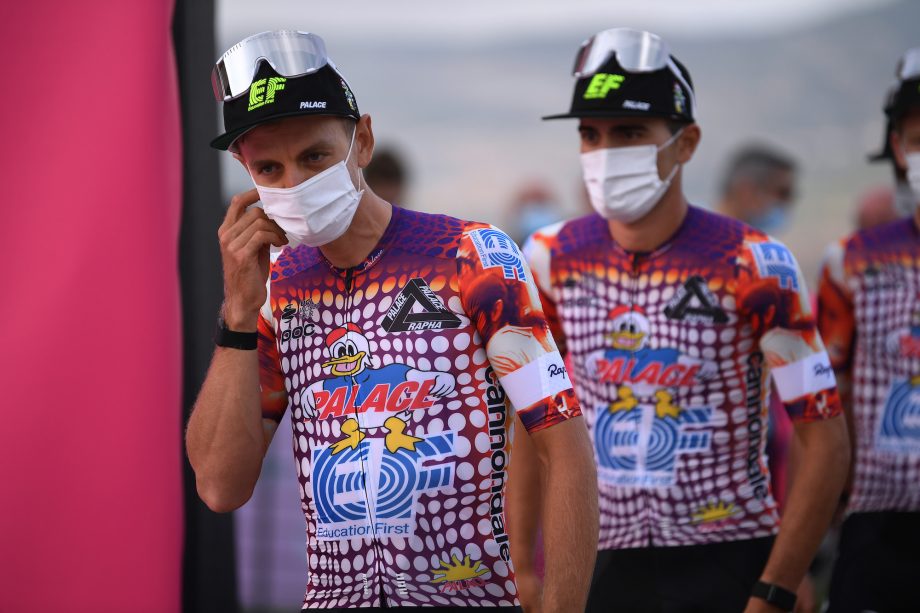 4500 Swiss Franc fine for EF Pro Cycling
The new EF Pro Cycling Jersey for the Giro d'Italia 2020 does come with a fine of 4500 Swiss Franc or £3,700 (4170 euro) because the team didn't manage to register the new kit in time. (500 Swiss Francs per rider + the same fine for the sports director.) According to Giro d'Italia rules and regulations team kits need to be submitted to the UCI in time so they can be approved. Even if it concerns a temporary change of a jersey. EF Pro Cycling had submitted another jersey initially to the UCI. These rules have been put into place to avoid cycling jerseys or cycling kits to resemble other jerseys or team outfits or the pink jersey of the Giro d'Italia itself (la maglia rosa).
It was by the way with good intentions that EF Pro cycling took this jersey redesign decision. They didn't want to their normal pink team kit to clash with La Maglia Rosa. So somehow EF Pro Cycling is now punished for its good intentions. Team Manager Jonathan Vaughters expressed his frustrations about the UCi's fine via a remarkable and significant tweet:
"Thanks for the $4000 of fines for wearing our crazy ducks. Hope David Lappartient [UCI President] enjoys his dinner – on us! Salud!"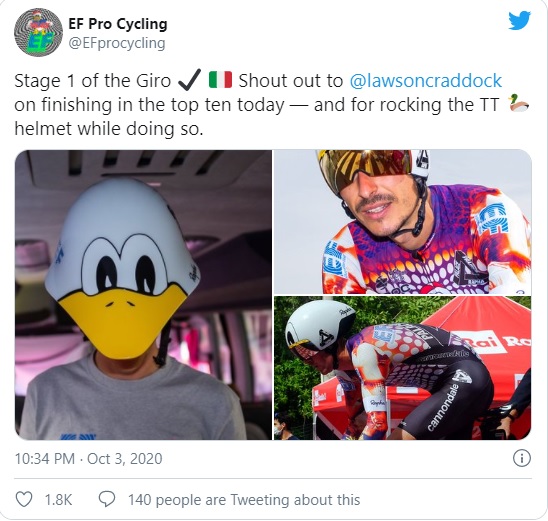 EF Pro Cycling TT Helmet and Bike for the Giro D'Italia 2020
Rapha collaborated with Palace intentionally because they have no link at all with cycling. With a fresh bag of ideas and a completely different look on things, they were hoping to create a cycling kit which would be different from all the other ones. But it didn't stop with the unique cycling jersey. EF Pro Cycling also unveiled a matching TT helmet and a customized Cannondale SuperSix Evo bike. An all-white Palace bike with a flashy yellow front fork and the Palace duck safely sitting under the saddle.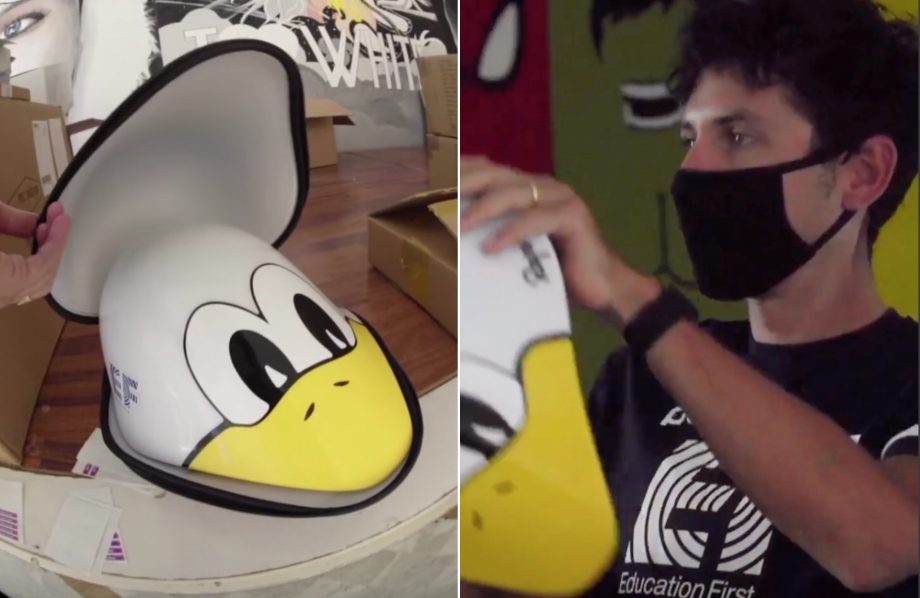 Will the EF Pro Cycling jersey from the Giro D'Italia 2020 be for sale?
Yes, we have already got confirmation from EF Pro Cycling team that the jersey will become available in limited numbers. Besides the jerseys, other cycling merchandising displaying the Palace logo and colors will also be available for public sale.