The road season comes to an end with the 2022 UCI Road World Championships. Once again we saw many trendy new jerseys and cycling outfits the past year. Who knows one day these cycling jerseys will be in a similar top 10 cult retro cycling jerseys. Rather than reviewing these new jerseys, which others have already done quite well, I have chosen to pay tribute to some cult retro jerseys that have marked the history of cycling. Here is our top 10, as always… just my 2 subjective cents of course.
Also check my blog article about the best and most beautiful retro cycling jerseys… to my humble opinion.
Our top 10 cult retro cycling jerseys
Rock Racing
There was a time when it was fashionable to wear dead men's heads on the sleeves of your t-shirt or sweater. Cycling fashion followed this trend and in the early 2000s the Rock Racing brand decided to set up its own cycling team, even reaching the Continental road racing circuit in 2007. A year later, the big boss got too impatient and decided to recruit XXL (with no regard for ethics or business savoir-faire).
Mercier Hutchinson
When a bicycle brand and a tyre brand join forces, they create a cult retro jersey. A mixture of purple and yellow which would nowadays be the ideal third kit for some soccer teams. In the peloton, it was impossible to ignore the remarkable Mercier colours, especially the one of the most popular Mercier rider; Raymond Poulidor. The jersey became legendary in 1964 on the slopes of Puy-de-Dôme, in the mythical duel between Poulidor and Anquetil.
Molteni
Making a Top 10 of cult jerseys without mentioning Molteni is like wearing socks with moccasins, a fashion fail. Even today cyclists all around the world are still wearing this timeless cult retro cycling jersey. Eddy Merckx was the star rider of the Molteni/Arcore which was an Italian team that ran from 1958 until 1976. Whilst Merckx was the most famous rider, Gianni Motta, Franco Balmamion and Marino Basso also contributed to the list of victories that has topped 663 race wins!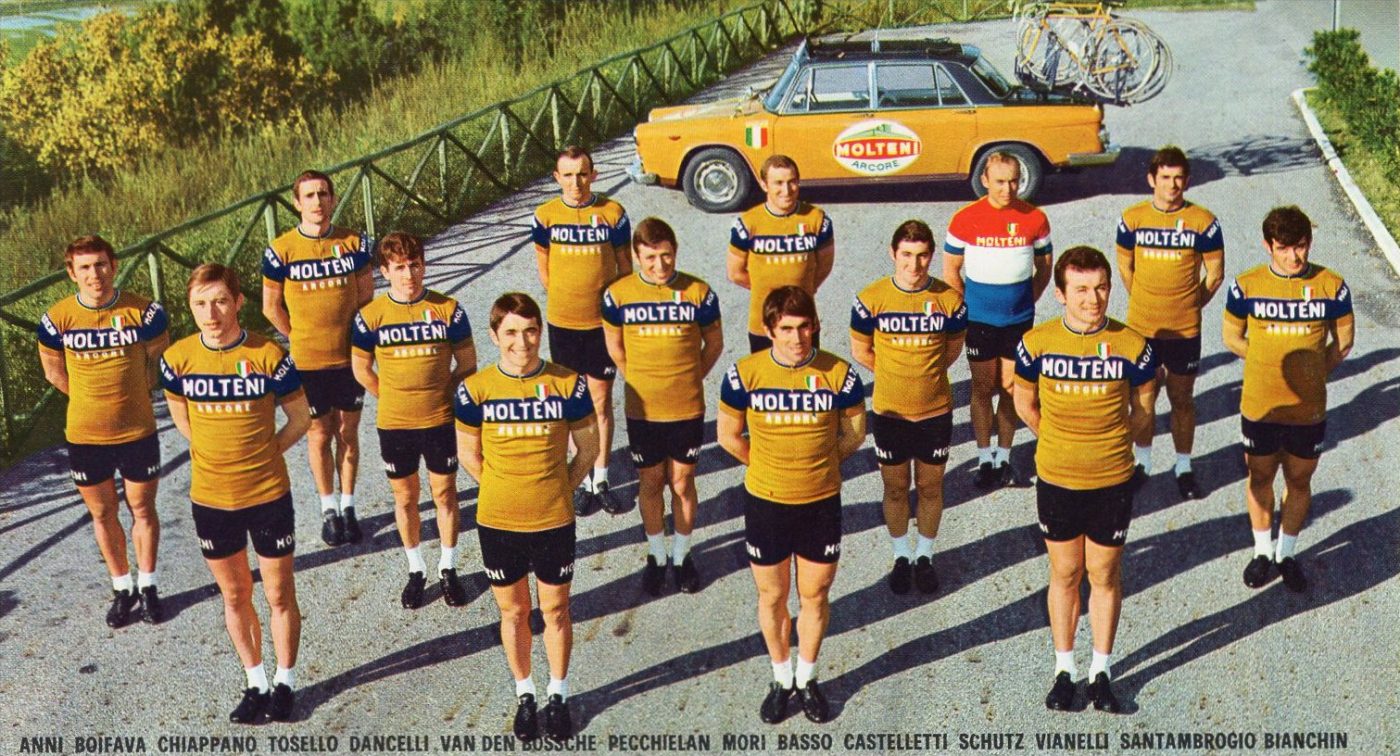 Castorama
It's hard not to refer to the genius of Castorama's marketing campaign in the early 90s. Castorama is a DIY company, so when it came to designing a colourful jersey…let's say…they did it themselves…if you know what I mean. A jersey dominated by the colour blue which combined with the bib pants formed an overall. It looked as if the team members were going to fix a water leak from the 4th floor. Cryrille Guimard's boys made a mockery of it, and it was at this point that Jacky Durand took one of his many victories in the 1992 Tour of Flanders.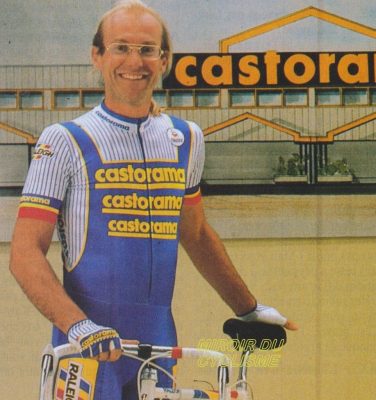 Team Coast / Bianchi
Founded in the 2000s, Team Coast, under the German flag, especially got name and fame in Spain with among others Angel Casero's 6th place overall in La Vuelta 2002. But the teams' real heyday came thanks to the support of Bianchi and the transfer of Ulrich. Jan Ulrich left Telekom and joined Bianchi Team Coast. Team Coast was revived by Bianchi, a former team supplier. Wearing this once-in-a-lifetime jersey the German cyclist Jan Ulrich finished second place behind the one and only Lance Armstrong. It was a second place in the Tour the France but a close to first place in the list of most beautiful cult retro jerseys. A true legend!
Vini Fantini – Selle Italia
Italy is often cited as a true reference in the world of fashion. In 2003, the Vini Farnese – Selle Italia team clearly ignored this title. Neon yellow as the dominant colour and more than a dozen sponsors scattered all over the jersey…have you seen me? Euhm… yes!  Nevertheless, the cult retro jersey didn't withhold them to win races. Oscar Gatto surprised the rest of the peloton early in the season by winning the Tour of Flanders. Success but also failure because a few months later Vini Fantini came into the sights of the Italian authorities with two positive EPO tests for Di Luca and Santamborgio.
Euskaltel-Euskadi
After a couple of seasons with a classic red, green and with jersey with no sponsors the Basque riders entered the new millennium with a new orange jersey. With the entry of Basque telephony company Euskatel the team's fortune really took off. They hit the international stage with a debut appearance in the Tour de France.
But they also hit the Basque people by making bright orange their primary jersey colour. Since then orange, next to red, green and white, has become the fourth national colour. It was the start of a phenomena which is still known as La Marea Naranja, the Orange Tide. Legions of Basque fans who inundate and claim the Pyrenees as their own for at least one weekend in July. Their never ending support for riders like Mayo, Sanchez and Zubeldia is legendary. An their first cult retro jersey deserves a place in the top 10 of best cult jerseys ever.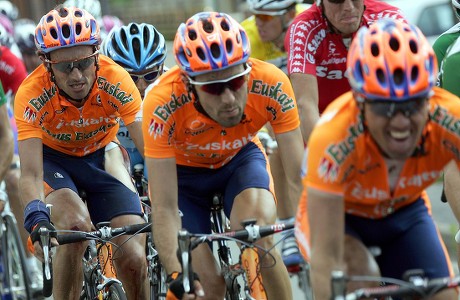 La Vie Claire
Mondrian brought together Bernard Hinault and the La Vie Claire founder Bernard Tapie. In 1985, LOOK's clipless pedals finally made a peloton impact, with Bernard Hinault winning both the Tour de France and Giro D'Italia on them. One year later it was La Vie Claire rider Greg LeMond winning the Tour de France in a cult retro jersey which is still extremely popular at retro cycling events.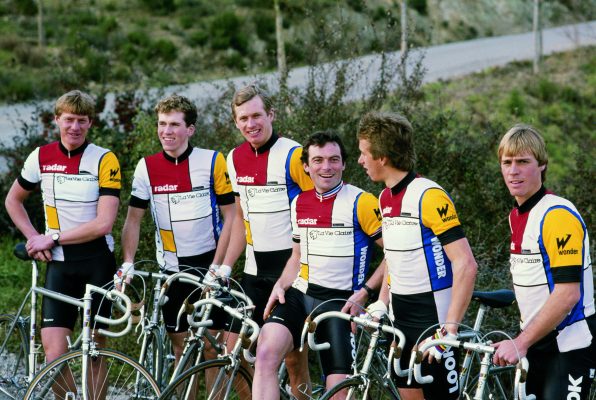 Z
Some blue, some fuchsia and some yellow with a huge Z in the middle surrounded by an explosive pattern… that must be the Z cycling jersey. Z is a brand specialized in… children's fashion. No wonder their jerseys look like they have been made for 6 year old boys worshipping a Z superhero. Talking about superheroes and super powers, this retro jersey must have given Greg LeMond special powers. The American cyclist namely won the Tour the France wearing this jersey. Besides also Laurent Madouas and Ronan Pensec won several races in their, the least you can say, eye-catching jersey.
Cult Retro Cycling Jerseys winner: Mapei
And the winner is… Mapei! Mapei is winning by at least two tyre lengths when looking at their multi-coloured cult jersey. A design that sums up the creative audacity of the 90's (multicoloured cubes).  Giuseppe Saroni's formation is not only the theoretical winner but they also gained name and fame by winning various classics. Their list of victories is quite impressive: 5 x Paris-Roubaix, 3 x Tour of Flanders, 3 x Lombardia, 2 x Liège – Bastogne ) Liège, etc.  From Tafi to Bettini over Bartoli and Museeuw, a dream team; that's the least you can say!