One of the most exciting sports, Cycling is a colourful and vibrant extravaganza. What adds to the colour-infused dynamism of this sport is the striking designs and patterns of the cycling jerseys. However, sometimes modern jerseys could be dull and uninspiring. This is where retro cycling jerseys aka vintage cycling jerseys can really add a splash of colour to the mix, bringing eye-catching classic textures.
Retro cycling jerseys are not just nostalgic tributes to the past days of glory, but they also invoke the memories of some of the legendary cycling figures who have blessed the sport with their talent and drive.
Blending vintage designs with quality materials and high-performance features, the following are some of the coolest retro cycling jerseys out there.
Why would you buy a retro cycling jersey?
Buying a vintage wool cycling jersey or even a complete kit is all about the love for cycling. It's that pinch of nostalgy seasoned with a fresh mix of heroic historic bike memories: think about Fausto Coppi, Eddy Merckx, Bernard Hinault and Marco Pantani. Last years, the vintage aspect of cycling has become increasingly popular. Old bikes are sold for quite some money and the same can be said about old cycling wear. There are even retro events and retro bike rides where you can admire the most beautiful vintage cycling wear and gear. This is not about competition (although there are also retro cycling races) but more about the passion ad love for one of the most popular sports in the world.
What is a retro cycling jersey?
Retro cycling jerseys are also known as vintage cycling jerseys. They have a nostalgic touch and are a tribute to the glorious past days of the cycling sport.
We can distinguish 3 main categories within this world of nostalgy: the real stuff, the replica jerseys and kits and the 'new' retro looks.
The real stuff are jerseys, bib shorts and other cycling wear which date back from good old days. This original cycle wear is often quite expensive. Especially when looking for good condition wear. In many cases they are made of wool.
One could therefore also go for a cheaper but still retro alternative, namely the replicas. They look exactly like the old shirts of the past but have been manufactured in the present.
Last but not least, you could just go for the retro style and look. It is cycle wear which contains the typical vintage patterns and colours but which is brand new. Sometimes even high-quality fabrics like lycra are used. You could call them the best of both!
Famous top 9 best retro cycling jerseys
1. The retro cycling jersey that was worn by La Vie Claire
The two most important things a designer must keep in mind while preparing a cycling jersey; The first thing is simplicity, and the second is to take inspiration from the work of a great artist. This is what shaped the concept and design of the cycling jersey of La Vie Claire.
Taking inspiration from the famous Dutch painter Piet Mondriaan. His work was steeped into the use of straight lines and primary colours to bring out abstract visuals. This inspired the vintage black and white, that was later replaced by red, blue, yellow, black, and grey. Benetton constructed the original jersey based purely on Mondrian principles. It became quite popular, especially between 1984 to 1987, during which the La Vie Claire riders, were able to win Tour de France, twice.
There are not many instances where the teams have continued with their classic jerseys. It is because new sponsors often introduce changes to jerseys according to their taste. This one is truly an exception to the rule. La Vie Claire is available in various retro cycling jersey webshop.
2. Molteni
If we are talking about retro wool cycling jerseys there is one jersey which should be standard on the to-mention list and that's the famous Molteni shirt. This piece of cycling apparel is automatically linked to the Cannibal, the black one from Tervuren or the Beethoven from the Tour the France; mister Eddy Merckx himself. Being a cycling fanatic, this name will for sure ring a bell. Molteni was a professional Italian cycling team which made name and fame between the 50's and 1978 in the 20th century.
The Eddy Merck era
Especially the Eddy Merckx period was a successful one. Wearing his brown-orange Molteni cycling shirt the Belgian managed to win 3 times the Tour de France (71, 72 and 73), 3 times the Giro (72, 73, 74) and one time the Vuelta (73). Besides these majestic victories he won tens of other rounds and races. The Molteni vintage retro shirt is by far the most popular jersey in retro cycling.
Retro cycling Jerseys is one of the webshops where you can buy this fabulous and nostalgic cycling jersey.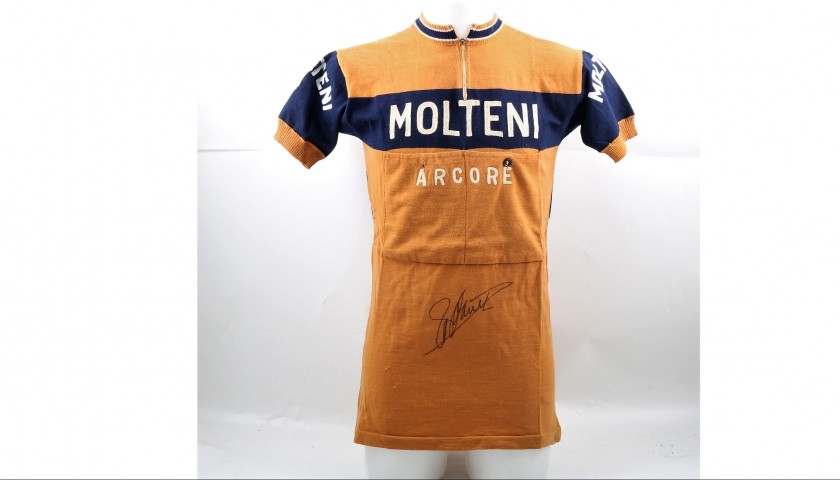 3. Bianchi Merino Wool Cycling Jersey
This 1885 classic, is the oldest bicycle-manufacturing enterprise that is currently in operation. They were the trailblazers who first employed the same sized wheels with pneumatic rubber tyres. It is their ingenuity, that resulted in the cool and classic striped jersey. Legens such as Mario Cippollini and Jan Ullrich worshipped the jersey. Made from 100% merino wool, this cycling jersey comes with a YKK zip. You can buy this vintage cycling jersey in both long and short sleeves.
4. Le Col by Wiggins Vintage Modern jerseys
The founder of Le Col, Yanto Barker is pretty close friends with the 2012 champion of Tour de France, Bradley Wiggins. In a way, they have grown up together and progressed through the ranks, side-by-side. It is their tight-knit friendship, that is behind the marvellous creation of this particular kit.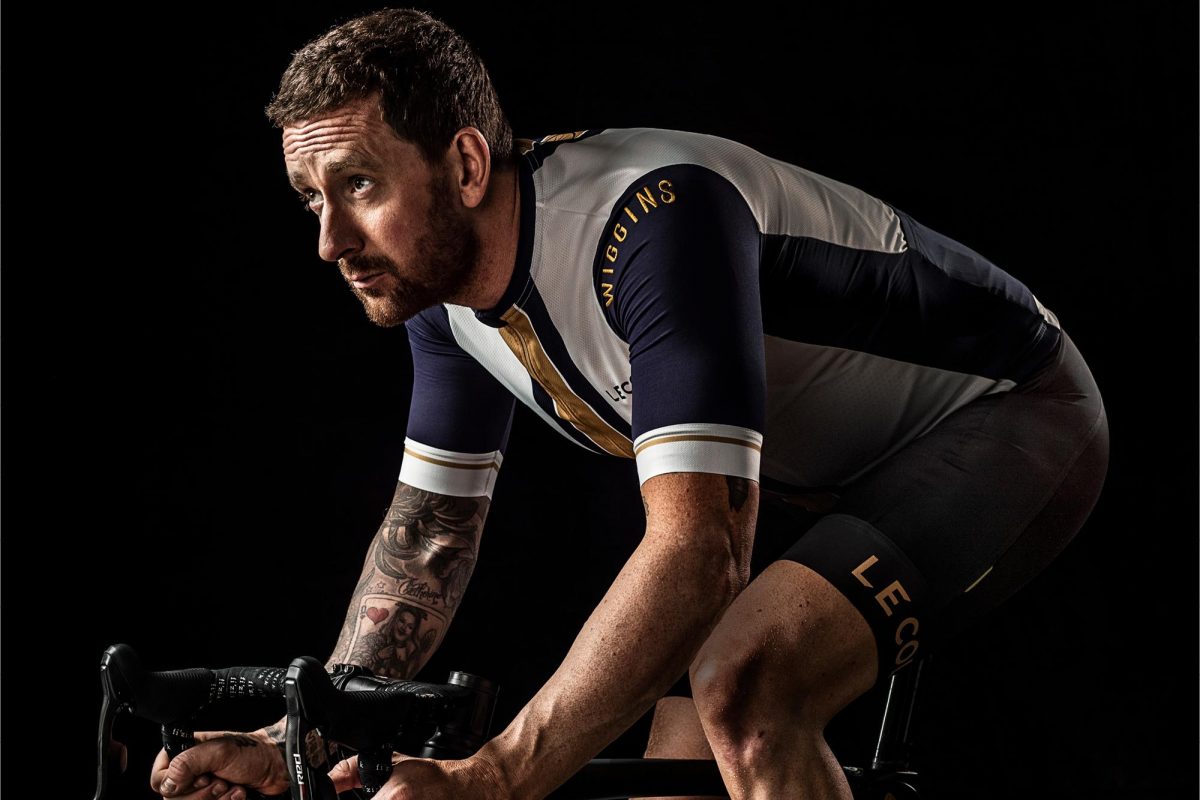 A joint vision of two friends, this cycling jersey accompanies 3 distinct price points, with specific cuts for men and women. The one thing that definitely shines through, is Wiggins's passion for retro-themed cycling jerseys. The designs across the range reflect the immense influence of retro-styling.
5. St Raphael Geminiani Quinquina Retro Jersey
This one of the most famous vintage designs of the 1950s. A staple of the Saint-Raphael cycling team at that time, the short-sleeved version of this cycling jersey became particularly popular after it was adorned by Jacques Anquetil. This cycling jersey was the brainchild of two collaborators, Dorset-based cycle retailer Prendas Ciclismo and Italian brand Santini. This was the very first time that the classic lettering pattern was introduced in cycling jerseys.
6. Isadore Signature jersey
Made by combining soft merino wool with polyester, this cycling jersey was the vision of professionals from Slovakia Martin and Peter Velits. The fabric is quite a savvy blend of older and newer materials. The brand, Isadore has made this available in both men's and women's cut.
The vibrant and striking retro style is expressed through the bold colours and lines that are laid in contrast to the well-knitted eyelets that goes along the inside of the torso. This space can easily be used to keep stuff such as headphones if you like to listen to music while riding.
Furthermore, the detailing and finishing of this cycling jersey is truly something. The delicately woven wash tag on the inside and the silver emblem stitched on the collar are some vivid examples.
7. Alé Classic MC Vintage Jersey
This retro cycling jersey is crafted from mid-weight Merino wool and has a pretty useful trio of rear pockets. There are several other modern elements that juxtapose against the classic, retro-style of this cycling jersey. The use of Merino makes the jersey more efficient at absorbing the perspiration and regulating your body temperature. The antibacterial fabric is odour resistant as well.
Alé Cycling Vintage Collection
8. The Brooklyn Chewing Gum retro cycling jersey
Just thinking of the legendary rider Mr Paris-Roubaix Roger de Vlaeminck, in this jersey, is enough to leave the head-spinning of most professional riders and racers out there. Quite a killer combination in its day, this retro jersey has imprinted itself on the hearts and minds of several cycling enthusiasts around the world.
A phenomenon in the 1970s and early 80s, the simplistic design and the red, white, and blue colour scheme is a winning combination. Probably one of the most iconic colour palates in history, this colour scheme has stood the test of time. Considering the number of countries that have adopted this combination of colour for their national flags, it is fair to say, this one distinguishes itself from the rest. From the UK, France, Netherlands, Russia, Iceland, Cuba and the USA, the list of countries with this classic colour theme is pretty long. Brooklyn deserves due credit for coming up with a design that didn't forcefully imbibe the Brooklyn bridge on the jersey, even though it seemed like the plausible design motivation.
9. Peugeot-Michelin
The Peugeot-Michelin team is one of the most successful cycling teams ever. Especially Peugeot is a big commercial name in cycling history. They have been sponsoring cyclists and cycling teams since the 19th century and manufacturing bikes since 1882. Peugeot and Michelin started their cooperation in 1965 and it only ended in 1985. Over a period of 20 years the cycling team changed names 3 times: Peugeot-BP-Michelin (1965-1975), Peugeot-Esso-Michelin (1976-1981) and Peugeot-Shell-Michelin (1982-1985).
From Merckx to Bernard Thévenet
Famous names which rode in the popular black and white cycling jersey were Eddy Merckx, Roger Pingeon, Ferdinand Bracke, Bernard Thévenet en Hennie Kuiper. The team won the Tour de France several times with different riders. Moreover they claimed the victory in tens of other races and tours like de Vuelta, the World Championship, la fleche Wallone, Milan-San Remo and so on. The Peugeot-Michelin cycling jersey has typical and nostalgic black and white colours combined with the Peugeot-Michelin imprint on the front and additional sponsor logos on the arms (BP, Shell, Esso).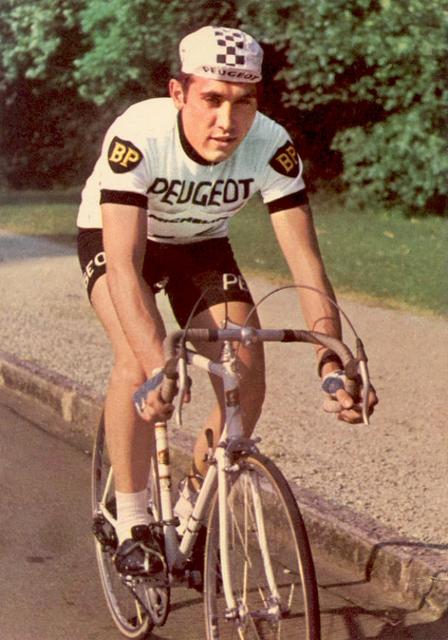 Conclusion
The market is flooded with an assortment of options when it comes to long-sleeved and short-sleeved retro cycling jerseys. You can pick something with oversized lettering or bold vintage design. Most importantly, given the wide-ranging options, you can probably manage to buy a decent retro cycling gear within your budget. There are also varied customization choices available, so don't settle for any less. Call them classic, vintage, or retro, cycling jerseys that are able to deftly combine yesteryear style with modern fabrics, are something that you shouldn't miss out on.
Frequently asked questions
Why should I go for a retro cycling jersey?
Because it is a real eyecatcher of course! People will cherish you and it will add a touch of nostalgy to your bike ride. People will grab your arm and start talking about heroic bike moments from the past: the famous victory of El Pirata Marco Pantani on Alpe D'Huez, Chris Froome running up the Mont Ventoux, the battle between Bartali and Coppi or the 5 Tour de France victories of the greatest of all times Eddy Merckx. Wool vintage cycling jerseys are the crème de la crème.
What are popular retro cycling jerseys?
Well, when looking for retro cycling jerseys we are big fans of the De Marchi and Magliamo cycling jerseys. Besides, we also surf once in a while to Rapha, Sigr, Isadore, Wear Well and Tiralento to admire their vintage cycling wear. When choosing retro cycling wear it's choosing between replica jerseys, 'new' vintage look jerseys or of course the real stuff which dates back to the old days. Regarding the real stuff or replica jerseys popular ones are the ones from Peugeot-Michelin, Molteni, the old Bianchi ones, BIC, S. Pellegrino, Salvarini, La Vie Claire and Faemo.
Where to buy vintage cycling wear?
Being big fans of vintage cycling wear ourselves we are frequent visitors of the following cycle brands which clearly have that retro heart beat: De Marchi, Magliamo, Rapha, Sigr, Isadore; Wear Well and Tiralento.
Other vintage cycling wear brands?
Please feel free to share your own retro cycling gear and wear experiences. Were do you buy your retro jerseys? Which ones do you own? And why? Let's take that bike loving walk through history.