Gone are the days we put on our sunny vibe jerseys and short leg bib shorts. The temperature is falling… but that doesn't mean our bike rides should fall simultaneously. Being velofanatics the last thing we fear is cold, mud and rain. Cyclists often forget winter time is the most important period to prepare for the next spring and summer cycling period. Keep on riding is the message we want to spread around the world. To keep on riding during fall and winter months the right cycling clothing is of course of crucial importance. Today we present you one of the additions in the Sportful collection: the Sportful Supergiara Jacket. A fall and winter cycling jacket or cycling vest which suits both on and off-road rides. As usual we have taken this jacket to the test and the result is our personal and honest Sportful Supergiara Cycling Jacket review.
Northeast Wind / Partially Cloudy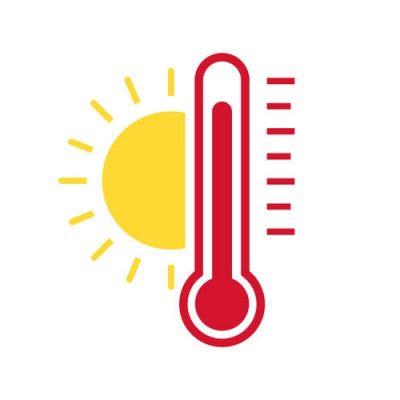 About 8 degrees Celsius (46 degrees Fahrenheit)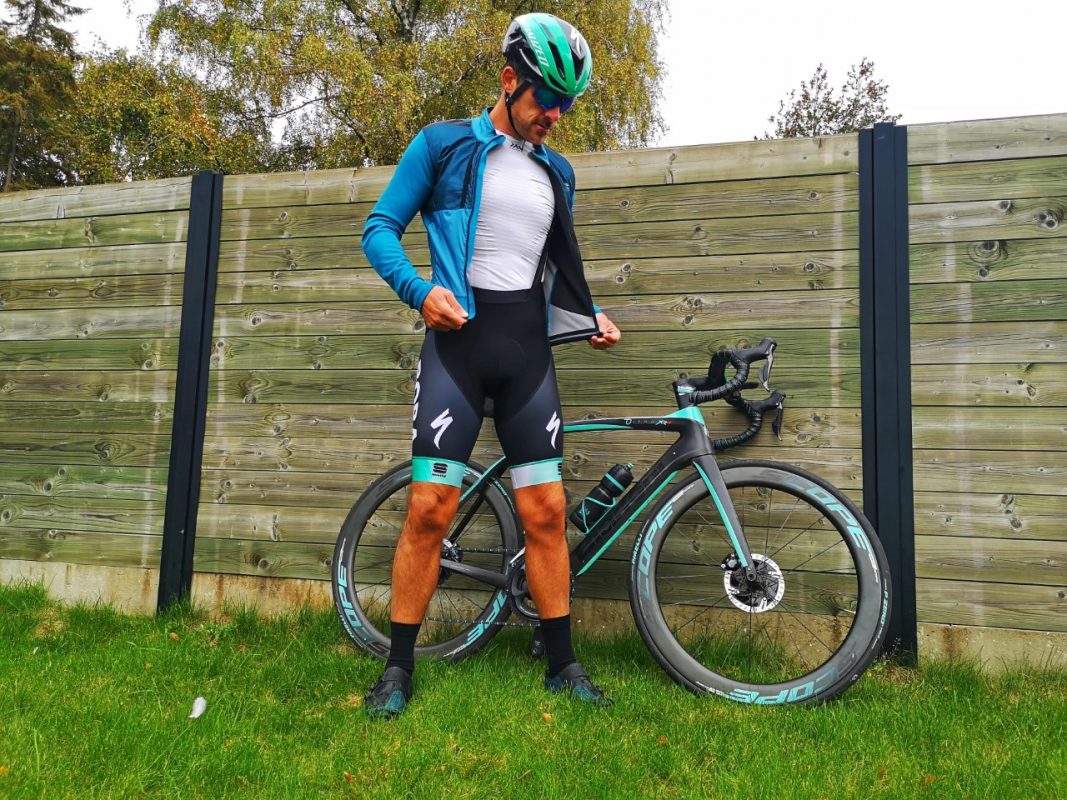 Sportful Supergiara Cycling Jacket review
The design
The moment we unpacked the Sportful Supergiara Jacket the first thing which caught our attention was the looks. This is a pretty fine designed winter cycling jacket. For one or another reason 70% of winter bike apparel is still boring and black. Sportful took another approach and designed a bike jacket which will be seen… not only thanks to the reflective areas but also thanks to it aesthetics. We got the Blue Corsair version which is a good looking mixture of blue, green and grey. Other eye-catching colors in the Sportful Supergiara Jacket collection are by the way Rumba Red and Sienna Orange. For the ones still loving that Darth Vader look…don't worry… there is also a black version.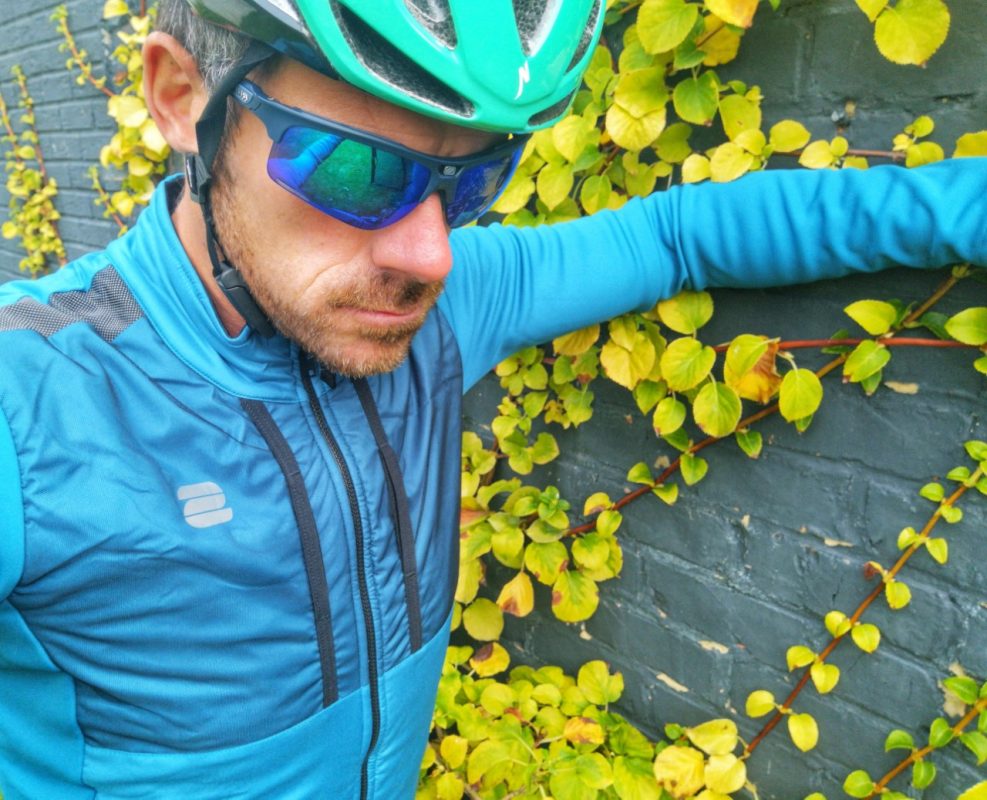 The fabrics
To provide you an honest and complete Sportful Supergiara Cycling Jacket review, we took the jacket to the test during a 80 km bike ride. Weather conditions: cloudy, about 8 degrees Celsius (46 degrees Fahrenheit) and a moderate cold northeast wind at 20 km/h. The jacket never disappointed me during the ride. From moment one I felt comfortable and warm without being desert hot or without suffocating. The fleece interior layer feels nice and soft to your skin. I didn't really feel the cold wind. Comfortable sometimes means loose but that's not the case with this winter cycling vest. The stretch fabrics make it body fit tight which is a pleasant feeling. I hate those jackets which make you feel like a garbage bag or a windscreen on your bike. Even when I jump on my gravel bike. It doesn't really add to the aerodynamics. The Sportful Supergiara Jacket nevertheless, although being comfortable, still felt aerodynamic too. Speed-wise there wasn't much difference between my summer rides and this autumn ride.
Features
I didn't really test it in the dark on the road but I did put it in a dark room and used a flashlight to test its visibility. This piece of bike wear has several reflective areas which do their job in darker conditions. Two reflective panels on the shoulders, two on the pack pockets and additionally two times a reflective logo. So, from a safety perspective the jacket is a reliable partner.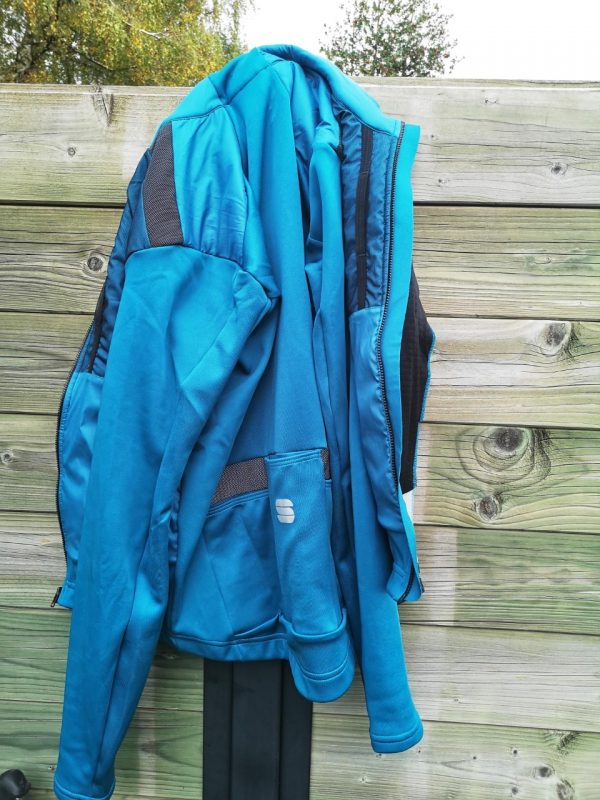 A big pro, also compared to my previous experience with winter cycling jackets, vests and gilets, are the back pockets. They are large and can be easily reached and opened during your bike ride. At the same time they have enough elasticity to keep your belongings safe. I also like the fact the central pocket is even larger. Very handy to store your mobile phone. What I do miss is a waterproof zipper pocket. Even when it is not raining splashing mud and water, especially during my gravel rides, can still penetrate your jacket. This doesn't mean the jacket isn't waterproof at all by the way. Because it does have some kind of water repellent layer on it. So, it takes a while before the pockets are really saturated with water. I didn't experience water issues myself, but it could have been a nice add-on.
A small downside is the zipper at the front. It works fine until the last centimeters/inches. For some reason the stitch of the jacket suddenly moves towards the zipper at the end. Closing the last part of the jacket therefore has to be done with care. It works but it requires some exercise.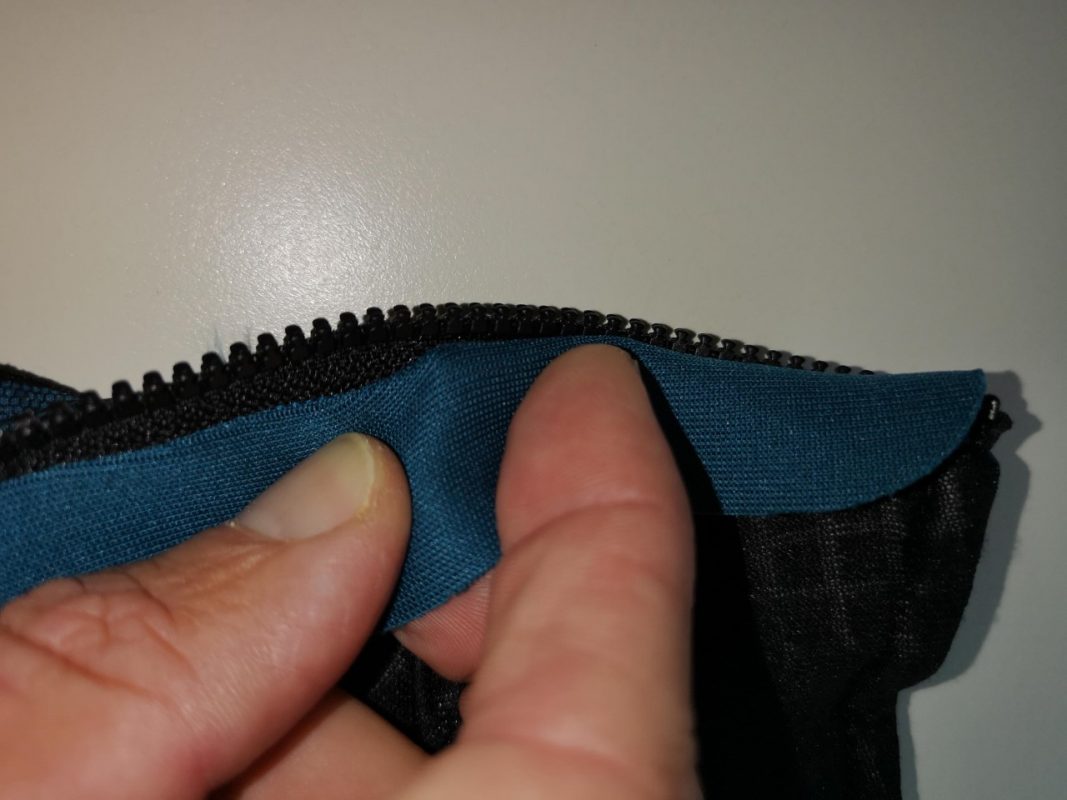 The price
I must say I was happily surprised when seeing the price of the Sportful Supergiara Jacket. It is lower compared to many other brands for a similar jacket, vest or gilet. So, one more benefit which should make you consider buying this winter cycling jacket.
Pros & cons of the Sportful Supergiara Cycling Jacket review
Pros
Price
Quality Fabrics
Looks
Comfort
Body tight fit
Reflective areas on shoulders and arms
3 back pockets with one large center pocket
2 additional chest pockets
Wind protection + insulation
Cons
Not fully waterproof (but not a rain jacket)
Not a waterproof pocket with zipper
Be careful closing the zipper at the end
Specifications
A 3-layer structure which ensures insulation, comfort and breathability
3 large pockets at the back with a very large center pocket
Stretchy fabrics for a body tight-fit
Temp range : +/- 5 degrees Celsius (41 degrees Fahrenheit)
2 chest pockets
Type: winter cycling jacket / winter cycling vest
Conclusion Sportful Supergiara Cycling Jacket Review
Our Sportful Supergiara cycling Jacket review results in a 4 stars rating out of 5. We love the comfort this cycling jacket offers. It is for sure one of the big pros! Body tight often means annoying and too sticky but that's not the case with this winter vest. Another big pro are the large back pockets, especially the middle one. The two chest pockets are a nice add-on but I doubt if I will be using them myself. Add to that the low price for quality material compared to other brands and the great looks and it is clear why the Supergiara jacket is one of our favorites this summer. A pity Sportful didn't add a zipper waterproof pocket at the back to store some more valuable stuff.