Last spring, I was on a quest for a new cycling jersey. Planning to cycle up to 15000 km this year and planning to climb the Mont Ventoux 6 times on a single day in July, I was looking for a high-quality shirt for endurance rides. A shirt which would keep me protected and ventilated on the sunniest and hottest days. A shirt which would also remain comfortable during 200+ (125+ miles) and even 300+ (185+ miles) km rides. And a shirt which would allow me to pack and carry sufficient gels, energy bars and other performance boosting stuff. My quest finally led to the black Pinstripe L1 short sleeved cycling jersey of Italian brand Q36.5. My choice at that moment was purely based on some local reviews of Dutch and Belgian cycling fans. While other shirts came with pros and cons, to my surprise the Q36.5 Pinstripe reviews were overall positive. I ordered the cycling jersey together with the Q36.5 Dottore X bib shorts. A few months later I am able to provide an honest Q36.5 L1 Pinstripe review!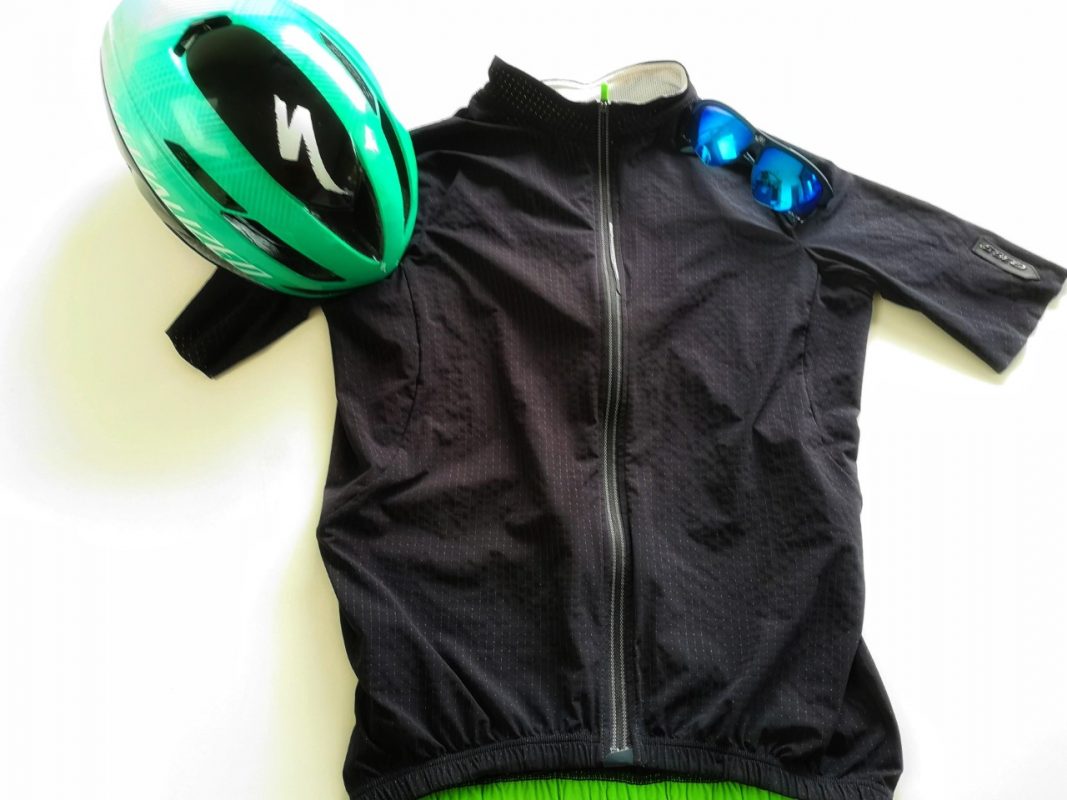 My personal Q36.5 L1 Pinstripe review
Two days after ordering the Q36.5 L1 Pinstripe jersey the postman knocked my door. The jersey was packed in a beautiful box with an eye for detail. Stunning colors (black-white-bright green), a leaflet with some background information, a Q36.5 bracelet and so on. Honestly, I kept the package for about 3 months because it was too beautiful to throw away. 3 months later I had to obey my wife's law and the dustbin was its final destination… unfortunately.
The past months I have worn this shirt for tens of bike rides and it firmly sits in my top 3 of cycling jerseys. I doubt if it will ever get out of that top 3. It is a wonderful cycling jersey which has been designed with an eye for detail. From the beautiful logo on the arm over the silver pinstripes to the seams of the pockets and the pocket with zipper (yes, even the zipper itself contains references to Q36.5). You just see and feel the Q36.5 designers have put time and effort in creating this shirt.
Black but breathable and fresh
Up until now, I have mainly used the jersey in good weather conditions ranging between 20 (68 degrees Fahrenheit) and 36 (97 degrees Fahrenheit) degrees Celsius. No matter the temperature it always remained cool and comfortable. This came a bit to a surprise for me because you would expect a black jersey to absorb the heat. Besides, I am a sweaty type of sporter losing quite some sweat when climbing another col.
A combination of factors and innovations
Is it the 50+ UV protection (which is the highest UV protection factor I have found on a cycling jersey)? Or the 2% silver pinstripes running through the jersey? Is it the UF LX Fabric which offers a 50% faster quick dry time than other polyester jerseys? I suppose it is a combination of all these characteristics and factors. I can only tell you it works and I have always felt very comfortable in my Q36.5 L1 Pinstripe jersey.
The back pockets are large enough and the cycle shirt weighs barely anything. I also like the fact it contains a zipper back pocket. Perfect to store my keys or some money.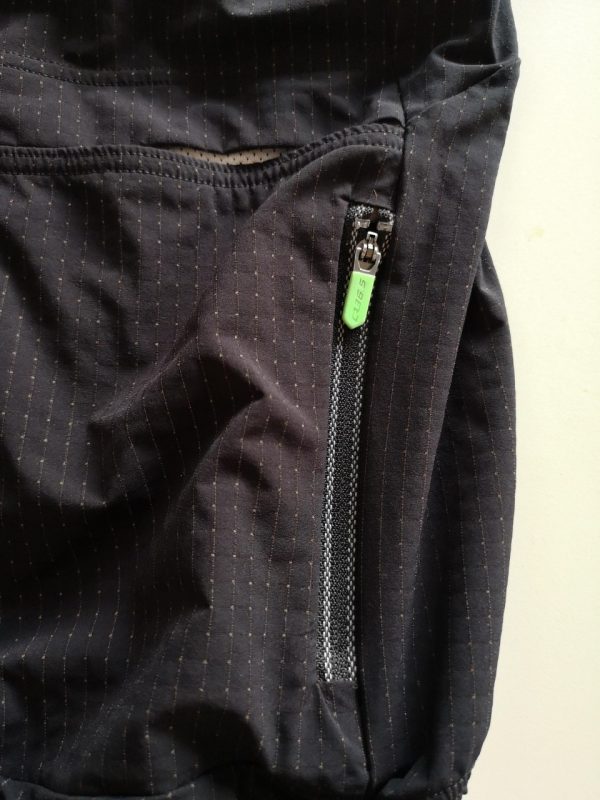 Aren't there any downsides in my personal Q36.5 L1 Pinstripe review? Well, maybe the price. This is a cycling jersey which can be categorized as a high-price range jersey. Nevertheless, you do get a lot in return and the price should not withhold you to buy this jersey. That's at least my opinion. It is top notch quality and one of my personal favorites.
Dottore X bib shorts review
Besides the Q36.5 L1 Pinstripe cycling jersey I also ordered the Q36.5 Dottore X bib shorts. Similar to the jersey this is a bib shorts which exceeded my expectations. I have about 10 to 15 bib shorts and this one is probably the best of all. When first feeling the material of the fabrics it felt a bit strange and even weird. As if I had some cardboard in my hands. During my bike rides I realized though the bib shorts kind of massaged my muscles enhancing my performance. Difficult to prove this of course. The fabrics used are unique though and I really love them.
The position and the design of the chamois were re-designed several times to create the ultimate teamwork between saddle and chamois. Although having several good bib shorts, when I am planning a 200+ km bike ride I will probably grab my Dottore X bib shorts.
The Pros and Cons of the Q36.5 L1 Pinstripe Cycling Jersey Review
Pros
Ultimate solar UV protection of 50+.
2% silver pinstripes which add to the breathability and thermoregulation of the jersey
L1 cut with front seams which add to the aerodynamics of the shirt
Quick dry cycling jersey
Invisible pocket system where the pockets are woven into the jersey itself
Lightweight jersey
Although it's a black shirt it proved comfortable even above 30 degrees Celsius
Cons
The price (but you get a lot in return)
The Q36.5 R2 Animal collection
By the way, since I was so happy with my Q36.5 L1 Pinstripe cycling jersey I bought me another cycling jersey from the same brand a few months later. This time from the Q36.5 R2 Animal collection. And it hit the bull's eye again. I went for the courage and strength lion one… it just proves that their jerseys are really to be considered for cyclists who are planning to have long endurance rides and are looking for professional cycling clothing.
Conclusion
So overall a very good experience and therefore also a very positive and honest Q36.5 L1 Pinstripe review.
---
More info about the Pinstripe Jerseys, the Dottore X bib shorts and other Q36.5 bike apparel can be found on the Q36.5 website.
Do you own Q36.5 cycling clothes? Are you as positive as I am about the quality? What jerseys or bib shorts would you recommend and why? Sharing is caring! Thanks for your input.