Today I would like to present you some new add-ons to my already extended cycling apparel family 😊 Time to meet the cycling sunglasses from Italian brand Neon Optic. The past years I have been using sunglasses of brands like Koo, Limar, Julbo and Rudy Project. The perfect base I believe to put the Neon Optic cycling sunglasses to the test. And it has been a harsh test which took me from the French Pyrenees climbing the col du Tourmalet and the col d'Aubisque to windy and cloudy rides in the Dutch sea-side province of Zeeland. From sunny hot weather to drizzling "should have stayed home" rides. My personal and honest Neon Optic cycling sunglasses review. As always without commercial benefits or without agreements with Neon Optic. The way I like and prefer it!
~Discover the Essence of Neon Optic glasses: Unmatched Style, Craftsmanship and performance~
Neon Optic: Italian flamboyance combined with Swiss craftmanship
At Neon Optic, they take immense pride in their 100% Italian-made sunglasses, a testament to the unparalleled craftsmanship and attention to detail that goes into each pair. Situated in the charming town of Porlezza at the Lugano lake, all their suppliers are conveniently located close to their facility, fostering a close-knit community and ensuring top-notch quality. Lugano maybe rings a bell to cycling fanatics like you and me… The Swiss town of Lugano, nearby Porlezza, was the host town of the 1996 UCI World Championships with road race winner and Lion of Flanders Johan Museeuw.
Neon Optic is a big name in the sports sunglasses industry and has been producing lenses, accessories, goggles and sunglasses for cycling, hiking, trail running, running, skiing, snow boarding and so many more sports for several years now. So they have tons of experience and a well-known Research and Development department. Their lenses are equipped with Tronic technology which guarantees the greatest contrast and the best protection from the sun's rays, giving you ultra HD vision during all your sporting activity. Besides their lenses are made of Polycarbonate, the best existing and impact resistant material. These are Neon Optic's words of course 🙂 My personal review comes next. Let's see if their words match reality.
Tested in all weather conditions: sun, clouds and rain.
From end of June until end of July 2023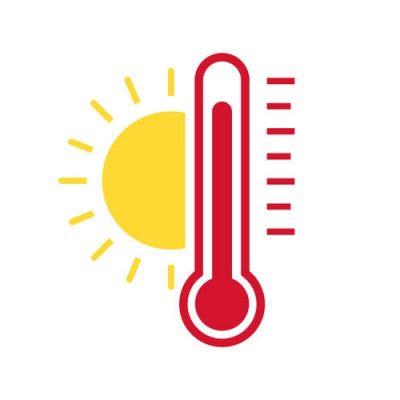 Between 20 and 35 degrees Celsius (68 to 95 degrees Fahrenheit)
+/-1500 kms (932 miles)
Our Score
My personal Neon Optic cycling sunglasses review
Cycling fashionista I am… I didn't go for one pair of sunglasses but I bought four pairs in one go. I always love to wear cycling sunglasses which match my cycling clothing and/or helmet. Look good, feel good, ride good… you know. Neon Optic in this case is my perfect partner in cycling crime because their assortment is huuuuugeeee. Name a lens color and they have got it, name a frame color and they have got it. Besides, the Italian sunglasses brand also offers customizable cycling sunglasses with interchangeable lenses. Your preferences, their choices… it is the perfect recipe for a synergistic symphony of cycling magic
It took a while before the sunglasses reached me. Nevertheless, Neon Optic customer service kept me informed about the progress. It seemed that one type of sunglasses I ordered was still in production and not available in stock. Neon Optic proposed to send the 3 other cycling sunglasses separately but keeping my carbon footprint in mind I told them I would wait.
Upon receiving my shipment the first thing that happily surprised me when opening the sunglasses boxes was their weight. These cycling sunglasses are incredibly light. Perfect for the ones who are looking for marginal gains (like me 😊 ) but also perfect for the ones who want comfort. They weigh only 25 grams, so I barely feel them on my nose. Talking about my nose, the nose pads are adjustable.
The quality of the frame and the lenses
Neon Optic cycling sunglasses are made of high-quality materials that are resistant to impact and extreme temperatures. The lenses feature anti-fog, anti-scratch and anti-reflective treatments to ensure optimal vision in all conditions. I have been using them in a wide range of weather conditions the past weeks. Moreover they have touched the ground, the side of my helmet or another obstacle more than once. The result: an optimal vision in all conditions and no scratches so far. So I must honestly admit these sunglasses get a 10 out of 10 so far with regard to material quality as part of my Neon Optic cycling sunglasses review.
Next to style a decent UV protection has always been one of my main requirements. The sunglasses of Neon Optic have UV400 protection that blocks 99.9% of harmful UVA and UVB rays, so you can enjoy the sun without damaging your eyes.
They have a sleek and stylish design that fits snugly on my face. They don't slip or slide even when I'm sweating or riding in the rain.
The price and warranty
Most of their cycling sunglasses cost around 100 euros. This is a steal compared to other brands. My Koo Supernova cost around 140 euros, My Rudy Project Spinshield around 150 euros and my Julbo Spectron 120 euros. If I take into account the quality of their cycling glasses, Neon Optic cycling sunglasses are the best price-quality option for me so far.
With regard to warranty, Neon Optic offers a 2-year warranty. Luckily, I haven't had to use the warranty so far. Instead, I searched the Internet but couldn't find a single bad user story about Neon Optic. Since people tend to share their bad experiences with the rest of the world this is for sure a good sign. Neon Optic guarantees their users all of their products are tested in real conditions, to make sure they are perfectly capable of guaranteeing the use for which they were designed. The occurrence of their products being damaged or defective seems to be extremely rare.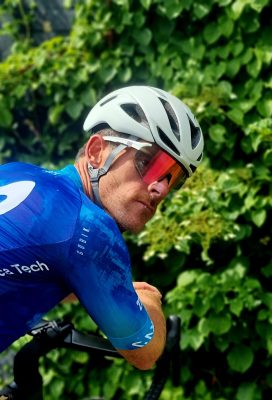 The looks
One of the best things about Neon Optic cycling sunglasses is that they come in a variety of colors and styles. This means that you can choose a pair that matches your personal style and preferences. Whether you prefer a classic black frame or something more colorful, there is sure to be a pair of Neon Optic cycling sunglasses that will suit your needs and matches your personal preferences and wishes. I must warn you… it won't be easy to make a choice when visiting their webshop. That's maybe the reason why I bought 4 pair of cycling glasses. At the time I visited their website I had to choose between about 150 sunglasses without taking into account their custom ones.
To finish my personal review of the Neon Optic cycling sunglasses one big personal pro is the fact I can place the sunglasses in my helmet. I realize a lot depends on the helmet brand and type but with my Specialized Evade II and my Limar Air Speed I can't place my Ekoi, Julbo and Koo cycling glasses in my helmet without constant fear of losing them. The Neon Optic sunglasses can be easily folded and slipped in the top of my jersey or were easily placed in my helmet and they stayed secure at all times.
My personal Neon Optic cycling sunglasses review favorite
My personal Neon Optic favorite is the white one with a redish photochromatic lens. I have been wearing it during several weather conditions and it has never disappointed me so far. When cloudy the lens turns into a fully transparent pair of sunglasses but when the sun hits your face 5 seconds later the magic happens and it becomes a stylish and fully reflective piece of cycling equipment. Yeah, I am a big fan!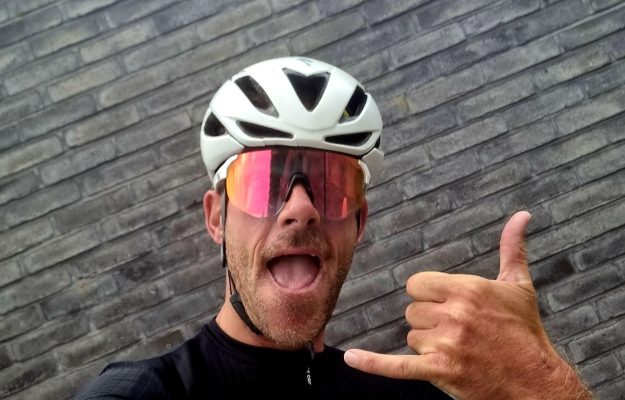 The Billy
By the way, if you are looking for another decent solution to securely fix your framed bicycle glasses when you don't need them (for example during a climb) I am a big fan of the Billy from bicycle accessory brand Koo. From a sunglasses point of view Neon Optic is my preferred brand but the Billy is a nice add-on. Watch out, it can only be used to securely fix fully framed cycling glasses.
Final rating: Pros and Cons of Neon Optic Cycling Sunglasses
Pros
Price-quality
Huge choice of colors and styles
Interchangeable lenses
Custom cycling sunglasses
Anti-scratch, anti-fog and anti-reflective
Photochromatic lenses available
Cons
Huge assortment makes it difficult to choose
A filter for the lense color or frame color in the webshop would be handy
Conclusion Neon Optic cycling sunglasses review
If you're looking for a pair of sunglasses that will make you stand out on the road and stand out of the crowd… Neon Optic is for me the way to go. I've been using their cycling sunglasses for a few weeks now and I'm absolutely hooked. They have a neat design, offer the required UV-protection and are made of durable materials. Besides, I have been super happy with their responsive customer service. So several ticks in the positive review box for Neon Optic cycling sunglasses. All models are exquisitely crafted, with a focus on precision, complemented by cutting-edge lenses that guarantee unrivaled clarity. For some it might be a burden but for me it is a positive aspect; Neon Optic offers you a huge array of interchangeable lenses and frame colors which can be combined allowing you to coordinate them seamlessly with your helmet for the ultimate stylish look. The sunglasses are designed and styled to be the perfect partners with both my Specialized and my Limar helmet. They offer a harmonious pairing that epitomizes elegance and performance.
My personal favorite is without doubt my white frame – photochromatic red lens sunglasses. Especially when confronted with changing weather conditions or those sun-cloud days. The only downside…it took a while before the sunglasses reached me. Nevertheless, Neon Optic customer service kept me informed about the progress.
Click the below button if you would like to visit the Neon Optic website and webshop
Neon Optic Promo Video
Just to give you another idea of their cycling glasses, find below their 2022 promo video.