Santini, the well-known Italian cycling clothing brand, has always been at the forefront of innovation. From the introduction of antibacterial synthetic fabric chamois and the first lycra bib shorts in 1976 to impact shorts in 2018. The stylish cyling apparel brand now adds another milestone. Santini developed some eco-friendly cycling jerseys for both men and women. These are jerseys that not only have an eye for performance, but that also have a heart for nature.
Eco-friendly cycling jerseys made of PET and waste yarns
Their first series that is certainly worth mentioning is the ECO sleek dinamo series. A series of 4 eco-friendly cycling jerseys made of recycled fabrics coming from PET and waste yarns. These are cycling jerseys where performance is also very important. For example, the cycling pros of Trek-Segafredo extensively tested the jerseys and the accompanying cycling shorts. With their feedback, a pro approved aero jersey was developed that is perfect for fast road racing.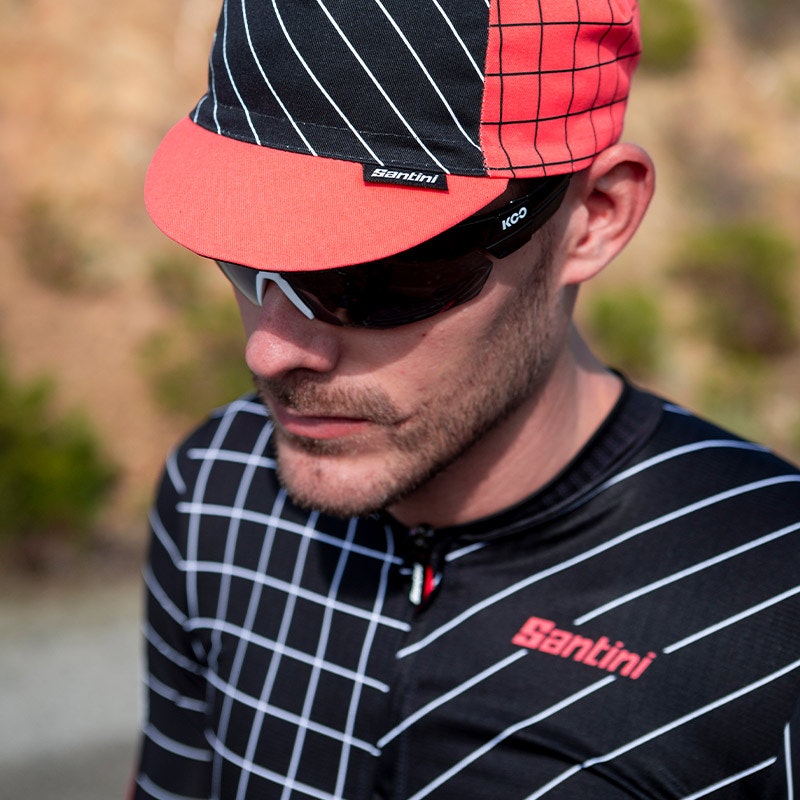 By the way, it's not just about an eco-friendly cycling jersey. Santini also dedicates great importance to a beautiful appearance on the bicycle. That is why they developed a fully customized kit. From cycling jerseys to matching cycling shorts, gloves, cycling socks and even cycling caps. Feel good, look good, ride good … the motto of velofanatics but clearly also of the stylish Italian Santini.
Find the complete Santini ECO-friendly cycling kits here.
Eco-friendly cycling jerseys for the Granfondo Stelvio Santini 2021
Santino speciallt designed a second series of eco-friendly cycling jerseys for the Granfondo Stelvio 2021. Connoisseurs of the Granfondo competitions will undoubtedly know the Granfondo Stelvio. It is an annual event around the Stelvio where cyclists can choose from different distances and altimeters. More details can be found at the bottom of this article.
Also for this event, Santini teamed up with the local Bergamo illustrator Elenia Beretta to design a cycling outfit. The design is a beautiful work of art in which you discover among others a bicycle wheel, a bicycle chain, a bicycle handlebar and a saddle. This cycling kit is truly a feast for the eyes.
Last but not least, Santini paid a lot of attention to environmental friendliness for the design of these cycling jerseys and cycling shorts. The official event jerseys comprise two Polartec® fabrics made from recycled PET bottles and come in compostable packaging supplied by TIPA®, an Israeli company that has been producing completely compostable packaging since 2010.
Santini developed the cycling kits for both men and women and they come with color and style matching cycling gilets, cycling gloves and cycling socks.
Granfondo Stelvio Santini 2021 Event Details
Name: Granfondo Stelvio Santini
Location: Alta Valtellina – from Bormio to the Stelvio Pass (Province of Sondrio)
Edition: 10th
Date: June 6 2021
Long Route: Bormio – Teglio – Mortirolo – Bormio – Stelvio> 151.3 km (4,058m elevation change)
Medium Route: Bormio – Teglio – Bormio – Stelvio> 137.9 km (3,053m elevation change)
Short Route: Bormio – Sondalo – Bormio – Stelvio> 60 km (1,950m elevation change)
Organizer: US Bormiese
Website: www.granfondostelviosantini.com