Gravel biking…it has never been so popular. A cycling middle way which fills up the gap between road race cycling and mountain biking. Since gravel biking has become a cycling category on its own, it also deserves cycling apparel of its own. Because one thing needs to be very clear, there is a difference between mountain bike clothing and gravel bike clothing. Just like there is a difference between mountain bike clothing and road race clothing. And road race clothing vs gravel bike clothing; Today prove our point, we are happy Sidi released their new gravel bike shoes. Made for your adventurous gravel bike rides.
Upper shoe material
The upper part of this gravel shoes is made of so-called politex. This material is made up of different overlapping layers with various properties. It combines properties of densified PVC, textiles and felt. Politex offers strong resistance to tearing, impact, deformation and fading of colors. It ensures the durability of the shoes. Your guarantee it will look good for the years to come. Furthermore, the upper shoe is equipped with mesh material and perforations on the inside. This way, the breathability is increased, and the risk of overheated feet is minimal.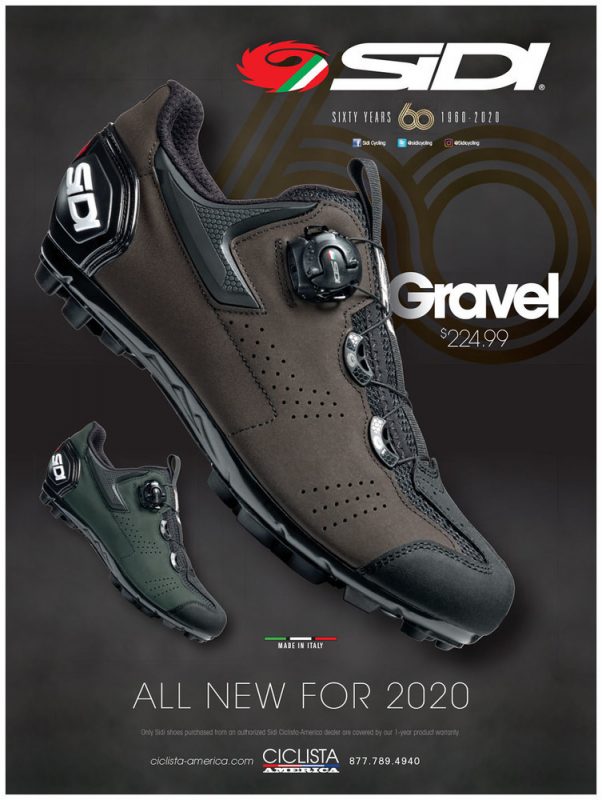 MTB Competition sole
The Sidi Gravel shoe has been designed using the MTB Competition sole. This is a nylon sole, reinforced with carbon fibers. In this way, the power transmission to the pedals is increased and your efforts on the mountain bike, or gravel bike, are better converted into speed.
Other technologies on the Sidi gravel shoes
To ensure a good adjustment and fit, this gravel shoe is equipped with the Tecno 3 closure system. With a simple turn of the knob, the fit is adjusted over the entire length of the shoe. Even while cycling, the Tecno 3 locking system can be used safely and responsibly. Thanks to the Sidi Heel Cup, the heel is better stabilized and supported. This keeps the heel in place in an enhanced way and you can deliver more power to the pedals. Finally, the Sidi Gravel is provided with abrasion-resistant material on the toe, so branches and other objects do not directly damage the gravel shoes.
Pros and Cons of the Sidi Gravel Shoes
Pros
Politex protects the gravel shoe against external objects.
The Mesh material and perforations enhance the breathability and comfort of the shoes
The MTB competition sole reinforced with carbon fibres ensures a better power transmission.
The Tecno 3 closure system has proven its efficiency before.
The Sidi heel cup ensures better heel stability and support
Lovely gravel colors: brown and green
Cons
The reinforced MTB competition sole is not as stiff as a full carbon sole.