Today I want to talk about the Chinese carbon bike frame brand ICAN. By the way, Ican is not a Chinese abbreviation but just two English words written together "I Can"! And that is exactly the philosophy of this fine Asian company. They want to get people into cycling by offering quality products at affordable prices. High time to put this brand in the spotlight. All you want to know about Chinese carbon road bike brand Ican.
Company history & philosophy
Ican is a Chinese carbon road bike manufacturer that was founded in 2009. Since its foundation, the company has developed into one of China's largest bicycle suppliers and has started exporting to other countries including Australia, New Zealand, Canada, USA and UK. The headquarters of Ican are based in Shenzhen. The company started as a distributor of bicycles and parts, and has since grown to become one of China's leading manufacturers of bikes, accessories and parts. In addition to being a large-scale manufacturer and distributor, the company also sells its own line of bikes under the brand name ICAN. Throughout the years the company has been recognized for its design innovations and commitment to quality control.
Warehouses all around the world
Today, the company has more than 200 employees. These employees work every day with passion and enthusiasm to produce carbon bike frames, carbon wheels and many other bicycle accessories. By the way, all these products are not only shipped from China. To make it interesting for the customer, Ican has warehouses in Spain, Great Britain, America, Australia and another general European warehouse in Germany. The great advantage of these local warehouses is that customers receive their bicycle parts quickly. In addition, they do not have to pay taxes and shipping costs this way.
1700 bike frames and 2000 carbon wheelsets
Ican produces about 1,700 carbon bike frames and 2,000 carbon wheelsets every month. As you will notice, the company is totally up to date when it comes to carbon production. They produce high quality carbon that perfectly meets the most stringent requirements and innovations.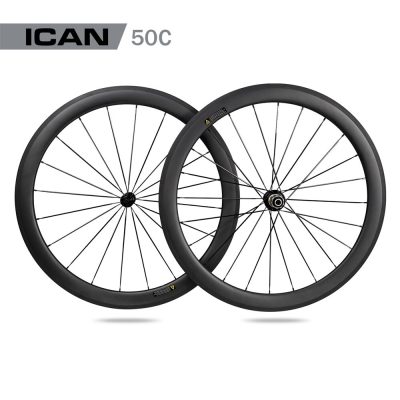 Only the best is good enough for the Chinese bike brand ICAN
In 2017, Ican won "Best Road Bike Brand" from Cycling Sports News China (CSN) for its performance-oriented designs that use lightweight aluminum frames at an affordable price point. So one of the main goals of Chinese carbon bike frame brand Ican is to join the list of premium bike brands in the near future. And by that we mean among bike brands such as Specialized, Colnago, Trek, Bianchi and so on. Judging from all the positive reviews and their strong growth, I strongly believe that they will achieve this goal. Now all that remains is to convince people that Chinese bike brands really are reliable.
Here you can read why Chinese bike brands really are reliable.
Cutting edge technology & designs
Ican has a renowned research and development department. This department does everything every day to make the products even better and even lighter, without compromising on quality. A good example of their innovative character is the TRIAERO carbon bike frame. An aero carbon bike frame weighing only 800 grams. With it, the Chinese carbon bike frame brand Ican competes with the biggest and best-known brands in the world. Lower drag, better aerodynamics, the best materials…. everything is looked at to continuously improve the performance of their carbon wheels and bike frames.
ICAN Products
Ican has a very wide range that goes beyond carbon bike frames. In addition to various carbon road bike frames, you will also find frames for mountain bikes, e-bikes, fatbikes, gravel bikes and CX bikes on the website.
The Chinese brand also sells a wide range of carbon wheels. This for all types of bikes and for both rim and disc brakes. The rim height can be chosen and the best carbon T700 and T800 is used for production.
It is one of the only well-known Chinese carbon bike frame brands that also sells all kinds of bike parts. Think handlebars, forks, cranksets, seatposts and so on.
Finally, Ican also sells complete bikes set-up with high quality groupsets from Shimano or SRAM. All the framesets are UCI approved.
Conclusion Chinese bike brand ICAN
As a Chinese brand of carbon road bike frames, among other things, ICAN is one of my personal favorites. The brand is one of the most popular ones in China and it's not hard to see why. They have great products, affordable prices, good customer service and a really supportive community behind them. If you are looking for a new carbon road bike then I would highly recommend checking out what they have on offer before making any decisions!
ICAN is a renowned Chinese bike frame brand with warehouses all around the world. They continuously strive to develop more innovative and better performing bikes, wheelsets and other bike components. High-quality but at afforable prices with an excellent customer service… that's ICAN.