If you are passionate about sports in general and cycling specifically and you want to protect your eyes in style, you cannot miss Neon Optic's collection of cycling sunglasses. Neon Optic is a fashionable Italian brand that produces professional sunglasses for sports use, combining innovative technologies and materials with a sophisticated and modern design. Neon Optic is inspired by the 80s and 90s, with fluorescent colors and reflective lenses that give a touch of personality to your look.
The sunglasses assortment of Neon Optic
The Italian state-of-the-art brand offers a wide range of models, suitable for different needs and preferences. You can choose from different frames and customizable sunglasses with interchangeable lenses. All Neon Optic sunglasses are made of high-quality materials that are resistant to impact and extreme temperatures. The lenses feature anti-fog, anti-scratch and anti-reflective treatments to ensure you have optimal vision in all conditions. Also available are photochromic lenses, which adapt to changing sunlight, and polarized lenses, which eliminate annoying reflections. Neon Optic is a brand of excellence in sports sunglasses that will accompany you on your cycling, snow, running and outdoor adventures with comfort and style.
On top of all that sunny magic, there is also their custom assortment of glasses. You can choose between different types of sunglasses. Upon your choice all parts of the sunglasses can be customized according to your own color preference. Last but not least you can add a logo.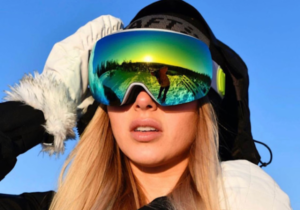 Cycling sunglasses of Neon Optic
If you are looking for a pair of cycling sunglasses that combine style, performance and comfort, you might want to check out the Neon Optic cycling sunglasses. These sunglasses are designed to protect your eyes from the sun, wind and dust while you ride your bike. They feature a lightweight and durable frame, polarized lenses, adjustable nose pads and temple tips, and a variety of colors to suit your preference.
The Neon Optic cycling sunglasses have a sleek and modern design that will make you stand out from the crowd. The frame is made of high-quality plastic that is flexible and resistant to impact. The lenses are polarized to reduce glare and enhance contrast, making them ideal for sunny days. The lenses also have a hydrophobic coating that repels water and dirt, keeping them clean and clear. The nose pads and temple tips are adjustable to fit your face shape and size, ensuring a comfortable and secure fit. The sunglasses come with a hard case and a cleaning cloth for easy storage and maintenance.
The Neon Optic cycling sunglasses are available in different colors, such as black, white, blue, red and green. You can choose the color that matches your personality and style. Whether you are a casual rider or a professional cyclist, you will find the Neon Optic cycling sunglasses to be a great accessory for your outdoor adventures. They will not only protect your eyes, but also enhance your vision and appearance.
Neon optic Cycling Sunglasses are more than just an UV Protection Cycling Accessory
Neon Optic understands what stylish and fashionable cyclists are looking for; the perfect combination of protection, innovation and fashion. 3 aspects which Neon Optic takes into account when designing and developing their sunglasses. Indeed, Neon Optic strongly believes cycling sunglasses are more than just a practical accessory. They are also a fashion statement that can enhance the comfort, protection, performance and enjoyment of cycling. Therefore, cyclists should not only look for cycling sunglasses that fit well and offer adequate protection, but also for ones that look good and fashionable.
First of all Neon Optic cycling sunglasses can express the personality and preferences of the cyclist. There are many different styles, colors and shapes of cycling sunglasses to choose from, and each one can convey a different message. For example, some cyclists may prefer a sleek and minimalist design that matches their bike and outfit, while others may opt for a more colorful and flashy pair that stands out from the crowd. Cycling sunglasses can also reflect the mood and attitude of the cyclist, whether they are feeling confident, adventurous, playful or relaxed.
Secondly, their cycling sunglasses can enhance the performance and enjoyment of the ride. A good pair of cycling sunglasses can improve the visibility and clarity of the road and the surroundings, especially in changing light conditions. They can also reduce eye fatigue and strain, which can affect the concentration and focus of the cyclist. Moreover, cycling sunglasses can boost the confidence and motivation of the cyclist, as they feel more comfortable and attractive in their appearance.
Finally, Neon Optic believes they can make a positive impression on others. Cycling is not only a sport, but also a social activity that involves interacting with other cyclists, pedestrians and drivers. A good pair of cycling sunglasses can show that the cyclist is serious about their hobby and cares about their safety and health. They can also attract attention and admiration from other people who appreciate their style and taste.
Cycling sunglasses are an essential accessory for anyone who enjoys riding a bike. Whether you [...]